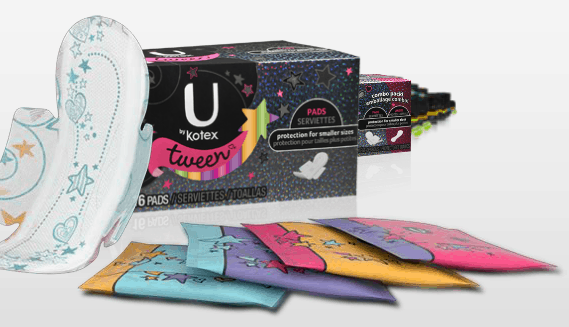 School's back in swing, kids are full on with schoolwork, homework, afterschool activities, etc.  They are busier than ever.  Given how busy schedules are, it's a great time to also help your daughter prepare for the chance that her first period may happen when she's at school.
We've talked about what to expect a bit, but now I want to share some tips about what to prepare her WITH in the event that this occasion happens at school.  It's hard enough to have your period, having a surprise you aren't prepared for is going to make it worse.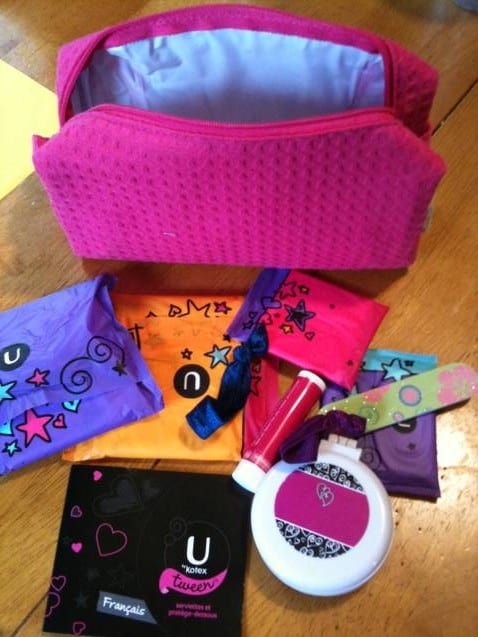 Make sure she has her emergency pack!  What to put in the pack?  That's up to you, but one thing that is definitely going to be in my daughters' will be  U by Kotex Tween pads and panty liners, some bandaids, and probably a spare pair of underpants.  Maybe a Hershey's Hug and a Hershey's Kiss for some love from home.  I would even go so far as to send this with her if she goes to an overnight at a friend's house or something as well.
Prepare her with what to expect from her body in terms of cramping (this is big for me- I have horrible cramping and bloating just before my period and the first few days and always have had the cramping- I wouldn't want her to be alarmed that something was very wrong)…headaches…moodiness- in addition to the actual period itself.  Telling her ahead of time may mean less fear from her, and it may be easier for her to handle if this starts and she's not home with you.
Keep track.  I know from my siblings that their daughters showed symptoms of the cycle beginning many months before their periods actually started.  Keep track of it, and talk with your daughter about even just putting a small dot on a calendar, so she can start to learn when it may come, and when it has come before.
Ask if she has questions.  It doesn't have to be a big huge serious talk, but I'm a firm believer in open dialogue.  My daughter has asked me when she will need to bring her emergency pack to school with her- weeks after we'd discussed.  So I took that time to explain that we'd probably both know the time was coming, because we'd notice changes and that we'd talk about it so she'd have it in time.  Want some tips? I've found the U by Kotex site to have a huge amount of resources for moms and daughters alike! It has facts about puberty, suggestions to start the conversation, and so much more.
"I wrote this review while participating in a Brand Ambassador Campaign by Mom Central Consulting on behalf of U by Kotex Tween and received products to facilitate my post and a promotional item to thank me for taking the time to participate."
0