I'm a Michigan girl, born and raised and there are a lot of things about Michigan that I know well and love.  However, last month I traveled about 3 hours south of my hometown to Ann Arbor to the Domino's Pizza Headquarters for Digital Insiders Day 2016 and I learned a lot about the amazing company that also calls Michigan home.  This opportunity gave me the chance to learn all about my favorite Michigan based pizza place turned global franchise.  Pioneers in the delivery pizza business, Domino's has built a system that ensures pizza can be made and delivered quickly and efficiently and they continue to take this to a new level ALL The TIME!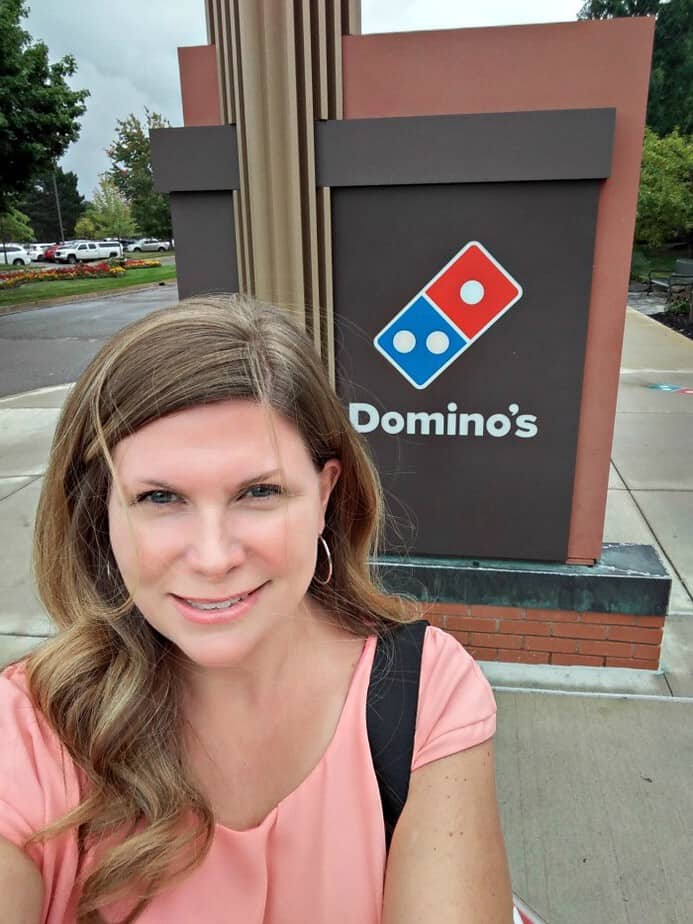 Domino's is Leading the Way
While at Domino's World Headquarters last month I had the opportunity to hear about all the innovative ways they are leading the pizza delivery industry and becoming the best in the world.  Yes, I said the world.  Domino's can be found just about everywhere you can imagine traveling and that was something I was not aware of before my trip.  I'll share more about that later.
Here are a couple of the ways of the ways Domino's is leading the way!
The Domino's DXP™ (Delivery Expert)
This is a specially designed and built pizza delivery vehicle.  It took 3 years to make and has been launched across 25 markets in the U.S. The DXP can hold up to 80 pizzas and features a warming oven located behind the driver's door, as well as storage areas designed for easy loading and unloading of pizzas and many other items from the Domino's menu.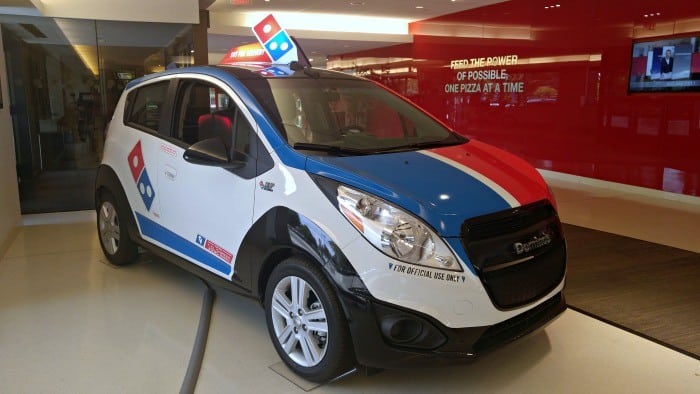 If you live in other parts of the world, you might see pizza being delivered on one of these!  What a trip!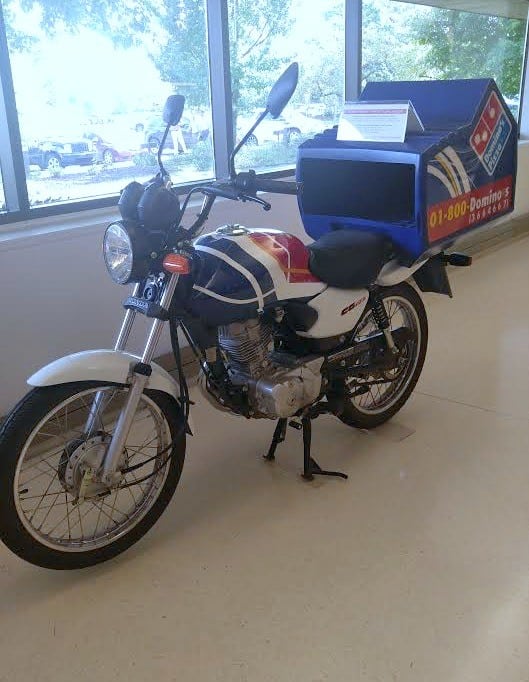 Domino's AnyWare Ordering
With Domino's AnyWare a customer, once you've created a Pizza Profile, can order a pizza 12 different ways – in seconds, sometimes without even touching a button!  AnyWare lets you order your favorite pizza using Messenger, Zero Click, Text, Tweet, Echo, Smart TV, Car, Smart Watch, and Voice and with a pizza profile created (which is your typical pizza order, your address, your recurring billing information, and so on) your pizza order will be placed, created, and delivered quickly and efficiently!  It's truly amazing.  We had the opportunity to play with this technology while at headquarters and it was great!  One of my favorites was the Amazon Echo and being able to just talk to Alexa.  Such an easy way to order a pizza.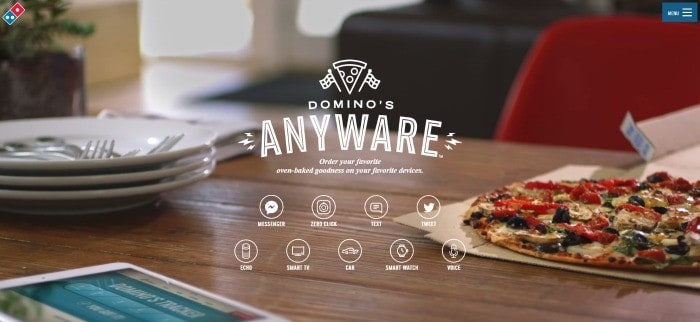 Domino's Brings Pizza & Salad Lovers to the Same Table
Domino's also constantly stays ahead of the competition with products that consumers love.  This August Domino's brought pizza and salad lovers to the same table!  While at Digital Insiders Day we had the opportunity to try all of the new salads that Domino's is now offering – Classic Garden, Chicken Caesar, and Chicken Apple Pecan.  Domino's has teamed up with Ready Pac Foods, a fresh foods innovator, so that stores nationwide can now offer a delicious salad option.
Domino's Not Just AnyWare, Everywhere
Earlier I mentioned that Domino's can be found just about everywhere you can imagine (not just ordered AnyWare) and I'm not exaggerating.  They have come so far from our little mitten state.  Domino's operates more than 12,900 stores in more than 80 countries around the world, with more than half of their sales now coming from outside of the U.S.  While I was at Domino's Headquarters I had the chance to sample some amazing pizza combinations from some of these countries!
Double Decker from Korea – A creamy camembert sauce filled between two thin crusts. Topped with fresh tomatoes and basil. This was one of the first international pizzas that inspired a domestic used to create double melt which was launched in USA in 2004. Several countries have launched this style of product.
Mayo Jaga from Japan – Hand tossed topped with sliced potato, corn and bacon. It's then topped with a Japanese style mayo.
La 4 Fromages Pizza from France – Hand tossed topped with Crème Fraiche, pizza cheese, Blue cheese, goat cheese and shredded emmental.
Shawarma Pizza is available in several markets currently including the Netherlands, Australia and St. Maarten to name a few – Hand tossed pizza sauce, cheese, seasoned beef and lamb, tomato slices, feta cheese and topped with tzatziki sauce.
Peppery Paneer from India – Hand tossed topped with paneer cheese, green peppers and hot pepper slices.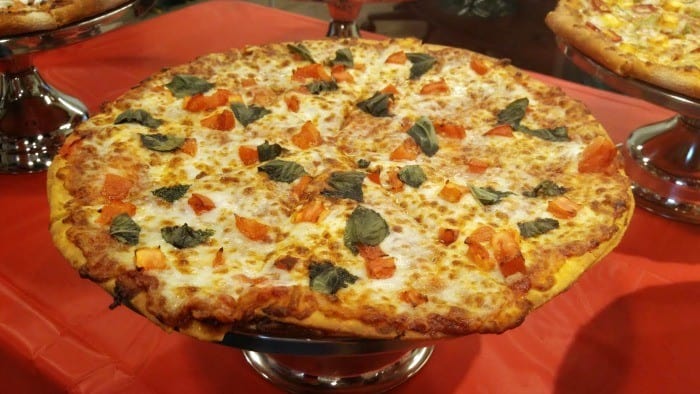 The best part for me is that the amazing people at Domino's made the La 4 Fromages from France and the Peppery Paneer from India on a Gluten Free crust for me since I cannot have gluten.  Did I mention that part?!?!?  That Domino's does an amazing Gluten Free Pizza Crust?  I mean AMAZING!  I've tried a lot of gluten free crusts, foods really, from restaurants and homemade and I have to say that Domino's is delicious and even the people in my family that can have gluten like how it tastes.  I talked with some of the people in the Domino's Test Kitchen about how the gluten free pizzas are made and while there is still some risk for cross contamination, as expected, they take a lot of care in preparing their gluten free products.
I also got to meet many great people while at Domino's Digital Insiders Day like the Domino's Leadership Team, other bloggers, a franchise owner, and the artist and creator of this amazing Storm Trooper that was made from Domino's pizza boxes!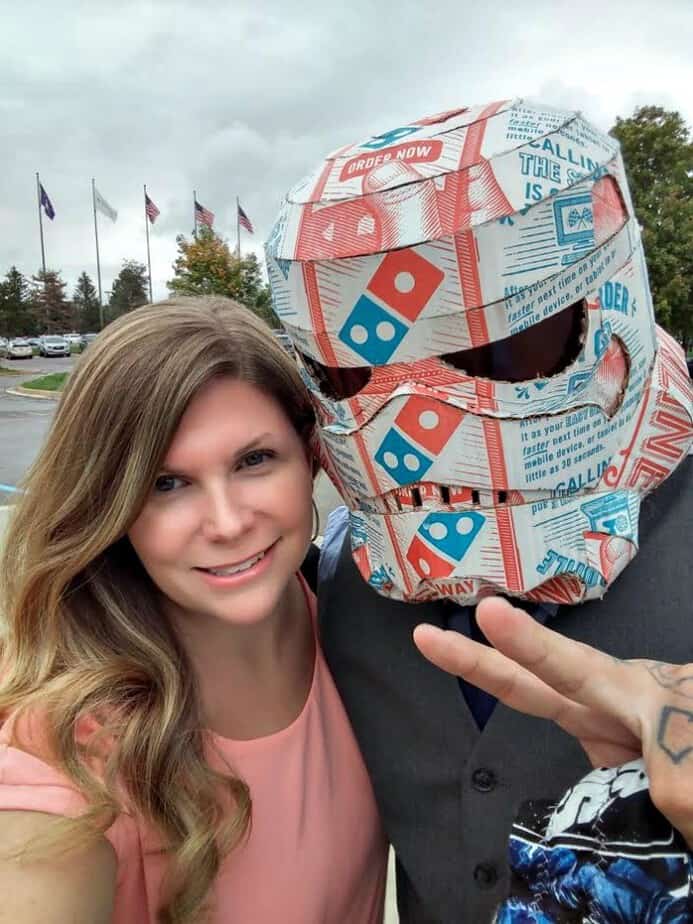 Domino's Gives Back
This is the last part I'm writing about, not because it's the least of what matters but rather because if I wrote it first I'm afraid you'd be so teary eyed that you might not be able to read the rest of what I had written.  Domino's is a truly amazing company not because of the delicious pizzas they make or the innovative delivery methods and extremely cool ordering options.  They are a truly amazing company because they are constantly giving to the communities they are part of, to their own employees and franchisees, to St. Jude's Children's Hospital, to those in need.
In the last 12 years, Domino's has raised over $31 Million dollars for St. Jude's and have committed to raising $35 Million more by 2023.  With it costing more than $2 Million per day to run St. Jude's, the money that Domino's is raising makes a huge difference.
Domino's also has a program for their own employees and franchise employees.  Employees are able to contribute a small amount from each paycheck to a fund that helps to support fellow employees who may find themselves in a time of need.  This fund is available for any employee, whether they've contributed or not.  When an employee is diagnosed with a life changing medical issue or faces any number of circumstances that may mean loss of wages or financial burden, this fund is an option.  With a simple phone call to the caring people at Domino's headquarters, help can be on the way.  This program has helped employees through their battles with cancer, when working just wasn't an option and their family would not have had a source of income.  This program is a true blessing.  Domino's is a blessing.
Domino's also announced to us that they'll be working with Future Farmers of America (FFA) going forward. We learned that fewer and fewer "next generations" are taking over the family farm and Domino's is recognizing the importance of partnering with FFA not only for the students that want to be production farmers but also those FFA members who want to become teachers, doctors, scientists, business owners and more.  All these people play a role in the business of pizza making and Domino's sees the importance of this.
After visiting Domino's I can truly say that I feel Domino's is leading the way, not just in pizza delivery but in so many other ways as well.  What an amazing company from Michigan!