There's a long checklist of things to remember when traveling abroad. Most people end up forgetting something whether it be a toothbrush or sunglasses. You can cope without many of these forgotten items (you may be able to buy them at the airport or while you're out there), however others could be a major inconvenience if you forget them or could even prevent your travels going ahead. Below are just 10 things you do not want to forget when traveling abroad…from a guest writer.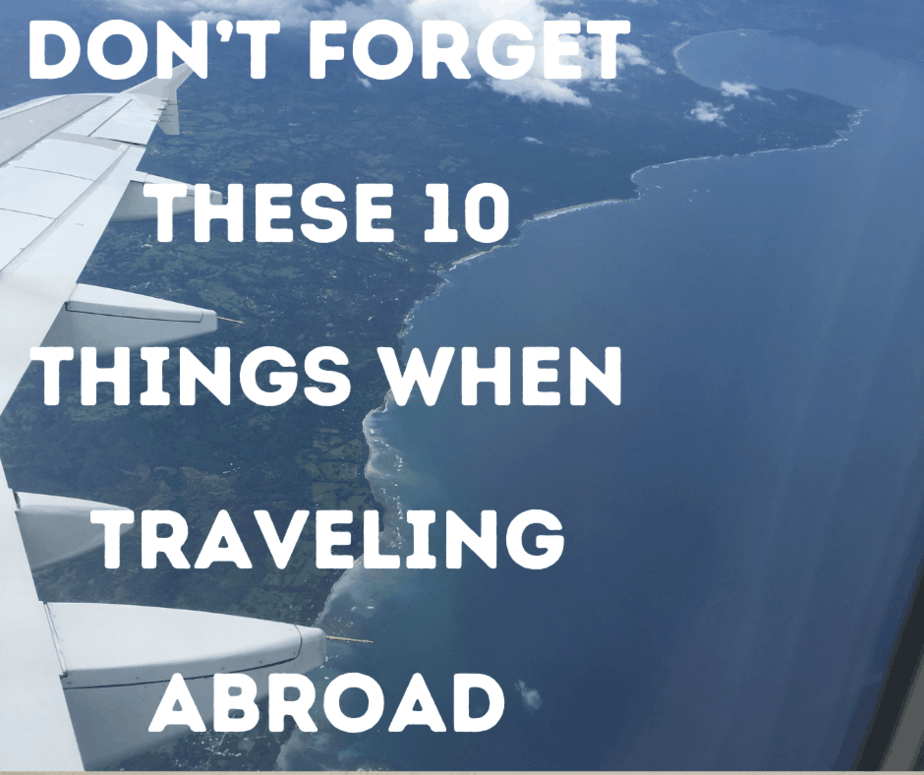 Don't Forget These 10 Things When Traveling Abroad
Medical supplies/ First Aid Supplies
You should pack some medical supplies with you including emergency first aid supplies and any prescription medication. Some of the things to consider include:
Pain relievers (Tylenol, Motrin, Aleve, etc)

Antiseptic lotion

Tampons/sanitary pads

Contraception

Anti-allergy medication (e.g. antihistamine pills, inhalers, EpiPens)

Anti-diarrheal medicine

Insulin (if you have diabetes)

Hearing aid/glasses/contact lenses
You may not always be able to get this medication at your destination, which is why it's so important to pack it. With prescription medication, make sure you have enough to last your journey. It could be worth bringing a signed copy of your prescription notes in case there's an emergency and you need to go to a pharmacy to get more medicine.
Chargers & adaptors
If you're bringing any electronic devices, make sure that you haven't forgotten your chargers! Finding the right chargers could be difficult in some locations. Consider bringing a portable charger with you for keeping your devices charged on the go (particularly useful if you've got a long flight ahead).
Some countries may use different plug sockets, in which case you'll need an adaptor plug. This can be a commonly forgotten item that can be a nuisance when you get to your hotel. Research into the electrical sockets before going abroad so that you can buy the right adaptor plug. You're also likely to spend a lot more buying one when you arrive as opposed to planning ahead and having one on hand before you leave for your trip!
Clothes for all weather
If you're going somewhere warm and sunny, don't just pack for hot and dry weather. It could still rain, so it's worth always bringing a light waterproof jacket just in case. Some warmer clothing could also be useful for sitting in an air conditioned airport or sitting out at night when the temperature may drop (if you plan to take an excursion somewhere mountainous it could also be handy). Similarly, don't forget to pack swimwear when traveling somewhere colder just in case you want to use an indoor pool/hot springs.
Spending money
How will you pay for things when you're out there? Most people convert some cash before they go. In some cases, it may be cheaper to convert cash when you're out there. Alternatively, you can use a preloaded currency card (it saves you having to carry cash, which can get lost). Avoid paying with your standard debit card or credit card as it may charge you international fees every time you use it (there are some credit cards that have low or no international fees or rewards, which you may be able to use for bigger expenses).
Notifying your bank
It's often worth notifying your bank before travelling abroad. If you need to access money abroad and you haven't told your bank, your attempt to get money out may flag up as fraud – and you may not be able to use your card. In many cases, this won't happen. However, if you're not a seasoned traveler or you're going somewhere slightly off the beaten path there's more of a chance that it may seem unusual to a bank, in which case they're more likely to block your card (which could cause major issues in an emergency).
Checking luggage restrictions
If you're traveling by air, it's important to not just remember what to pack, but how much to pack and which bag you can put it in. Airports often have weight restrictions when it comes to luggage. There may also be items that are banned – either solely from hand luggage or from all luggage, Hand luggage rules can be particularly strict with some airlines. To avoid having items confiscated or having to pay extra charges, always check the luggage restrictions of your airline before you travel.
Travel insurance
Travel insurance can help to compensate you in various emergencies. Some of the emergencies that are covered by travel insurance typically include:
Flight cancellations

Lost/stolen belongings

Emergency medical treatment
Travel insurance is useful to have in place just in case disaster strikes. In most cases, it won't cost you a lot of money to take out travel insurance, but could potentially save you thousands. You can shop around for travel insurance rates online.
Vaccines
In some countries, you may encounter dangerous diseases such as malaria or rabies. It could be worth looking into the risks of developing these diseases and getting vaccinated if necessary. Vaccines will need to be scheduled several months in advance – they may include multiple jabs and may have to be taken over a course of several weeks. With the likes of malaria, you may be prescribed malaria tablets to take with you. Some countries may require proof of a covid-19 vaccination for entry as well.
Visas
Many countries require you to pay for a visa before entering. Forget to apply for a visa and you won't be allowed entry. Visa applications can take several days, so you should apply at least a week in advance. You can apply for visas online – there should be a specialist national website such as this ESTA website for US visas. Make sure to apply for the right visa (if you plan to work abroad, you'll need a working visa and not a tourist visa).
Passport
You cannot leave the country without a passport. Consequently, this is one item that you definitely do not want to forget. You'll need to apply for a passport several months in advance and it can be a long process. If you already have a passport, check that it has not expired – a lot of people make the mistake of checking their passport expiry date last minute when it's often too late to renew it, which could then mean that you cannot leave the country. You can find information on applying for a US passport online.
What are your must haves to pack when traveling abroad?