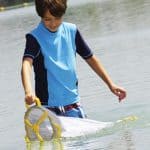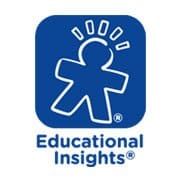 Summer has arrived (almost)!!! Around here that means outdoor exploration, bug catching, fort building and muddy feet! That's why I just HAD to try out the Plankton Net from Educational Insights. They never fail to stock the most fun and educational items for my kids! This fun little net has a handle so it can be "swooshed" through the water. A small bottle with a magnifying glass is screwed onto the bottom to collect the water. When you are done swooshing and collecting water, you unscrew the bottle and inspect your trappings.
GeoSafari® Plankton Net
They say you should never swim alone…
Millions of plankton live in ponds, lakes, and oceans. Take a closer look with the GeoSafari® Plankton Net! Toss the net into any natural body of water and sweep back and forth to collect plankton. Lift the net to examine them in
the transparent bottle underneath or remove the bottle and attach the lid to share your finds with friends! Grades 3+
Includes mesh plankton net with removable, transparent, magnified bottle with attached cap and laminated (waterproof) guide with plankton-identification chart
Can be used in ANY natural body of water—fresh or salt
Interactive activity encourages exploration and discovery
Can be held with hands or used with rope for docks and boats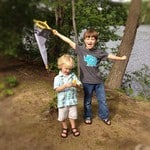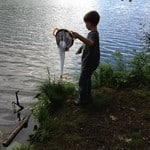 My 6 year old waited by the door for the delivery man every single day until this net arrived. Once it arrived, we needed plankton, STAT! I lugged all three kids, with one on my back, down to the nearest pond. After a couple of hair raising slips, we had access to the water and began sifting for plankton (or fishing for plankton as my son likes to say). We stuck close to the bank and were easily able to fill our vial with pond water. We detached the container from the bottom of the net and voila! MILLIONS, and I mean millions of plankton!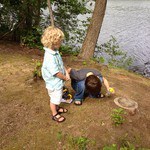 Luckily, this set comes with a plankton identification chart. My son carries it with him at all times, even to school. I guess you just never know when you may need to identify plankton! We were able to pick out 2 or 3 different types of plankton from our bottle on the chart. The plankton lived for about 2 days and then we did it again! This activity was so simple and fast, with an immediate pay off. It also fostered a lot of interesting conversations around the differences between fresh water and salt water plankton. We are getting ready for our beach vacation next month and plan on taking this net along with us to explore the differences! Two thumbs up for this toy, we love it!
"A sample of this product was provided to facilitate my review. All opinions expressed are my own."