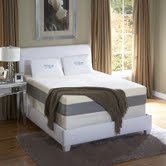 ENTER TO WIN
Do you know that Visco memory foam was originally created in the 1970's by NASA for the astronaut's space suits?  It was intended to be used to protect from G-force pressure when exiting and reentering the atmosphere.  Memory foam is an open-cell polymer which reacts to ambient temperatures- so it cradles and molds to your body.  No pressure points means better sleep at night.  The mattress conforms to YOUR body temperature and adjusts as the temperature changes. Check out what WE thought of the Nature's Sleep mattress in our review here!
Why a memory foam mattress? 
Alleviate pain associated with many ailments, such as back pain
Help your body and mind to revitalize & rejuvenate
Memory Foam provides pressure relieving comfort
You'll be cradled & comforted from head to toe
Every mattress is covered with a plush velour, removable cover
Not sure you want to wait?  You can  
save 50% with code: BEARS50.  
You can also win a mattress every month on the
Nature's Sleep Facebook page 
This giveaway starts June 2 at 00:01 EST and ends July 14 at 23:59 EST. Giveaway open to US only.
Javascript must be enabled to enter this giveaway. Learn how to activate Javascript by
clicking here.

Loading Entry-Form
0