I have a great recipe including Eggo waffles for some of your leftover ham from Easter dinner! It's really, really easy (although I'm not sure I've ever even attempted a hard recipe).  It's the first recipe that includes Eggo waffles that I'll be sharing this week, too.  I've been asked to be a Chief Waffle Officer for Eggo, and part of that includes making some fun recipes using Eggo waffles to share.  So here's your first recipe!
This is the first time I've used waffles for something that's not…well, breakfast-y. I wasn't sure how the family would react. They loved it. Instant hit. My oldest AND my husband asked for a repeat for lunches tomorrow.  Fine with me!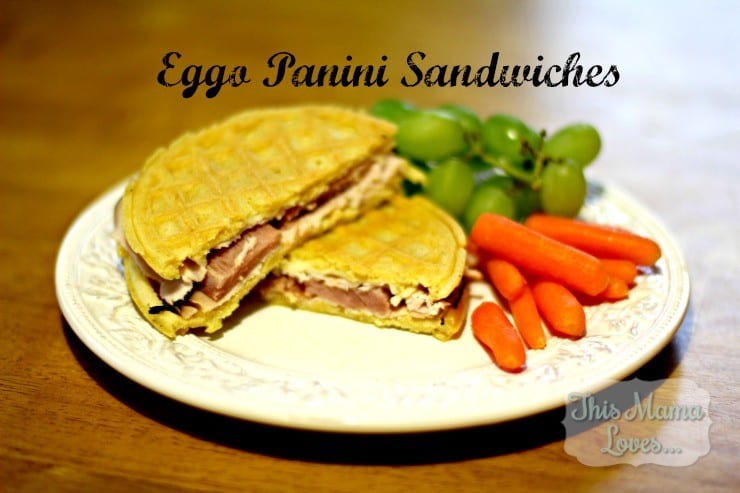 Eggo Panini Sandwiches:
Ingredients:
2 Eggo waffles (Homestyle) per panini sandwich
fillings of choice (we used leftover ham, a little turkey and some cheese)
any "spread" you might like- mustard? maybe
Directions:
Layer "innards"  sandwich atop one Eggo waffle.  When done, top with 2nd waffle.  I like to use my cast iron skillet whenever possible (easy way to add iron to your diet) and just a little bit of butter to keep the waffles from sticking.  You could, I suppose, use a panini press.  We don't have one. I have an old school bacon press that works just fine.  Cook on both sides.  The waffles will get just a bit crisp on the outside and are SO good with the meat!   (My husband loved it so much he wanted me to make him one with leftover meatloaf- he said he's not had a better meatloaf sandwich ever…he loves meatloaf sandwiches so this is saying a lot!)
While we do enjoy our paninis warm, these also pack really  well for lunches.  Add some fruits and veggies and you have an easy to go lunch!
Be sure to head over to "like" Eggo on Facebook- while you are there, check out the Great Eggo Waffle Off!  where you can enter to win prizes up to $5000!! (I'm not eligible so I will cheer you on)
 So here's a question for YOU: help me come up with a more creative name for my recipe! Eggo Panini Sandwich is "fine" but it's kind of boring.  There has to be a better way, right? Help me!!
This post is sponsored by our friends at Eggo.  Opinions are my own.