When Kaufman Mercantile asked me to review their "EDC" (Every Day Carry tool), I took one look and realized I'd just been introduced to something really cool.  My husband is very handy.  He's also very hard to shop for.  I know too many folks who tell me they have a guy who's super hard to shop for.  But I've found a solution.  Well, I've found a solution for one holiday. Maybe 2.  All of the shows about emergency preparedness and surviving in different situations should use this product. All together, the EDC with all of the tools on it weighs next to nothing.  For those hiking or camping deep in the woods (or any situation where you are concerned about weight of things), this adds so much help and almost NO weight to your pack/supplies.
If you are one of the people who has an emergency preparedness kit, the EDC is the perfect thing to include.  Just don't forget the lighter fluid!  A little does go a very long way but won't get you far if you have none at all.
This little EDC fits on a keychain.  A keychain.  And it isn't just one tool.  It's 5 in one.  Tweezers, screwdriver keys (2 of them), a 2 inch prybar and a mini waterproof lighter.  In one place.  My husband did raise his eyebrow a bit when I first showed him this, but of course, he mentioned it at work and when his coworkers were interested and two remembered having one of these in the military, he was very interested.
These tools are made to last. Each is made from super strong materials like black-oxide hardened steel, titanium, and industrial grade metal.  The lighter has a seal to keep water OUT and lighter fluid IN.  That cute little prybar?  Don't let the size fool you.  It's strong enough to get LEGO bricks apart.  It's tiny but that means it can fit into tiny spaces.  Maybe not something you'll use all the time but with the size and weight, it doesn't matter.  The EDC is versatile and practical.  I can't say enough how cool I think itis!  Plus, it can fit in your purse quite nicely. Or backpack.  Fanny pack. Pockets.  Wherever.  Just not in the little one's pockets, of course.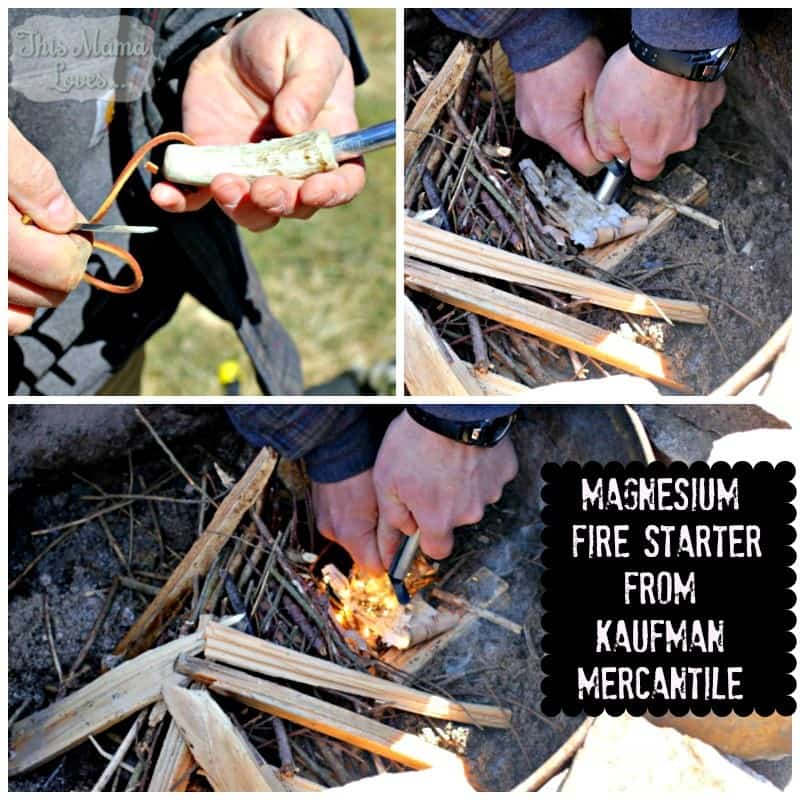 The other super cool gift idea, which you can pair with the EDC or save for another gift occasion is this Magnesium Fire Starter.  Wet matches aren't going to put a damper (get it? wet, damper? haha?) on your campfire plans with this tool- simply put the tip of the fire starter on a rock or solid surface (out of the wind) and scrape the magnesium into a pile of shavings, then usel the flint to ignite.  Because the shavings are magnesium, once you get them lit, it's hard to put them OUT, so even damper kindling pieces can still have a fair shot to be lit for a campfire.  We all know how important a campfire is in so many situations!  I can't not mention the "fun" part of this tool- surely this is more fun than matches or a "regular" lighter, no?
Not sure what to get that someone on your list?   For any gift occasion?  I definitely think you should check out the EDC and Magnesium Fire Starter. These are useful, practical, and I'm guessing, something that you don't have yet. 
We love this so much we may get a second so that we each have one (mine at home, hubby's in his pocket with his keys!
Thanks to Kaufman Mercantile for sending these for review.  Opinions are my own.
0