Elf on the Shelf Ideas (Again)If you love the idea of the Elf on the Shelf, but aren't sure about where to begin, take a look at some of these fun poses you can try! Kids will love waking up each day and seeing what the elf is up to, and these ideas are some of the perfect places to start. Take a look at these 10 fun Elf on the Shelf ideas to get you started. Remember, if you love the idea but the look of one Elf isn't appealing- check out our list of alternatives to Elf on the Shelf!  And… if you need more ideas, here are some other fun and creative Elf on the Shelf ideas!
Tangled in lights Elf: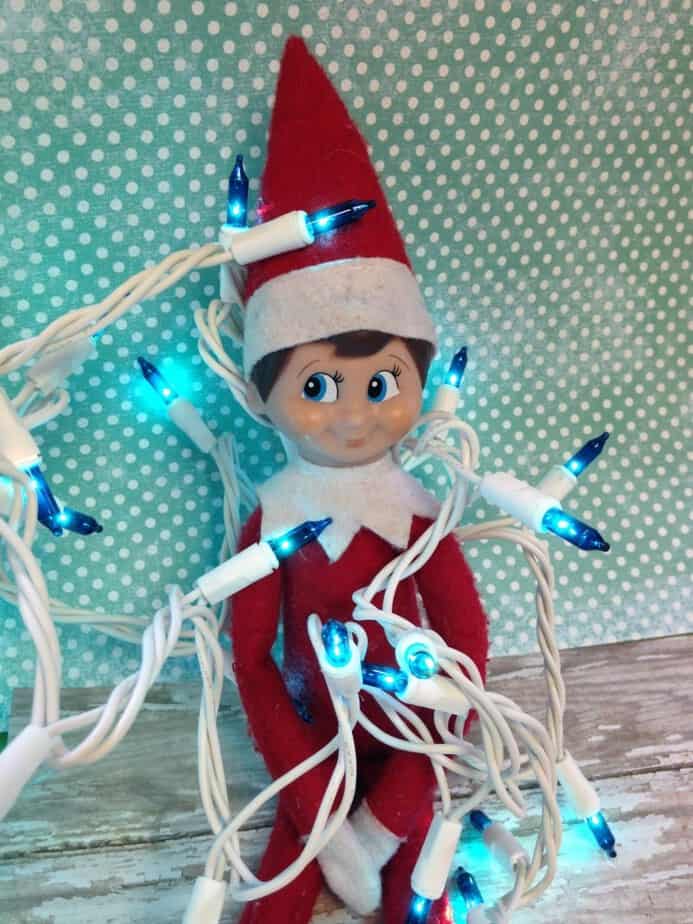 Poor Elf! He wanted to be helpful with the holiday lights but instead got into a jumbled mess! Wrap up your elf in twinkle lights, plug them in, and he will look like he was quite unsuccessful at untangling them! Set him up by the tree to make the scene look extra real.
Tea Time Elf: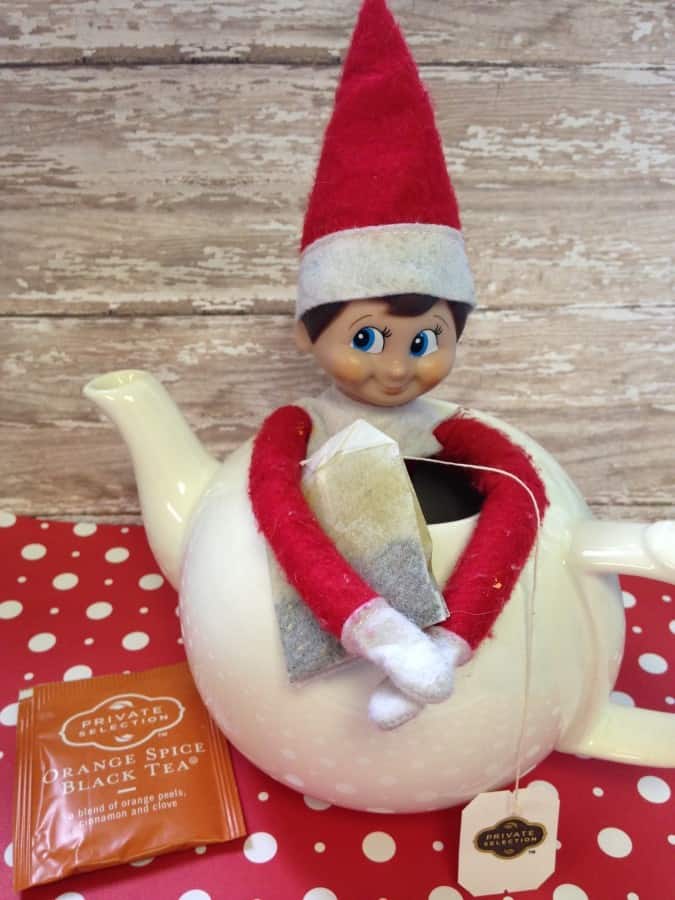 Elves love tea time. For this pose, have your elf hold a tea bag and place him inside the tea pot. This pose offers an unexpected surprise that is sure to bring out the giggles. You can even set out tea cups and sugar cubes if you wish.
Egg Carton Elf: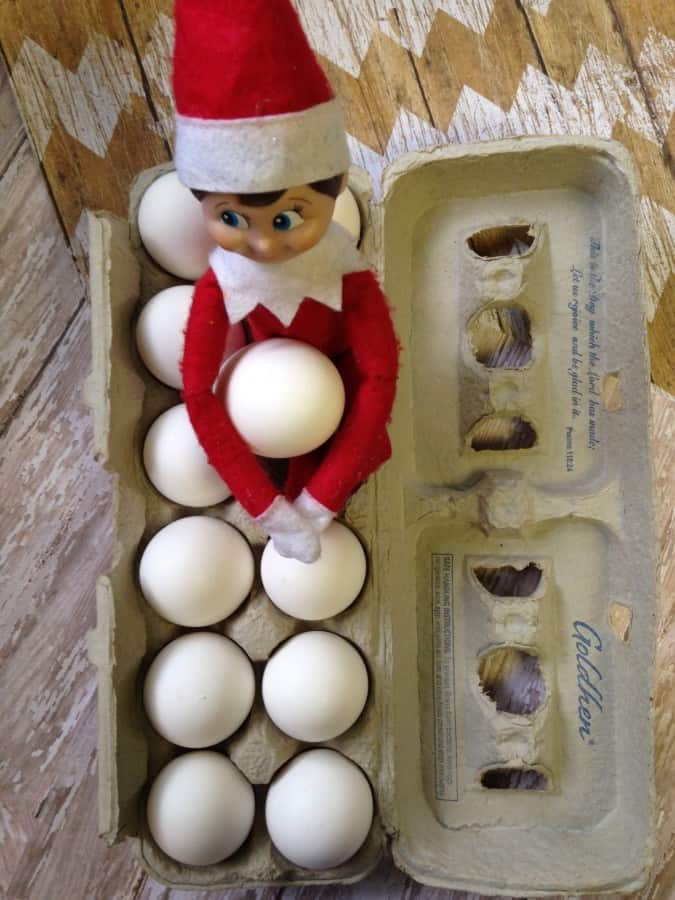 Make breakfast more exciting when you create egg carton Elf! Simply remove two eggs and place the elf (folded) into the spaces instead. You can even prop an egg in his hands. He will look like he is ready to help with breakfast. Omelets anyone?
Starbucks Elf: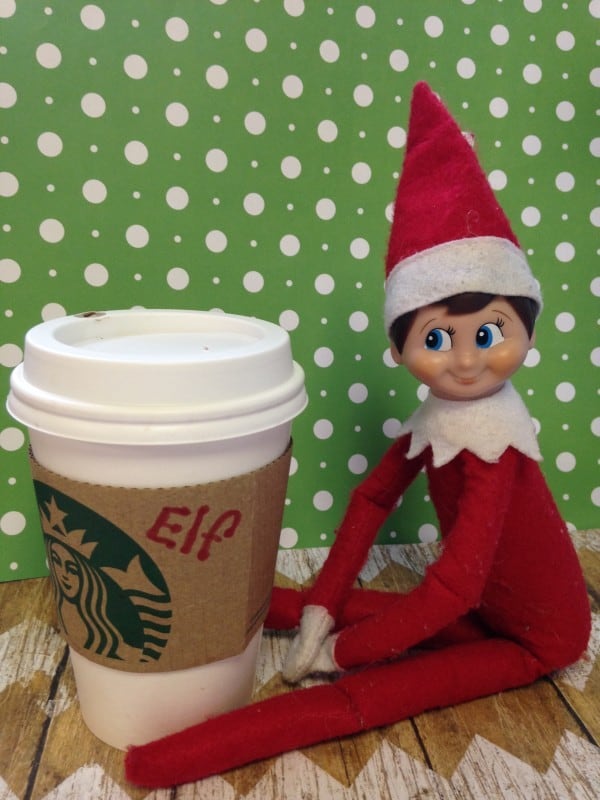 Elf loves a warm cup of coffee! The baristas love writing his name on his cup too. Save a Starbucks cup and write "Elf" or the name of your elf on the side. Have him hold it as though he just placed an order. Coffee is served!
Toast Elf: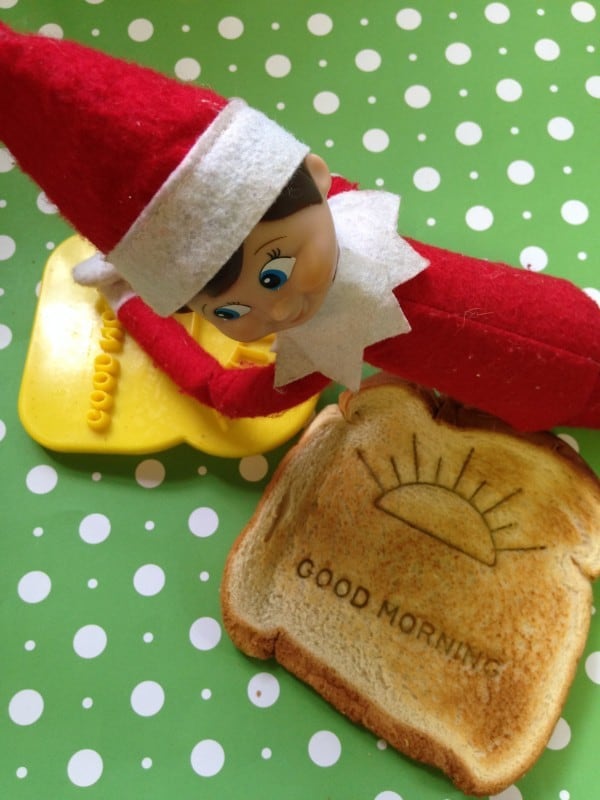 Make mornings extra special when you create this toast elf. Simply make some toast and leave the elf near it with a cookie cutter or bread stamp. It will look like he worked really hard creating the perfect breakfast treat!
Sugar Sprinkle Elf: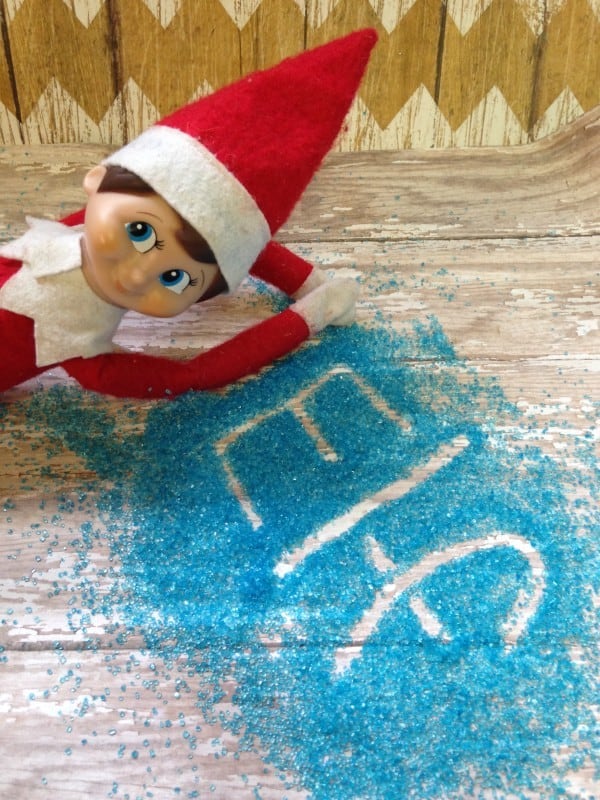 Elves love sugar sprinkles. Pour some out onto a piece of paper and trace the name of the elf into the sugar. This is fun to do before baking cookies or as a surprise for when the kids get home from school.
Spa Elf: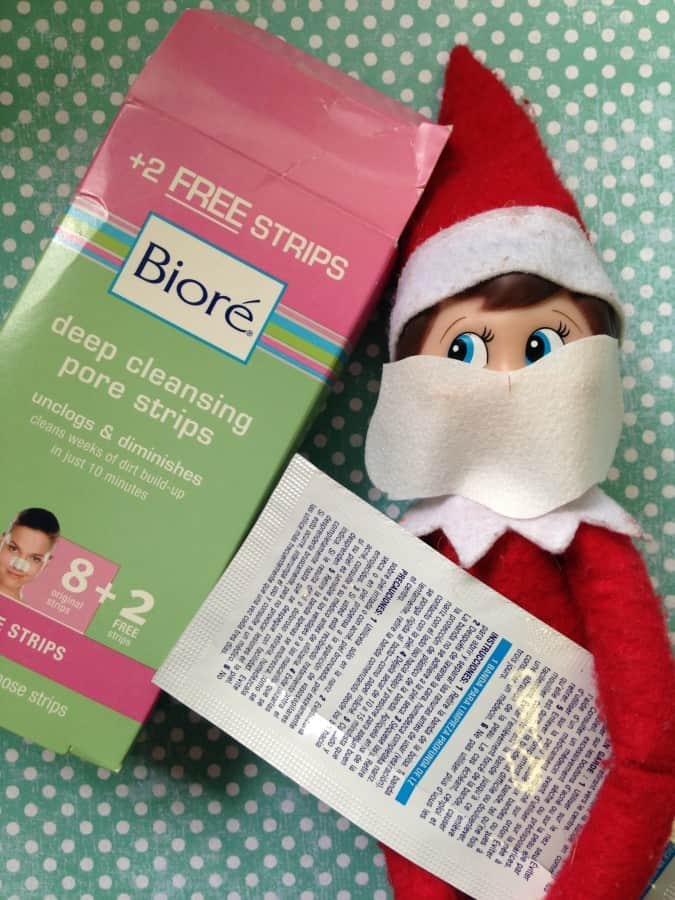 Elves love treating themselves to spa treatments. Prop your elf up in the bathroom along with a pore strip. Or, you can even make your own with a piece of tape. Place the strip on the face of the elf and then set him up for some relaxation. Pure bliss!
Mac n Cheese Elf: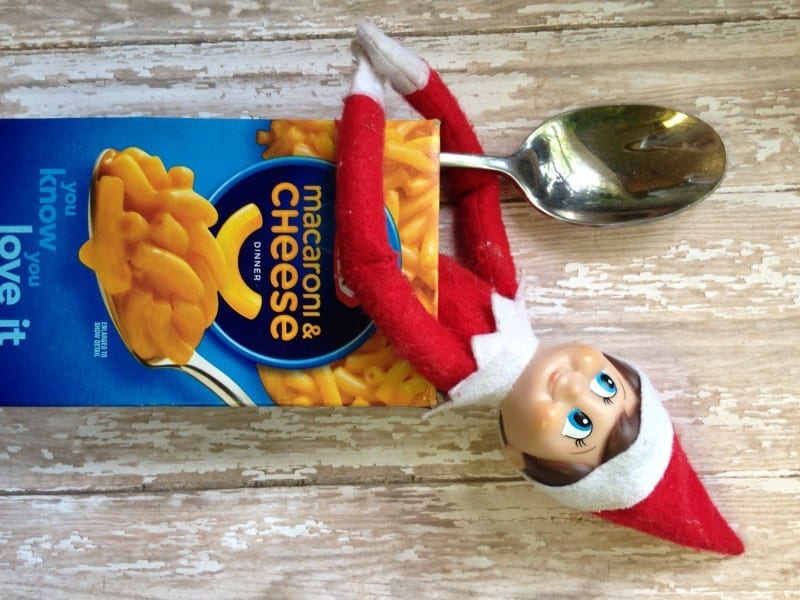 Who doesn't love a hot bowl of man n cheese? Elves sure do! Take an empty box of mac n cheese and place the elf inside. You can also add a spoon to the box since he is extra hungry. Leave this set up out before dinner time so kids can see how much their elf loves to cook.
Piggy Bank Elf: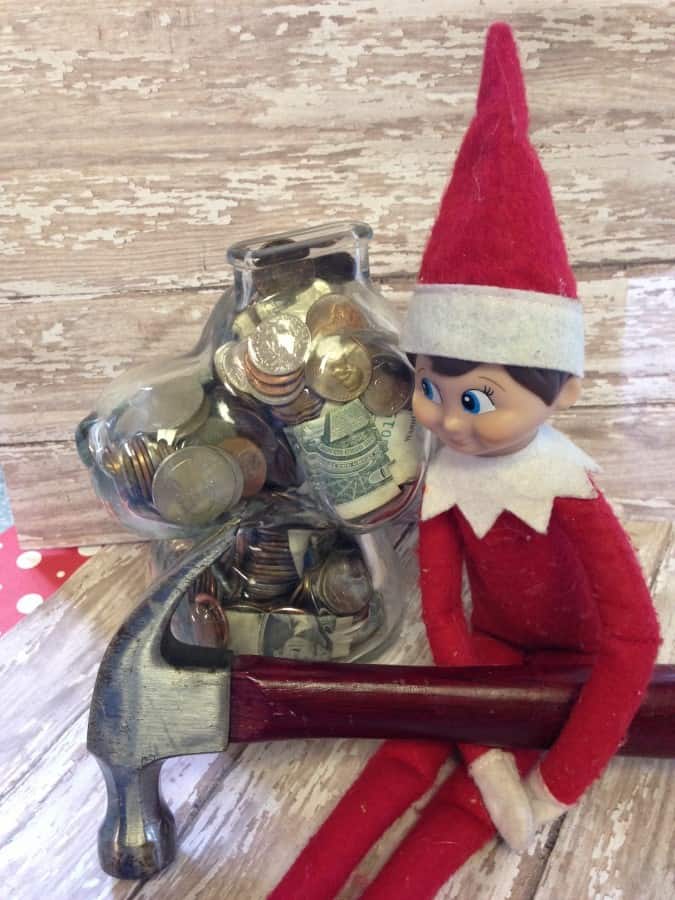 Poor Elf! He wants to start his holiday shopping NOW! Place him next to a piggy bank with a hammer in his hand. He will look as though he is ready to smash and run. He won't though. He will do his best to be patient since he knows Santa is watching.
Online Shopping Elf: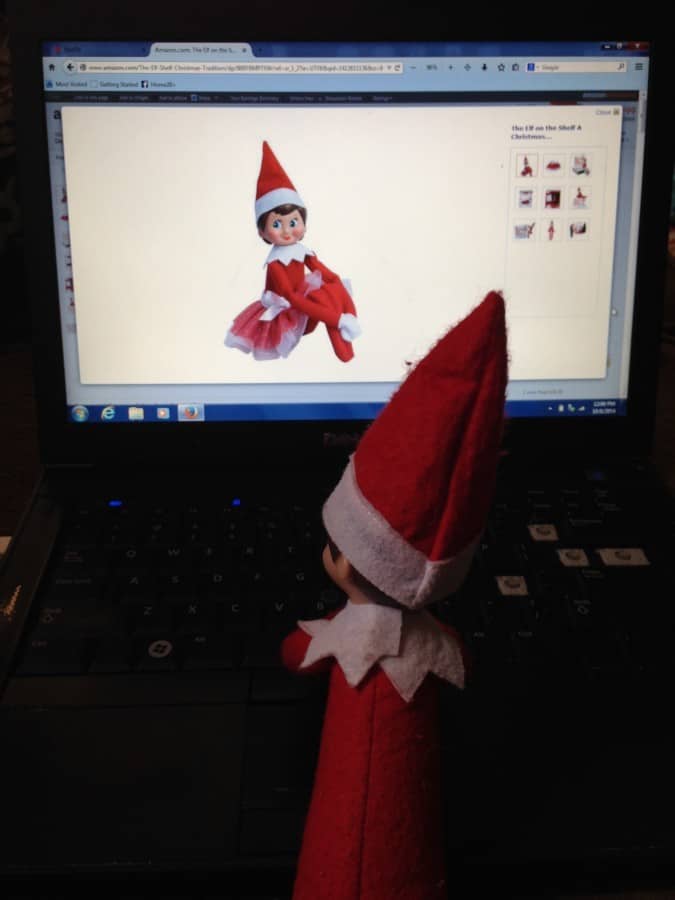 Elves love having their friends around. Have your elf prop up on the keyboard of your computer with the page opened to Amazon. You can have pictures of various Elf on a Shelf dolls for sale. For this example, we chose a pretty girl elf. It will look as though he is shopping for a friend.
See how fun it can be to create these Elf on a Shelf scenarios? Give them a try!