Halloween is coming fast and furious. It's time to start thinking about spooky treats and frightful delights. One of my favorite things to do is have some fun with holiday foods- and for some reason, I keep thinking about witches brews and the eye of a newt lately. So when I heard that Sweetworks candies wanted to do some fun holiday themed posts, I got excited.  My eyes of newt (eye of newts?) were going to be a reality. Listen- any cake or cupcake recipe will do.  I'm not reinventing the wheel here.  The added elements are what makes these FUN and festive, not the cupcake itself. I mean, it's still a cupcake, so let's make it rock. This is a Fashionista Event and a promotional item was provided to me by Sweetworks. Hosts for this event are Still Blonde after all these Years and ModlyChic.
Eye of Newt Cupcakes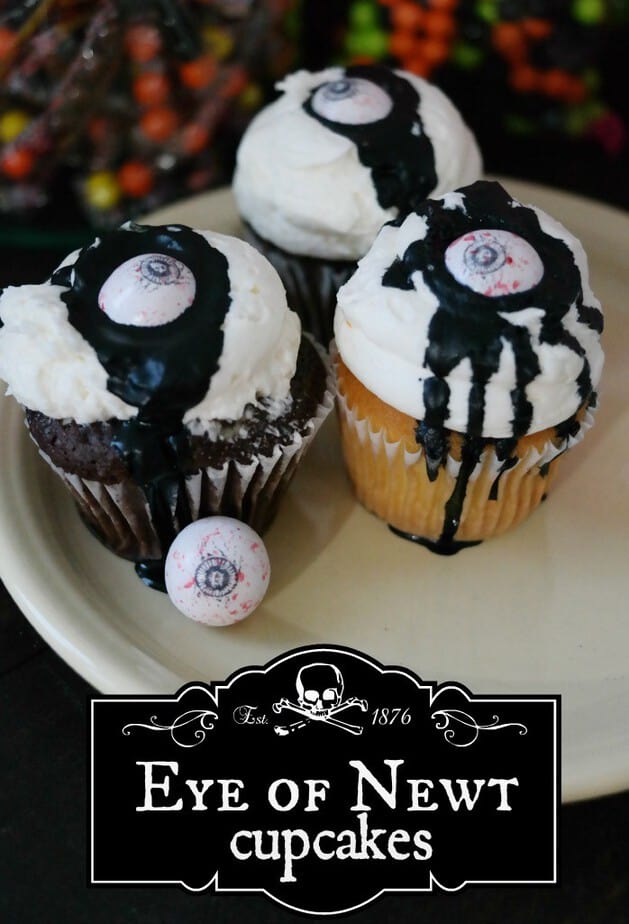 Ingredients:
1 box chocolate cake mix. Or 1 box vanilla cake mix.  Really, anything would work.  I'd actually contemplated doing a black cupcake, but that seemed a little bit much for my house. It would be REALLY fun to do black cupcakes (start with a chocolate base and add black food coloring gel.  Dark base has a better chance to turn black).
Of course if you REALLY want to save some time, buy some cupcakes from the bakery. I won't judge.
1/2 cup vanilla pudding (again with the color- I want the elements of the yuck without looking yuck. I'm more cute and fun not super realistic and gross. BUT if you wanted to gross out your friends… add some black to that pudding.  Or do a chocolate pudding with black coloring gel)
Buttercream frosting (This is the recipe I prefer for my cakes and cupcakes, and I really recommend NOT using store bought because the eyeballs really just won't sit as high on your cupcake and squish the black ooze out as effectively with a can frosting). You could also go all Sandra Lee on us and get pre-baked, pre-frosted cupcakes.  Again, I don't judge.
Sweetworks Spooky Eyes Gumballs 8oz bag
Black Cookie Icing (the bottle kind works best- it's just easier to squeeze and let the extra flow down the cupcakes. Black blood adds to the effect.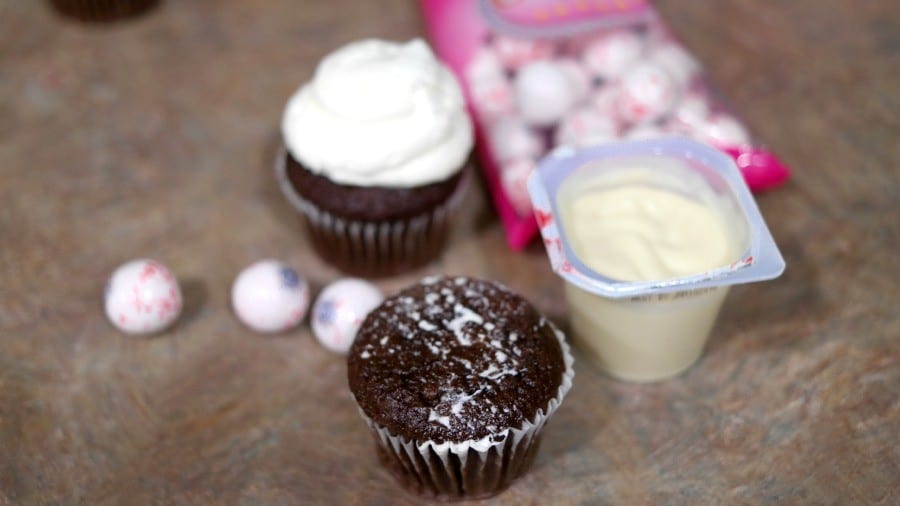 Directions:
Prepare cupcakes as directed. Allow to cool.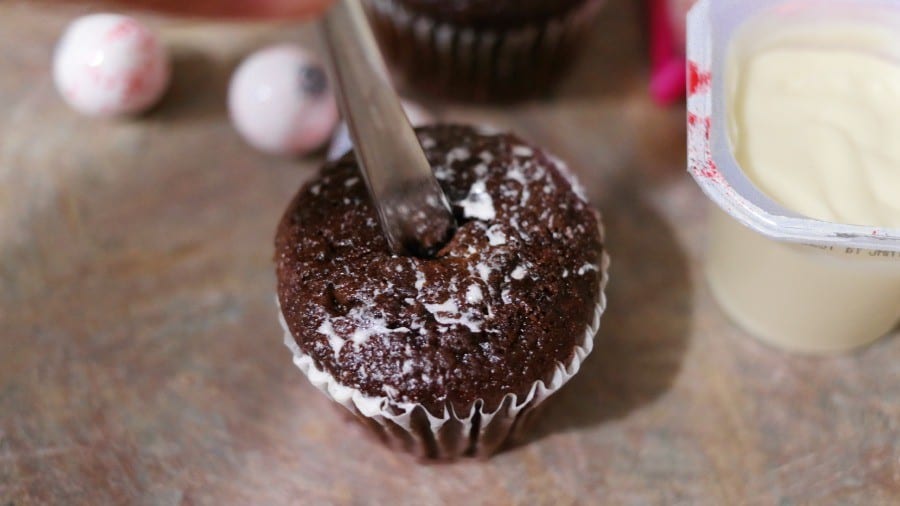 Either with an icing bag or a spoon, add about 1 full teaspoon of your pudding into the center of your cupcakes. Be careful not to break the sides of the cupcake! This is the brain matter from the newt.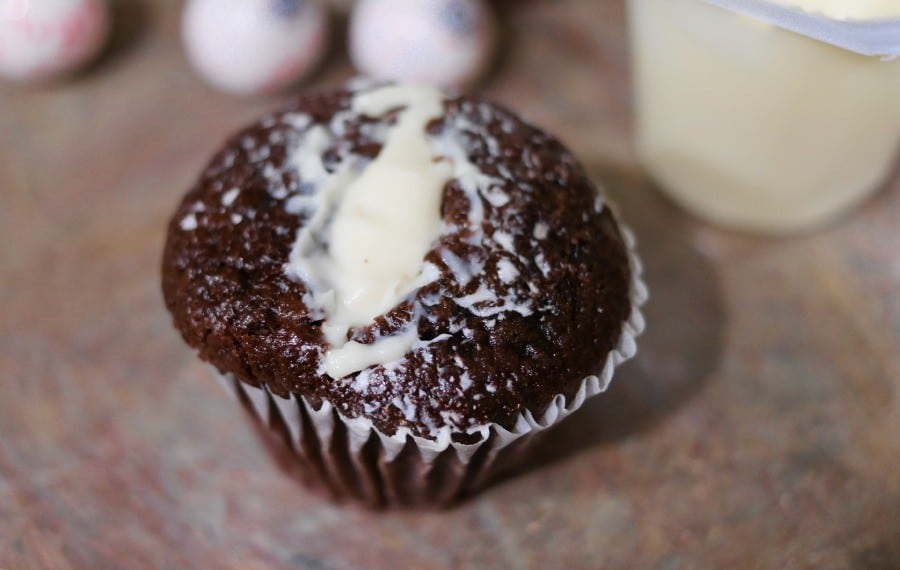 Once cupcake has been filled with brain matter, generously ice the cupcake with buttercream.  I left mine white but you can do a color, too.  I wanted the  stark contrast of the black 'blood' and the white eyeball and surrounding area.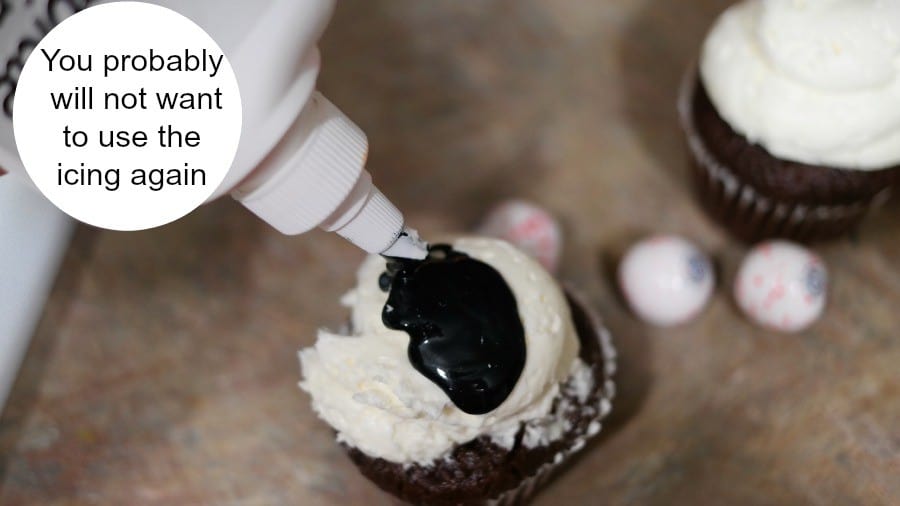 After icing, take your black cookie icing and push the tip about 1/3 of the way down into the icing.  Give it a GENEROUS squeeze (maybe like a tablespoon). It should kind of start to puddle and even run down the sides of the icing.  This is what you want.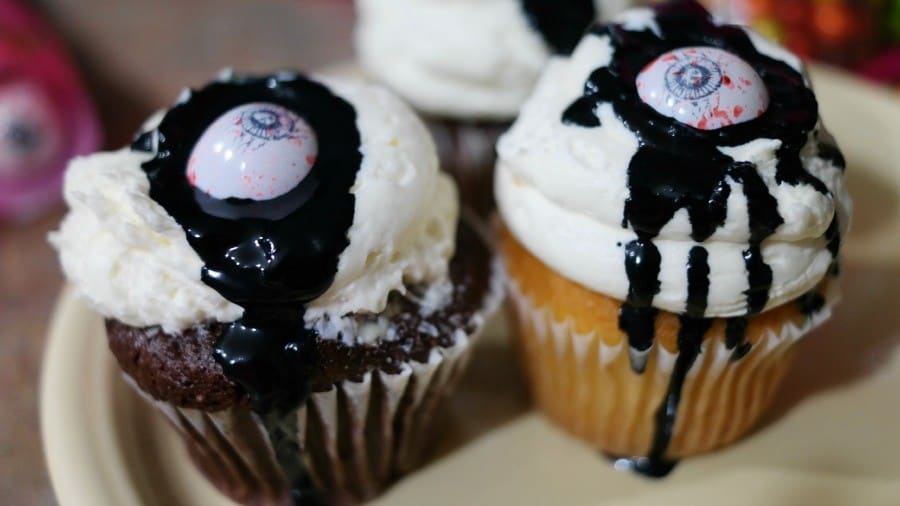 Now grab a Spooky Eyes Gumball and pop it into your mouth.  Enjoy chewing your eyeball gum and grab another one and then push it down into that black icing until the eyeball is just above the icing level.  Watch the magic happen, people.  This is where the magic happens.  This is where the black starts to look like newt blood and I get all happy.  (Also black. I get black.  That icing always gets all over me!) Basically, if it starts to look at all gross, you're good.
Let set for a while before serving- the more the black icing drips down the icing and cupcake, the better.  It'll really make those Spooky Eye Gumballs POP! Off that cupcake.  Gross, yet awesome.  And SO delicious.
If the Eye of Newt isn't quite your thing- have some tamer fun with other Sweetworks fall and Halloween goodies.  There's a whole array of goodies that you can use to add some fun colors and festive designs to! I'm partial to the Halloween Mix Sixlets to just add some pops of color and fun to a cupcake.  Plus they are chocolate… and chocolate is yum. The Autumn Mix Pearls can be carefully arranged atop some buttercream icing to create fall leaves… or flowers. It's amazing what a few fun candies can do to a plain old cupcake. Sweetworks is FUN to work with- you can eat any of their brands on their own, but you can also bake with them and decorate with them.  Versatile and fun.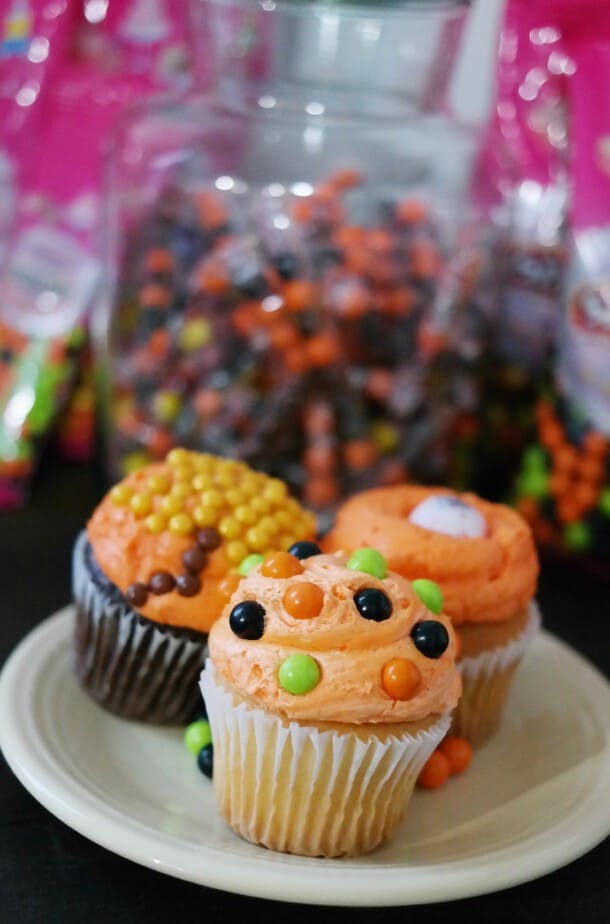 Sweetworks candies offer a variety of sweets in so many fun shapes, sizes and colors.  Tons of fun shapes and colors to go with seasons, events and holidays. You can buy the Sweetworks Sixlets in multi color packages or individually by color. There's so many sweets from Sweetworks: gum, chocolate, jawbreakers… each of Sweetworks' confectionery brands have a strong history of partnership with consumers and retailers seeking high-quality gluten-free, nut-free or kosher candies. SweetWorks® markets its confections in over 65 countries.
Celebration by SweetWorks® Pearls™ and Gumballs, and Oak Leaf® candies are gluten free, Kosher and nut free. Sixlets® are gluten free, nut free.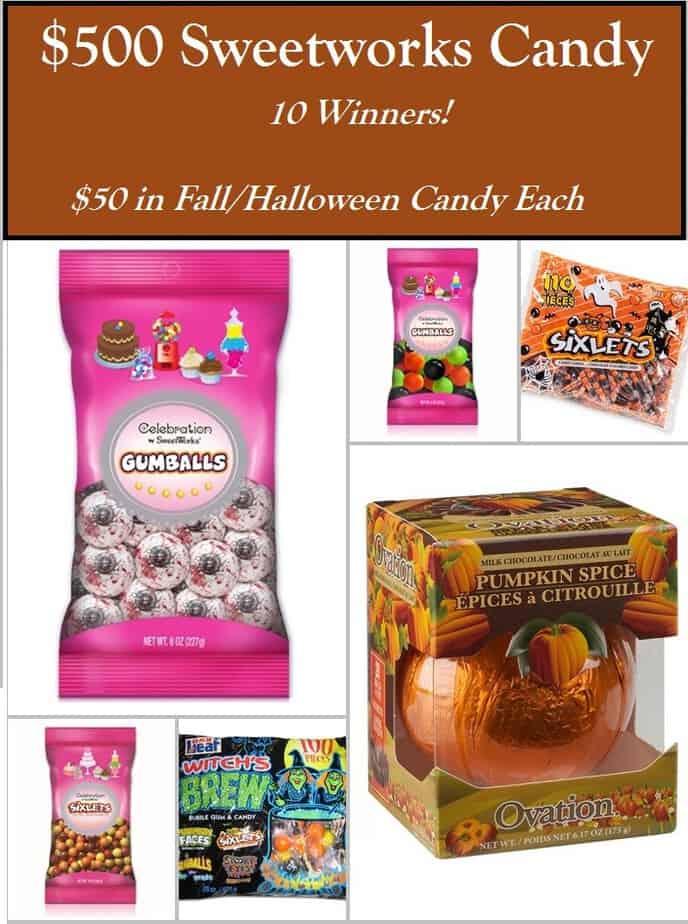 Enter to win one of 10 $50 Sweetworks Candy Prize Packs!