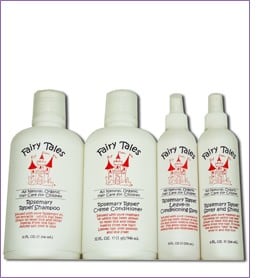 We've already been using Fairy Tales Hair Care products for about a year now. We "met" the brand with their Rosemary Repel line- an all natural lice repelling hair care line. With 2 kids enrolled in our local elementary school, this is something I like to keep on top of.  Now that all three of my kids also have hair, I also have to keep on top of managing their hair and keeping it as healthy as possible.  My oldest has long hair now, it's about half way down her back.  My 4 year old has "hair" for the first time in that he's not buzzed- so I'm finding that I need to condition his hair a few times per week as well…and now that my youngest has visible hair, as little as she has, it gets just as dried out and frizzy from the winter as the big kids' does.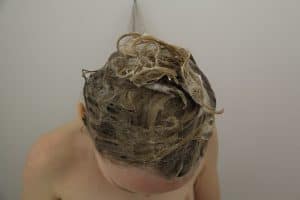 I hate having to buy separate products for my kids.  Its an extra cost incurred and takes up valuable space in our already small bathroom.  Having products that work well but don't offend anyone's noses means less clutter for me- and less expenditure.  I LOVE how Fairy Tales Hair Care products work well, are gentle enough for my littlest one, but strong enough to clean my bigger kids and their bigger hair messes (we have had many to date…).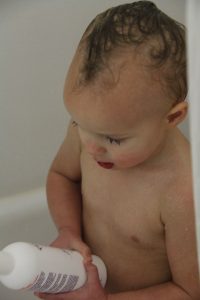 The shampoo and conditioner have a light, citrus-y scent, so my son isn't crying foul that the shampoo is for girls, and yet they have enough scent that my girls are happy.  The leave-in detangler has a mild coconut scent and I love it.  Oh, do I ever love it.  It works well, without using a ton of product, and it helps keep the static at bay.  My 6 year old has a thing about static in her hair and we've had many tears shed over static hair issues.  No longer an issue.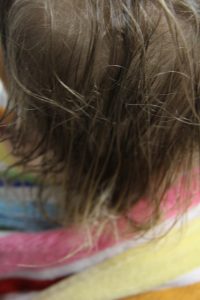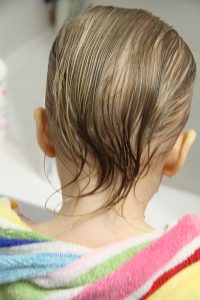 We'll be buying this brand again, again and again.  It works, its affordable (a little amount goes a very long way), its safe for my kids, natural ingredients, and everyone likes it.  I can't think of anything NOT to like!!
Fairy Tales Hair Care, the leading children's hair care line, has some great ways to keep kids' hair healthy and shiny all season long.  With the following products at home, winter hair care becomes much less of a chore:
·         Tear Free Conditioning Shampoo, 12 oz – Restores shine and texture with Vitamins E and B.

·         Detangling Conditioner, 12 oz – Infused with extracts of rosemary, aloe vera, cherry bark and chamomile.
·         Static Free Leave-in Detangling Spray, 12 oz – Rehydrates the scalp and enhances luster with aloe, rose hips, sage and Vitamin
I'd definitely recommend giving the Fairy Tales line a try.  I don't think you'll be sorry!!  You can purchase them direct from Fairy Tales or check out their salon locator feature right on the site.
I received a sample of this product to facilitate my review.  Opinions are my own.
0