This is a sponsored post written by me on behalf of Rug Doctor for IZEA. All opinions are 100% mine.
I'm not sure there is much in this world I love more than fall with my family. The house is constantly filled with chatter, kids laughing and playing after school (often even extra kids that don't belong to us), and memories are being made. The windows are open and the fresh fall air fills the house. Of course, with all of the great things about fall that means memories are being made comes messes being made and just general dirt being brought into the house at an even more rapid rate than normal. The big kids are bringing home lots of extra dirt from fall sports and the littles from the school playground and I find it really important to stay on top of the cleaning and to even do some deep cleaning that normally doesn't get done. These Fall Cleaning Tips mean keeping my house feeling clean and ready for a last minute group of friends and family to gather anytime, like for a fall campfire or a Friday night football game.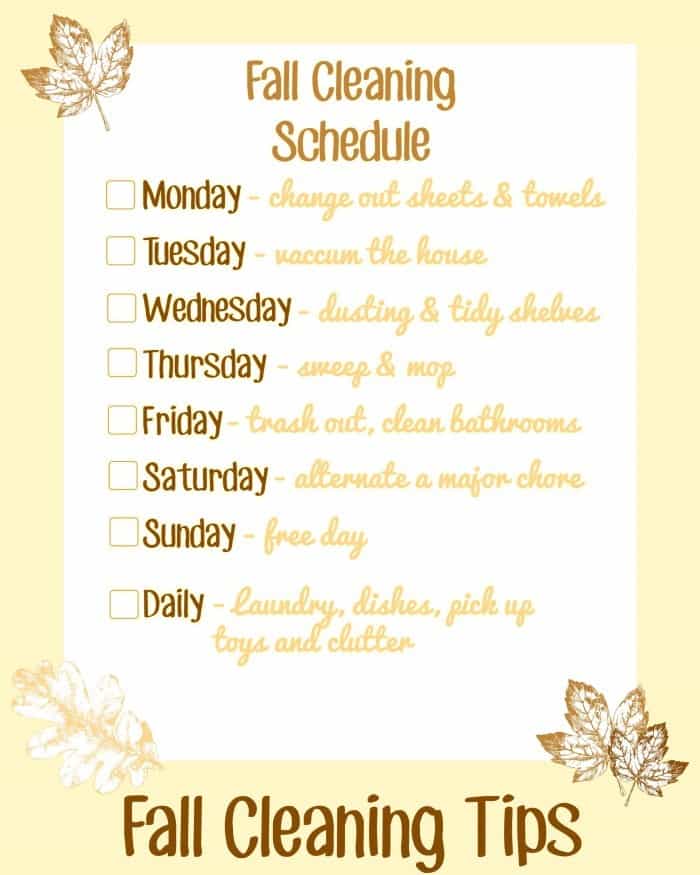 Fall Cleaning Tips
Develop a Weekly Cleaning Schedule Some chores need to be done daily but most can be done weekly or some even less often. Develop a weekly cleaning schedule that makes keeping up on the day to day chores easy. By spending just a half hour a day on specific tasks and breaking the chores up each day, you'll never have to give up an entire day to house work. This also means that the house never has a chance to get really bad and we can have it presentable for company within 30 minutes or so. Here's an example of our schedule. You can print it and put it in a basic document frame to turn it into a dry erase checklist!
Laundry Daily I know this might seem crazy but in our house of 7 it seems like laundry can get out of control way too quickly. If we don't stay on top of laundry we quickly find ourselves having to climb mount laundry and dealing with baskets and baskets of clean but wrinkled clothes that need to be fluffed in the dryer and the process takes an entire day to get under control. Growing up my mom always sorted and made sure like colors were washed together, whites in another load, jeans in yet another and so on. Last fall I was at her house and saw her throw all of her laundry into the washer together and was shocked. She explained that with it being just her and my dad it would take weeks to build up enough of any one thing to do a dedicated load and unless something is new and at risk of colors bleeding or needs special treatment that she's learned that washing it all together is generally just fine. Mom knows best, right? Obviously grubby work clothes, sheets, towels, and certain things are exceptions but I took her advice and began washing most of our clothes together. At the end of each day, just before bed, I put everyone's dirty clothes from the day into the washer and start the machine. First thing in the morning I toss it into the dryer and when it's done it gets folded or hung and put away. It takes 10 minutes to take care of the laundry instead of hours and there's never a pile of dirty or clean laundry sitting anywhere. It's been the best chore decision I've made!
Make Deep Cleaning Part of Your Routine You'll notice I used Saturday as a day to alternate a major chore. Maybe your Saturdays are busy and you'd rather dedicate a different day to this. Regardless of what day you choose, picking a day each week to alternate a major chore gives you the opportunity to make Deep Cleaning part of your cleaning routine. Deep cleaning isn't something you need to do weekly or even monthly in most cases so these tasks can be worked through gradually throughout the months. Some things that fall into my deep cleaning list are cleaning under the bed & flipping mattresses, washing walls & ceilings, cleaning ceiling fans & light fixtures, cleaning insides & outsides of appliances, cleaning under furniture, washing window blinds & curtains, and shampooing carpets. Our kids spend a lot of time playing with toys on the floor, watching television from the floor, and as a family we play a lot of games on the floor. This past winter we put in new flooring in the kitchen and basement but our main living and dining area's carpet was only a few years old. It had been put in just before we bought our home. I hated the idea of replacing it yet I felt it really looked worn and dirty. I was shocked at how much deep cleaning the carpet could make a difference and now I really see the importance of adding this to my chore routine.
I rented a Rug Doctor Carpet Cleaner which allowed me to do a professional-grade deep clean of my carpets at a fraction of the cost of hiring someone to come into my home. The cleaning solutions are tested and proven safe for pets and children which is so important to me. The rental is affordable and it allowed me the flexibility to deep clean on my schedule, not someone else's. I really put the Rug Doctor Carpet Cleaner to the test. Our dining room is carpeted and let me just say, with 3 toddlers and 2 kids this is a very bad idea. It's also something that for the time being I can't do much about. I've known the carpet in the dining room was soiled since we moved in. As embarrassed as I am to share it, this picture shows just how gross it has gotten. In my defense, much of this hides under the table as does the dog which I'm sure contributes to the dirt.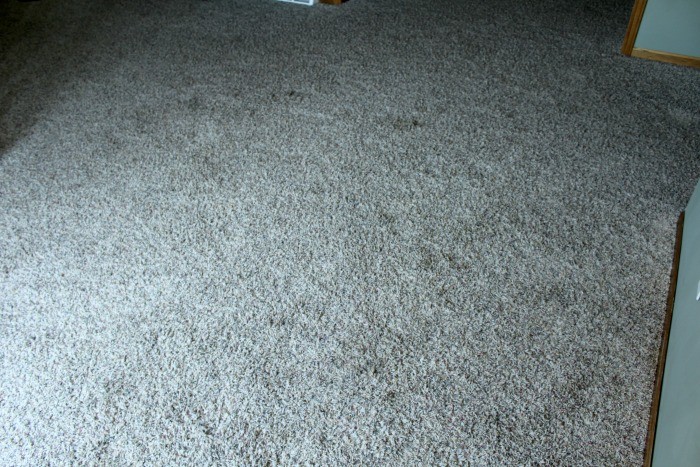 I picked up a bottle of the Rug Doctor Spot Stain Remover and I sprayed the really noticeable spots first, after vacuuming of course.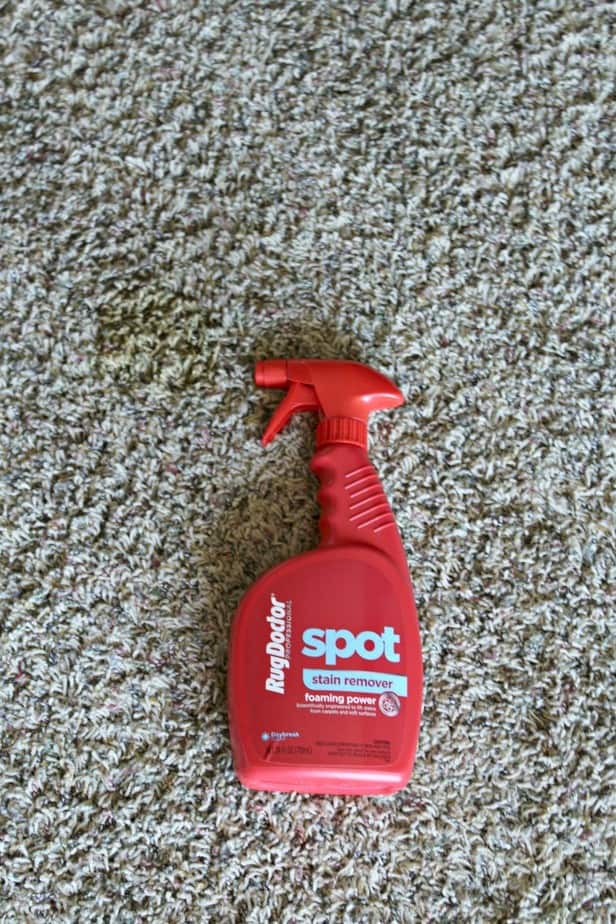 I was amazed at the difference the deep cleaning made. I was expecting the spots and stains to come out of the carpet but what I wasn't expecting was to see a difference in color! Because our carpet was already a year old and used by a family with pets when we moved in, I really had no idea of the actual color it was supposed to be. After deep cleaning the carpet and seeing the amount of dirt and grime that the machine pulled from my rugs I knew the carpet would have to look cleaner. I know life happens but I had no idea that my carpet was so bad! I had no idea my family has been laying on, playing on, and living on this dirty carpet!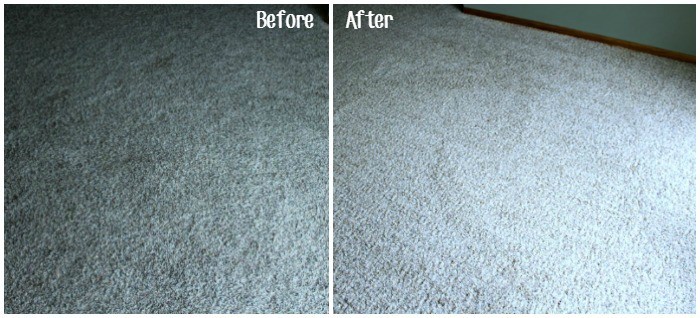 We vacuum several times a week with a really good quality vacuum but look how much dirt is in the water after cleaning the rugs!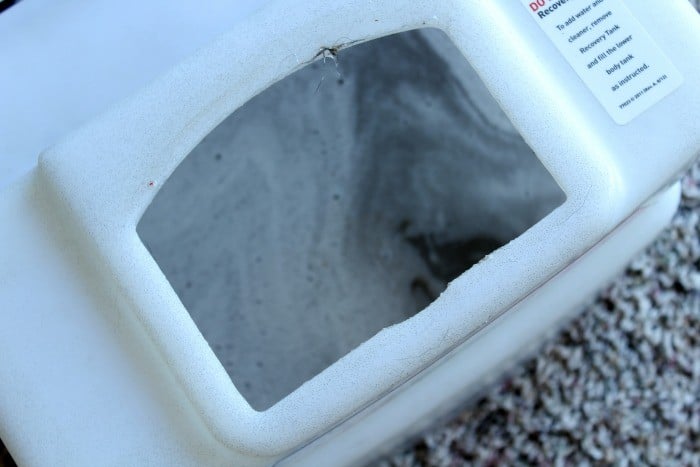 Here is another high traffic area of our home. It's near our kitchen and our entry area. It's also where our dog chooses to lay most of the day. It is the main walkway to our entire home.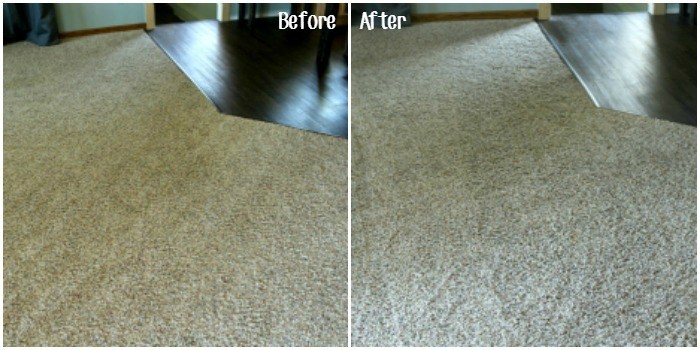 The old carpet now looks fresh and clean next to the new kitchen flooring we put down this past winter. I no longer feel the need to replace it! Gone are the stains and spots. Gone is the discoloration from our furry family member. The carpet is fluffy soft. If feels and looks great! The best part is that I cleaned our main floor carpets in only a couple of hours. Each room takes about 20 minutes depending on size. Rug Doctor is available at more than 40,000 locations nationwide and can be rented for $29.99 depending on your store and market, find a rental location near you. The Rug Doctor machines, like their Deep Carpet Cleaner and Portable Spot Cleaner can also be purchased to maintain your clean carpets. You can find them at rugdoctor.com, amazon.com, and other retailers. Deep cleaning the carpets has made the biggest impact so far this summer on how clean my home feels. I feel so much better knowing that one of my family's favorite places to gather is clean!