I am a sappy, sentimental girl. I had cameos from both of my grandmothers on my wedding flowers, my sister Debbie's china, my mom's wedding ring, and on and on. I love traditions and history and family, and when I find things that combine these loves, I get, well, sappy and often teary eyed. I can't help it. I just do.  (What's interesting is that my 6 year old has been like this since we can remember…must come naturally to us!). Anyway, someone posted on Facebook once about a new family holiday tradition they were starting, and it involved a white tablecloth, some fabric markers, and a whole lot of memories.  They were using the plain tablecloth on Thanksgiving, but having everyone present write or draw a memory or something they were thankful for on that tablecloth. The idea was that each year, the cloth would be used again, and each year, more memories would be shared, even more to treasure.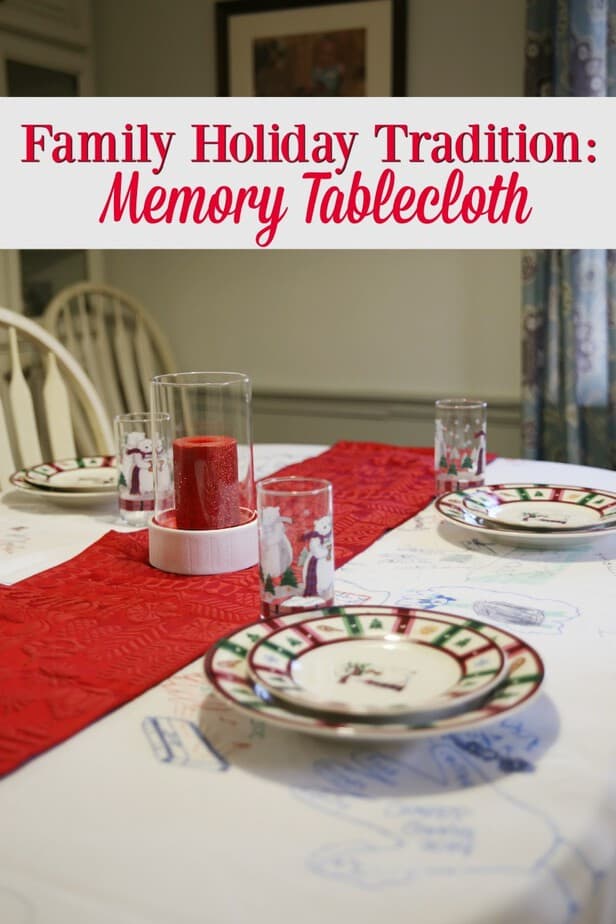 I fell in love with that idea before I finished reading what it was about.  A way to share old memories and make new ones at the same time?  Perfect.  I'm not one to be all, "if only" but when I think about how amazing it would be to have things on our family's memory tablecloth from those who are no longer with us, I do get a little misty.  I try instead to focus on thinking how much they would have loved this idea, and encouraged everyone to follow suit.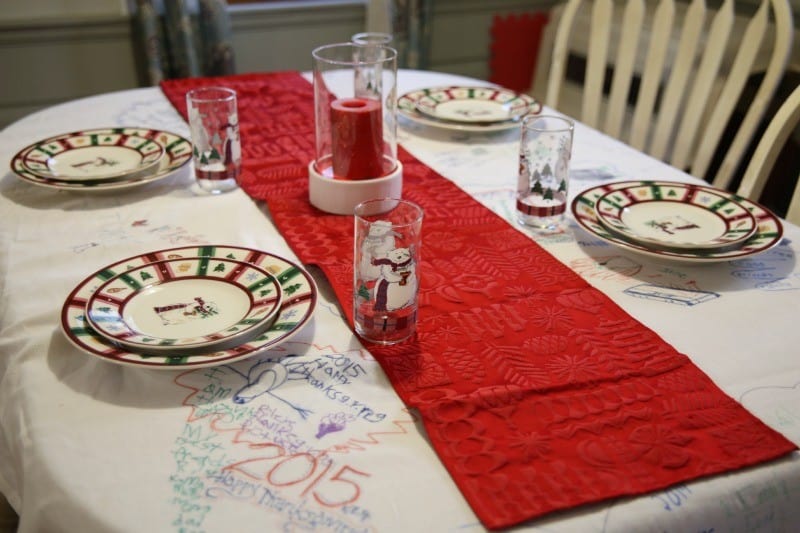 You might be thinking that I'm a little crazy, and isn't Thanksgiving- and really, aren't all holidays- a time to use the best linens with the best dishes?  To present as fancy as we can? Well, it may be. But I promise you, my sister's china set looks just as beautiful on our tablecloth woven with memories as it does on any other linens. It's maybe not something a designer would choose, but I'm more about the memories made, shared and remembered than appearances.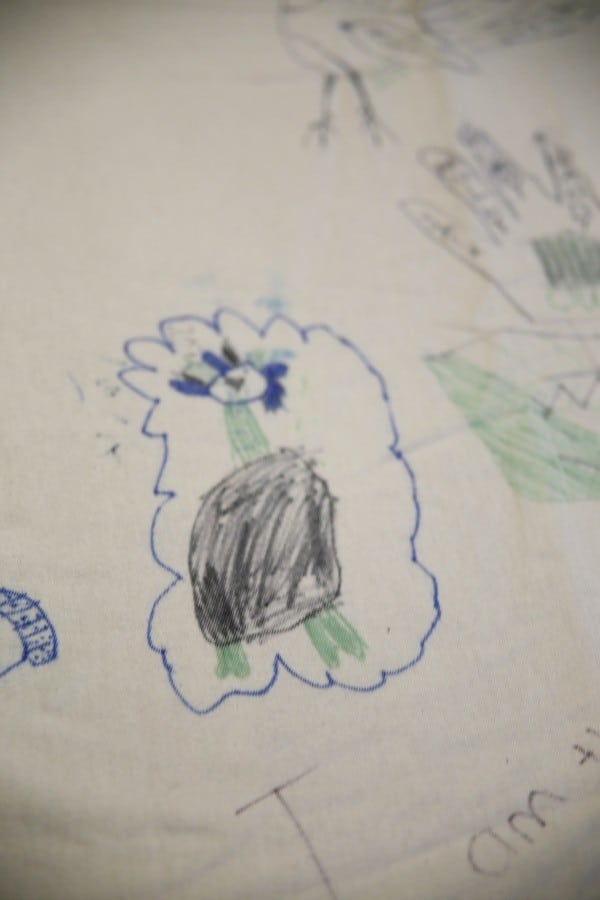 And so each year, we pull this cloth out for Thanksgiving, and have started to also use it at Christmas time.  It's not just for "the" day of holidays, but to gather memories from friends and family who are with us during celebrations. It's a lot of white and is just starting to look memory-filled, but that's part of the beauty of this tradition.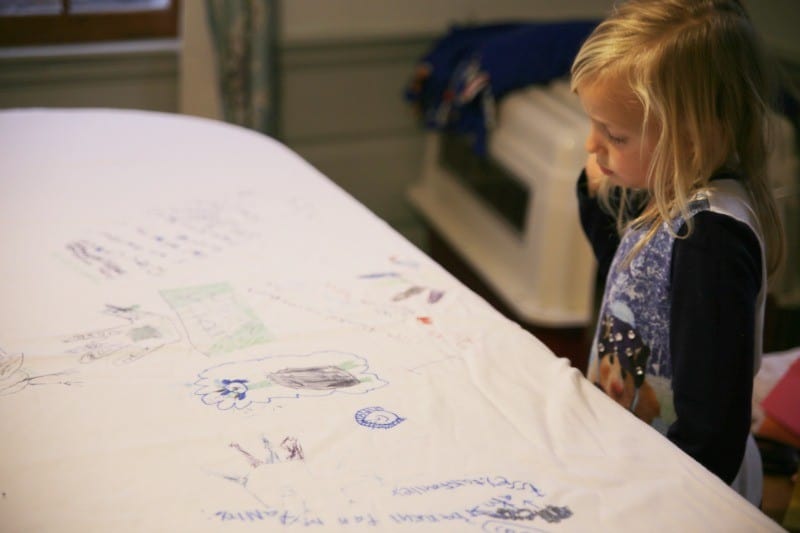 With a tablecloth full of these memories, and moments of gratitude, I want to take care that none of these images or writing get erased or faded.  I obviously don't want food stains to STAY on this cloth, especially since it's white.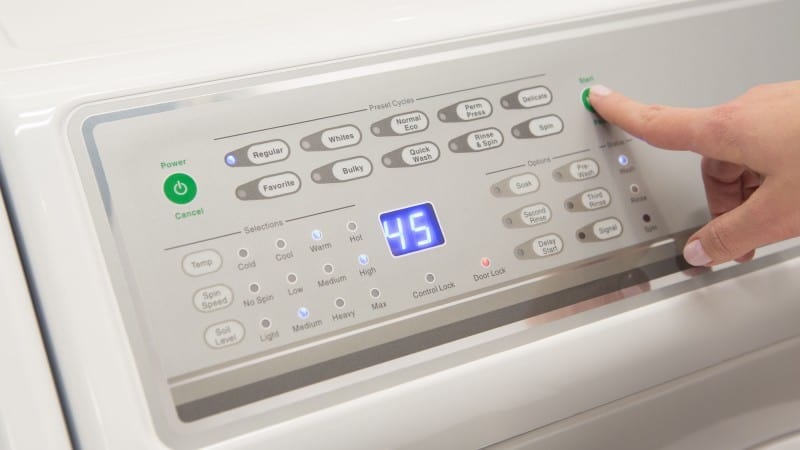 Thanks to my Speed Queen washer and dryer, I have a plethora of settings to both clean and protect this priceless tablecloth so that my family can use it, enjoy it, and add to it for many, many more years. I'm hoping the cloth outlasts the Speed Queen, although the way the Speed Queen machines are built using metal parts and not plastic, I wouldn't be surprised if it wasn't the other way around!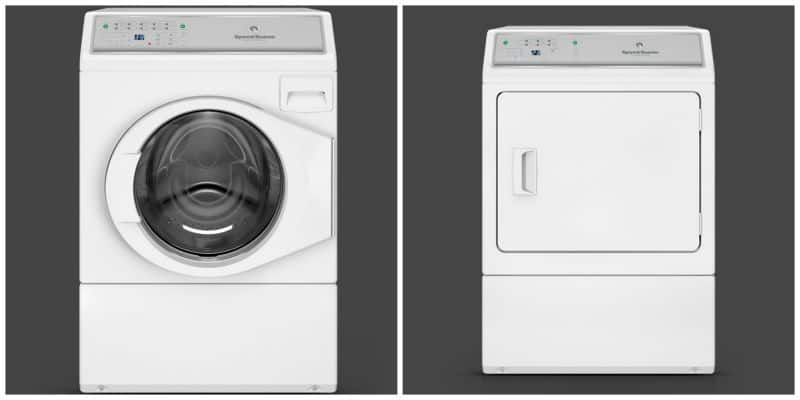 Now, I'd like to get one of you started on this very same tradition at your house.  While I'd love to also send one of you a washer/dryer combo, that's not happening until February 2016 *yes it is*! BUT…
One reader will win a Family Holiday Traditions Memory Prize Pack from me, myself and I, including a white tablecloth (you can choose round/oval/rectangle/size), a pack of fabric markers and a $50 Visa Gift Card.  I am doing this because I love this tradition THAT much and want to help another family to enjoy a meal with loved ones and be able to start this tradition at their house. Enter on the giveway tools widget below. 
Thank you to Speed Queen for sending us the washer and dryer to use, and for inspiring me to share this treasured part of my family holiday traditions.  Opinions are my own.