g" alt="apples to apples" width="500″ height="500″ />
Apples to Apples– There are so many versions of this game now- but really, it's fun for everyone and appropriate for anyone. If you have younger ones in your family, get the sets geared towards the younger kids- you'll all still have fun. I have the set for 7+ for my oldest for Christmas- and we've given that as a birthday party gift to four of her friends already. HUGE hit.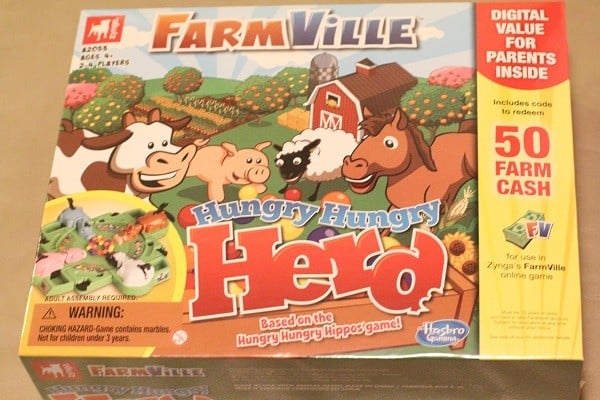 Farmville's Hungry Hungry Herd Hungry Hungry Hippos meets Facebook's Farmville. Social media games are becoming real life games in such a fun way! It's a really cute way to spend family game night!
Now you can bring the fun and friendly world of FARMVILLE home with the HUNGRY HUNGRY HERD game! It's the classic play of HUNGRY HUNGRY HIPPOS, updated with four new animals from ZYNGA'S FARMVILLE online game. Each animal has a favorite food, but it will gobble up anything it can get!

Based on FARMVILLE, ZYNGA'S wildly popular online game, HUNGRY HUNGRY HERD brings the farm animals to marble-chomping life! You can choose from four animals to play: Gobbling Horse, Munching Pig, Snacking Sheep or Chomping Cow. Each has a favorite color food that you sort into its feeding trough. Then it's time for the feeding frenzy to begin! Quickly push down your animal's tail to start munching. If your animal eats the most marbles, you win! The game also includes 50 Farm Cash for parents to enjoy in ZYNGA'S FARMVILLE online game.

Includes: Farm Base, 4 Animals, 4 Marble Flippers, 20 Marbles, Label Sheet, Game Guide

Ages 4 and up.

For 2-4 players.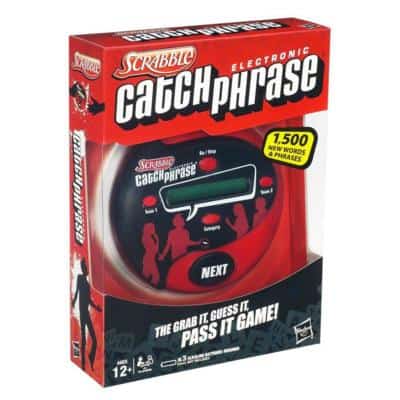 Scrabble Catch Phrase – This combines my love of electronics with my love of word games. My friend Jackie is hoping she can improve her Words with Friends scores…
Think fast! The SCRABBLE Electronic CATCHPHRASE game challenges you to come up with words and then pass the game fast so you don't get caught holding the bag! Give your teammates clues so they can guess the word or phrase on the game unit's screen. But no rhyming, first letters or parts of the word, or the other team gets a point! Once your team has guessed it, pass the unit fast to the other team. When the buzzer goes off, whoever has the unit loses a point to the other side, so move fast! When your team gets to 7 points, you win!

Classic CATCHPHRASE game challenges you to guess words and phrases! Team up and start the timer! Keep track of the score with the game unit. Press the Next button for the next word or phrase. Word and scores of each team appear in the display area! Choose from 5 categories: Fun & Games, Entertainment, Everyday Life, The World and Variety.

Game unit comes with instructions.

4 or more players.

Requires 3 "AAA" batteries (not included).

Ages 12 and up.
Triominoes- an oldie but goodie. We have the deluxe tin we play so often!
Trouble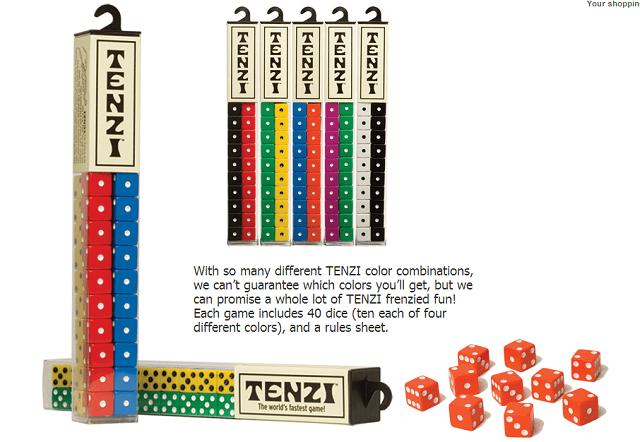 Tenzi– A dice game made for up to 4 players- quick moving (and GREAT for playdates) but also fun for adults. My 7 year old ADORES this game and brings it everywhere. It's small, portable, and really easy to play- and the quick duration makes it perfect for the younger kids.
Farmville Animal Games- Old Maid Super cute stocking stuffer idea ! Old Maid is always fun with kids but this one is in its own storage pouch and has the whole Farmville theme.
The classic card game, Old Maid, is here with a fun FARMVILLE twist! Check out the cute Rockstar Cow pouch filled with animal cards that feature some of your favorite FARMVILLE friends. Kids will love selecting and matching the silly animal picture cards. Game comes with 20 Farm Cash for use in the FARMVILLE online game.

Now the leading social gaming company, ZYNGA, brings you the classic card game, Old Maid. Meet Rockstar Cow who is filled with animal cards featuring your favorite animal friends from the FARMVILLE online game. Kids will love playing this classic card game as they try to collect the most pairs of matching animal cards. Who will end up with the silly Old Moo card? Parents will love this game too! Game comes with 20 Farm Cash for use in the FARMVILLE online game.

Includes: Rockstar Cow pouch, 37 animal cards, game guide and digital value card.

Ages 4 and up.

For 2-4 players.
Cribbage I don't know how many variations of Cribbage there are. I know that for every person there's probably at least one design of cribbage board– tucked up in my daughters' room right now is a wooden dolphin cribbage board my husband made for me years ago – with wooden pegs carved out in the first letter of each of our names for pegs from his dad. (Will add photo as soon as I can)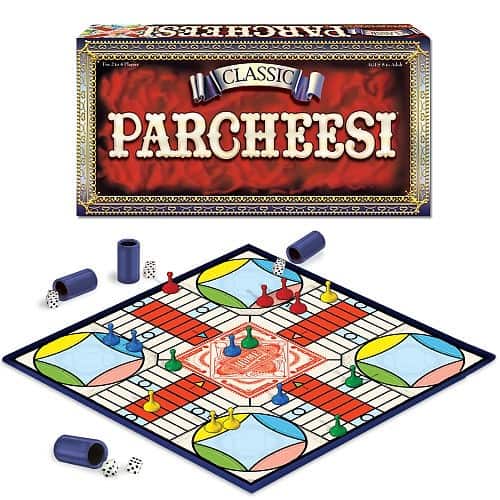 Parcheesi- Classic Edition- I would wager a guess that my mom and I spent at least 500 hours in my childhood at our summer lake house playing Parcheesi. She'd get so mad because I'd get double sixes like nobody's business! It's a fun game and I really need to add this to my own family collection- the memories alone warrant that purchase. But it's a fun game and appropriate for kids ages 8+ . Just looking at the images brings back so many memories for me! We had no electricity on the island so we played board games, card games, and read when it was stormy or cold or at night. That's it.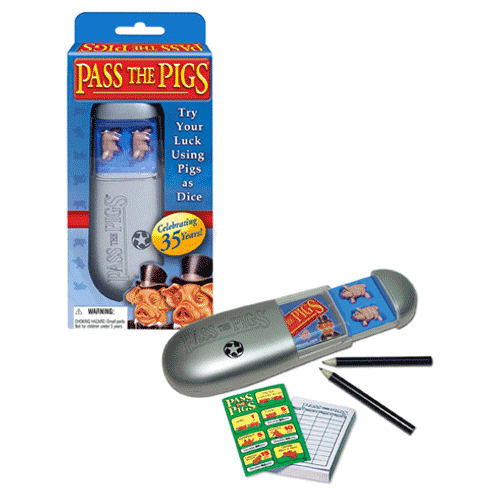 Pass the Pigs– kids think this one is hilarious. It's also quite easily modified, but how can rolling pigs around not be fun?! My 5 year old loves this game. He thinks its hilarious when the pigs are upside down. This is a GREAT stocking stuffer. We have played this game for gosh, at least 10 years??!! Friends of ours introduced us when we were hanging out at their apartment years ago…since then we've married our significant others, had children, moved, and you know what? We still play this- but now the kids join in!
What are YOUR favorite games for families?
Some games received for review. Opinions are my own.
0