Favorite Games to Play with Children
This is a guest post about favorite games to play with children by our friend Jason, dad of 2 and game lover. As a parent to six and seven year old girls spending time with my family as they grow is one of the most important things in my life. They are adventurous, inquisitive and love to learn so whenever possible I love to incorporate learning and educational activities into our family game time. The below list are our favourite games to play.
My daughter loves to learn about numbers as they are doing maths in school right now and bingo is an excellent way for them to recognise numbers as they check their bingo cards for what has been called out. We play the UK 90-ball version of the game and they love it, with them often bringing me versions of bingo cards they have created themselves for us to use to play with.
I, myself, also play online bingo and they enjoy watching the games being played on my laptop as well. I play free bingo games here mainly due to the characters of The Butler and Astrid. Both are witty, funny and entertaining.
Santa Claus brought an updated Moshi Monsters version of the classic Guess Who? game that I played, and loved, as a child last Christmas to our house and my love of this game from when I was younger has passed onto my children too. I enjoy the aspect of them learning observational skills and using their minds to ask the right questions to locate which Monster I have chosen. They love it because their favourite characters are in the game and that they beat me most of the time too!
We have had this game in our household for a while now and it is something that we love to play together with a number of different games, with Wii Sports their favourite. They love the fact that they are able to play console games and be a part of the action on screen and it provides them with exercise and hand-eye coordination skills without it being obvious that they are learning. Unlike Guess Who? I am still winning at this game, at least for the moment although I'm not sure how much longer this'll last as they're already starting to beat me!
Another excellent game for my young ones as it nurtures their imagination and helps them learn their spelling. The game has two levels, with the first level for younger children having words started and they need to spell the rest of the word and the next level allowing them to create their own words in a similar fashion to the adult version of the game. Since playing this game my daughter's spelling abilities have come on in leaps and bounds with their spelling test scores in school at the top of the class.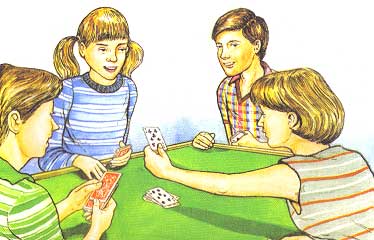 Image credit: 4to40.com
This game of putting cards down on a table and then covering them and saying 'Snap' when two of the same number or picture comes out is the most competitive of all the games that we play in our house. The two girls hate to lose this game and, after a slow start to noticing when two matching cards had been laid down as they were busy concentrating on their own cards and next go, hands go flying in when the matches are laid down. There have been several incidents of hurt hands, mainly mine!, but they we love this game due to its simplicity and the fact that anyone can win it at any time. I am a fan of the increase in concentration levels and reflexes that it has brought too.
0