Are your kids like mine? Go school shopping before school, get the clothes, the shoes, the supplies, and think you're done. Then the first day of school comes, then goes…and someone has a growth spurt. I think it's happened to one of the three Mini Martins at least 8 times in the 10 years I've had a kid in school. It's not my favorite thing, but it happens. Then there's the "oh wait I can't use that backpack again, mom, the zipper fell apart and I didnt ever tell you" that someone realizes three weeks into school. Back out shopping we go, for replacements or new sizes. Our friends at DICK'S Sporting Goods sent some school necessities and supplies for this post, which was a very fun surprise to see what the folks at DICK'S would find for the kids (and parents) without having met us personally.
Find everything for school and sports at DICK'S Sporting Goods
They did a great job. Cool looks, a variety of brands, a roomy backpack…and THE "in" water bottle.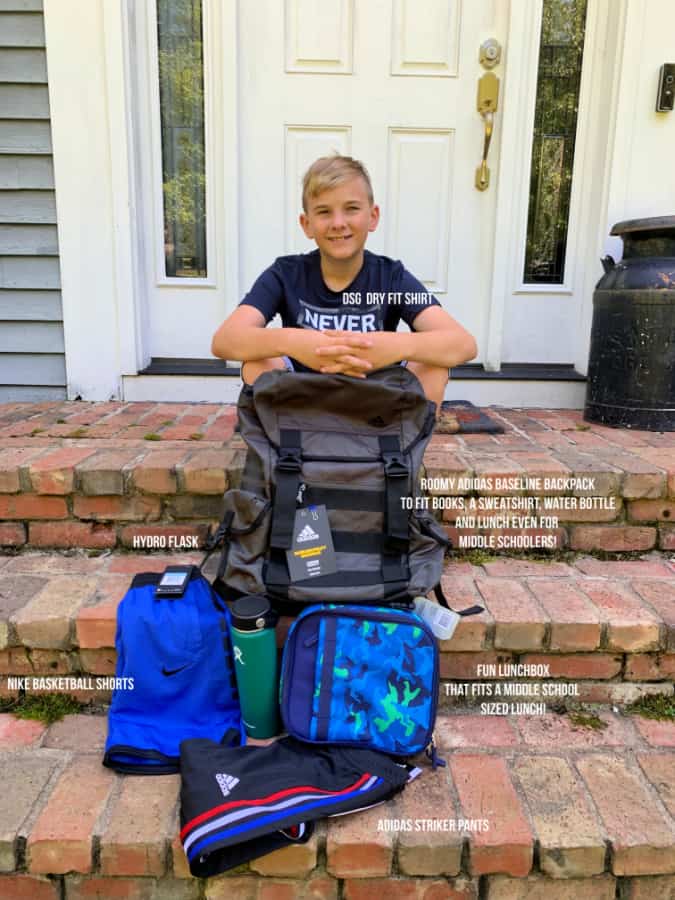 So the backpack? It's an adidas Baseline Utility Backpack and he loves it. The girls each got one, as well. Lightweight, but padded straps for comfort. Lots of pockets and places to clip things (like a lunchbox) for hands free travel en route to school, friends houses, sports, and really, anywhere. My kids, like most kids I know, LOVE athletic wear for as many things as possible, so having shorts, pants and shirts that are all comfortable and easy to move in makes them very happy campers.
Training pants for soccer players (and kids who have friends who play soccer) are always a great idea. The tapered leg means no pant legs getting in the way when you're running and kicking the ball, and the zippers make for easy on/off without removing shoes. The adidas stripes just make them even cooler.
Basketball shorts aren't just for basketball. Or sometimes not even at all. They are just comfy and a preferred choice of every boy I know under the age of 14 for some reason.
Lunchboxes are a must because my kids bring their lunch most of the time. They are always glad for a new one to bring, as I'm sure they get tired of the same one day in and day out. Lots of fun options – and no characters- on the DSG lunchboxes!
I had no idea about how "cool" Hydro Flasks were until these arrived. (We won't discuss which kid left one at school the second week in and had no idea where it went). Mom just needs a pink Hydro Flask now, perhaps in an ombre? Maybe for Christmas. We'll see.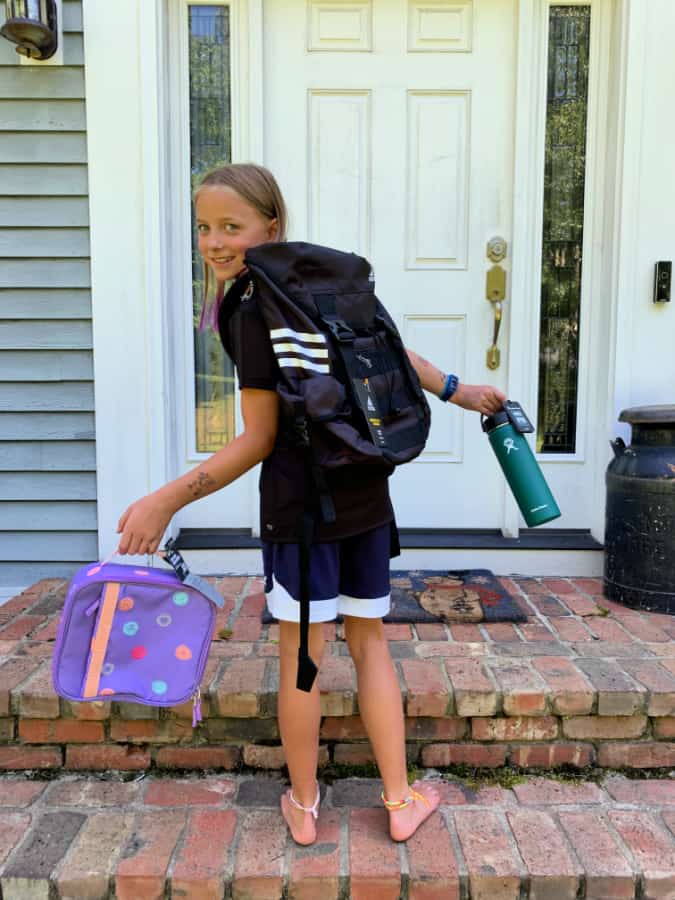 We were asked to send over our size, gender, favorite colors and interests. I'm pretty impressed with how they did with choices, as were the kids. You're going to read more below about the DSG items that were included in the box- because it's a new collection available at DICK'S Sporting Goods that I'm in love with because it's got the colors, fabrics and designs (or lack of) that my kids want with the quality and look of those higher priced name brands…at a much more affordable price. I'm all for a splurge now and then and buying quality over quantity, but given that my son's decided to just start growing every which way of late, I find I'm needing BOTH quality and quantity and I'm really very happy that we have the DSG line for options now. Plus the youngest Martin has kind of found her "look" and style at 10 and to be really candid, most of what she's had for clothes up until now were not exactly her choice. In my defense, I meant well.
DICK'S Sporting Goods is the one-stop shop for all of your school and sports needs. They really have it all. And then more. They've got the cool shoes, sneakers, sports equipment, bikes, kayaks…backpacks, Hydro Flask water bottles and more.
You'll notice a Sports Matter tag on some Hydro Flask products — when you buy those, DICK'S Sporting goods donates $2 to the DICK'S Sporting Goods Foundation. That's kind of cool- you get a really great quality water bottle (that has reviews on how long it keeps cool things chilled), you are on the way to being a VSCO person toting the Hydro Flask, AND you're helping some kids who are less fortunate be able to play team sports.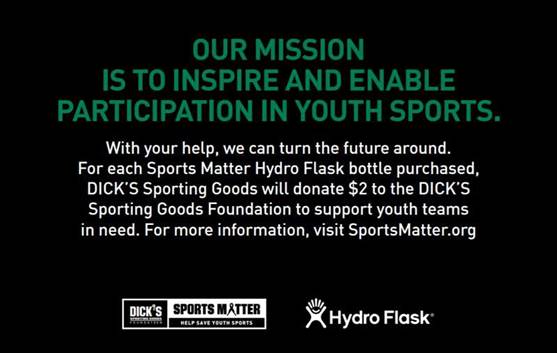 We're in the market for soccer cleats, turf shoes and indoor soccer shoes far more often than I'd like to admit. These kids just keep growing! We always find what the kids want to wear in the sizes we need- and with the Score Card, I really get to make the most of our dollars spent. Thankfully, when he outgrew this pair of shoes from August already, DICK'S had the same shoes in the next size available.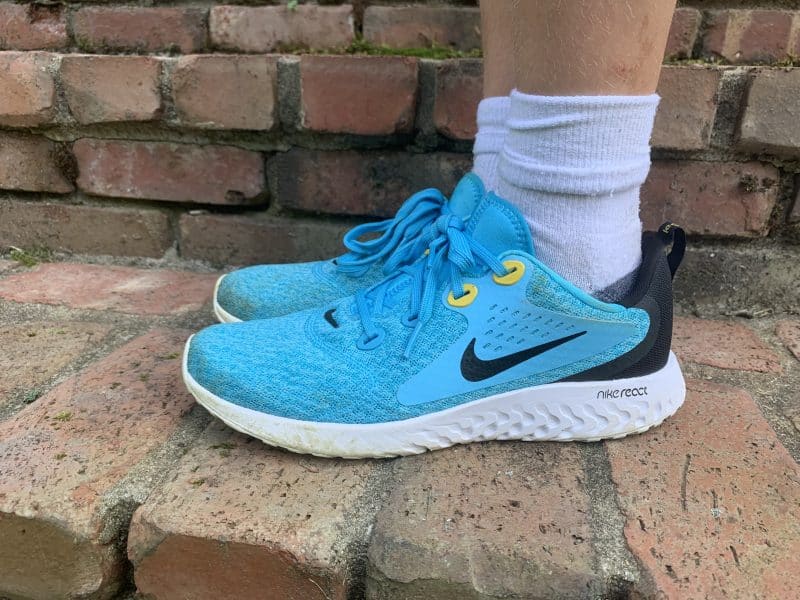 I think they fit for 3 weeks. He's anxiously waiting for the rest of him to catch up to his foot growth. Surely this has happened to some of you before? The kids just grow and grow and grow…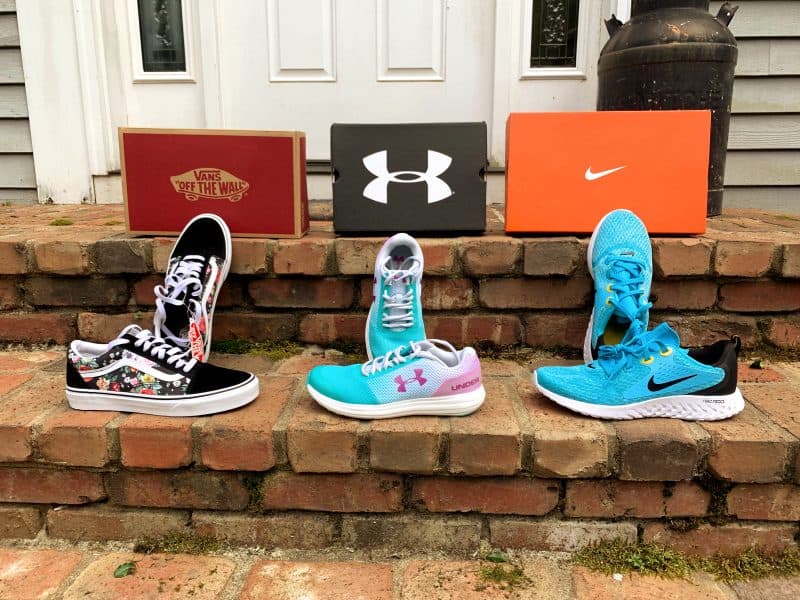 Though at 14, having grown less than a full inch in the past 2 years height wise, and worn the same size shoe for 2 full years, I suspect that my oldest has finished growing. She's kind of excited because she can get "nice" brands now, since she's really not likely to outgrow them at all. I'm very sad to report that the super fun floral Vans do NOT fit my feet.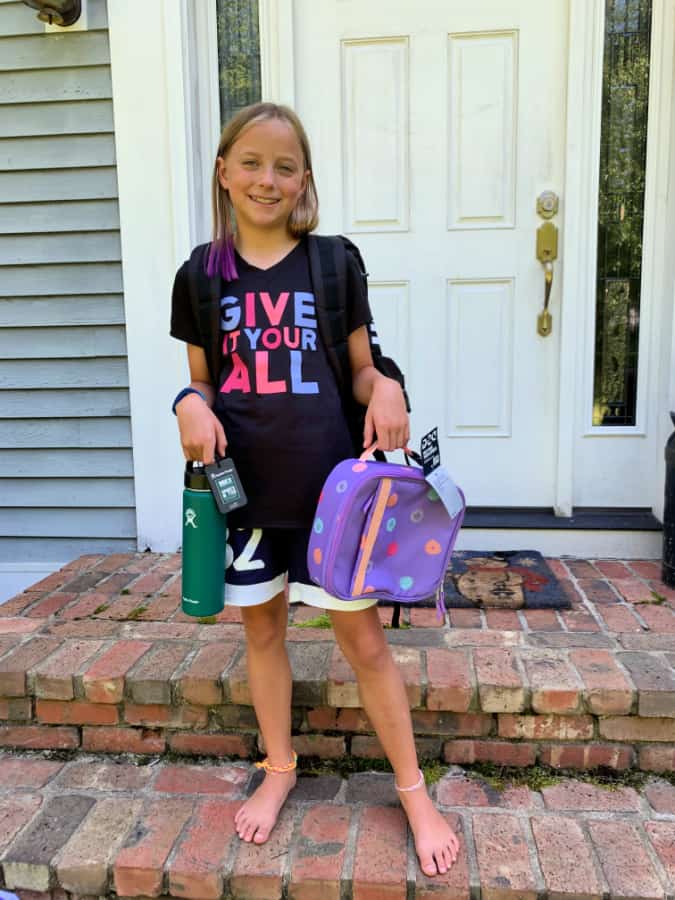 DICK'S has just launched its new private label, "DSG" that features the hottest essentials for everyone in the family at amazing prices and provides long-lasting, affordable and stylish clothing. DSG was built to be an inclusive brand of athletic apparel and equipment that supports and equips all athletes, no matter their age, size or budget.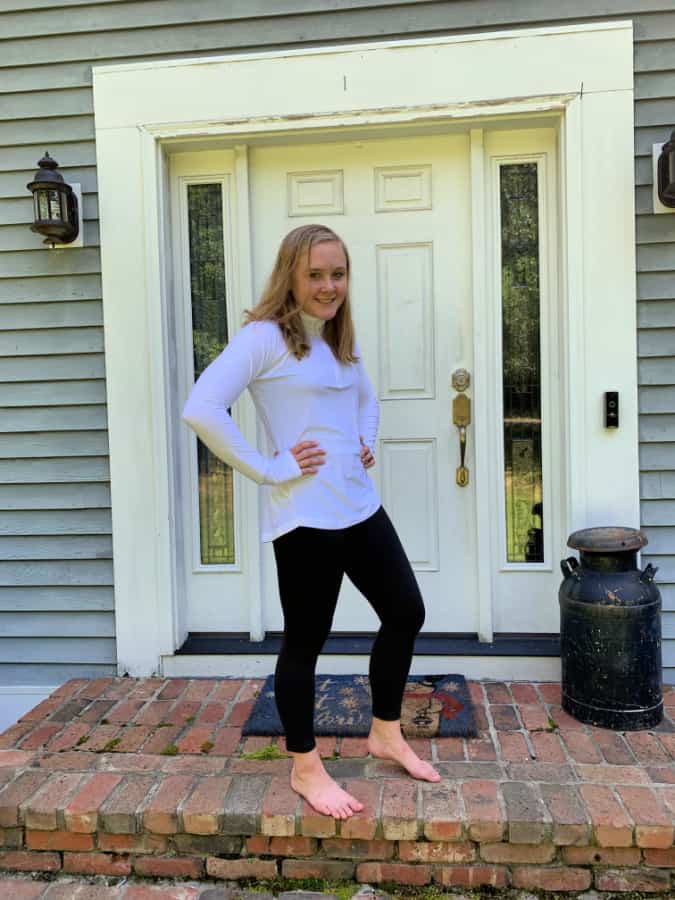 The DSG Collection has an extended range of new items and back-to-school must haves. From sports bras to joggers, to hoodies and leggings, DSG has something for the entire family. This brand offers performance styles at prices that fit. My favorite part of the DSG line? One percent of all sales of DSG will be donated to The DICK'S Sporting Goods Foundation Sports Matter program to help fund youth sports organizations in need across the country. The Women's Performance 1/4 Zip shirt is so comfy, and I love that the back is just long enough to cover most of her bum. It's great for workouts or a run, but also looks really cute with leggings and sneakers or flip flops for more casual hanging out.
The whole DSG line looks and feels like the big names do but at a much more accessible price point. That makes for a happy mom and happy kids.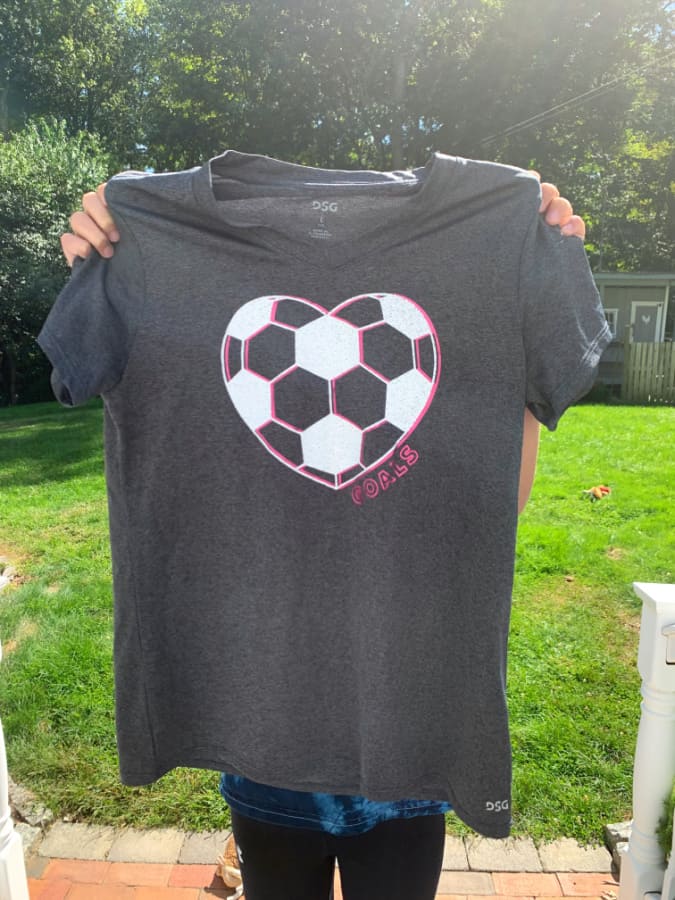 What have your favorite finds been from DICK'S Sporting Goods? Are you there for the brands? The selection? The athletic equipment? Tell me tell me!
If only DICK'S sold doormats…I could replace my Christmas one with one a little less festive and a little more year-roundish. Although at this point, I'm just leaving it out until January. I guess several of you have noticed it in the photos of the kids. We don't use the front door much and I just forget!