I partnered with Cape Cod® to promote #RoadTripChip by taking my very own road trip with their chips for the kids' First Trip to Fenway and sharing our experience. Opinions are my own. If you know me, you know I'm born and raised in New England, and born and bred a Red Sox fan. It's just in my blood, and I've long wanted to bring the kids up to see the Sox play at Fenway.  We got a bit of a kick in the pants to do it this summer when we learned Papi was retiring. (And, as luck would have it, guess who had the day off when we went?!)
If you aren't taking public transportation in to the city, call ahead to get a spot in a local garage. Some prefer to park further and walk more, but especially when it's just me with the kids, I like having our vehicle closer and it makes leaving so much simpler. We also save much of our wandering around time for after the game to let some traffic congestion clear out.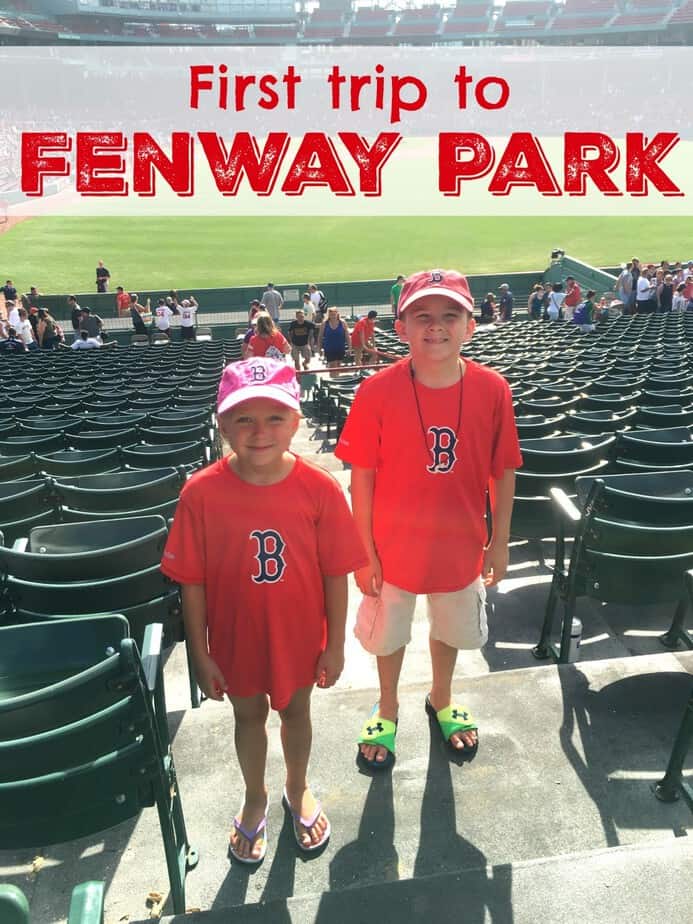 Anyway, Kid #1 was leaving for sleepover camp and so her dad decided he'd bring her while I took the 2 littles to Fenway and met my cousin and her friend at the ball park. I'd taken lots of time to choose shaded seats- sitting in hot, blazing summer sun in the middle of a ballpark doesn't always make for happy kids who are able to sit and watch a full game, so I wanted to do what I could to make sure we were all comfortable ahead of time.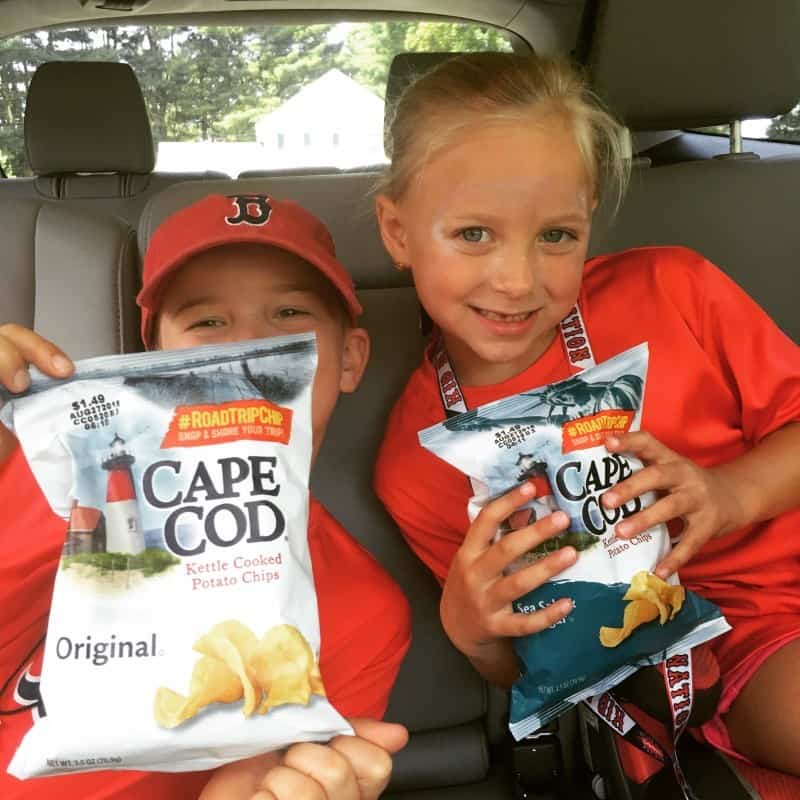 We piled into the car with snacks and drinks (and a charged phone for playing Pokemon Go) and headed up to Fenway. (If you can't tell, the kids also did their own sunscreen application!) We had a reservation at a garage right on Landsdowne Street and headed up to Beantown.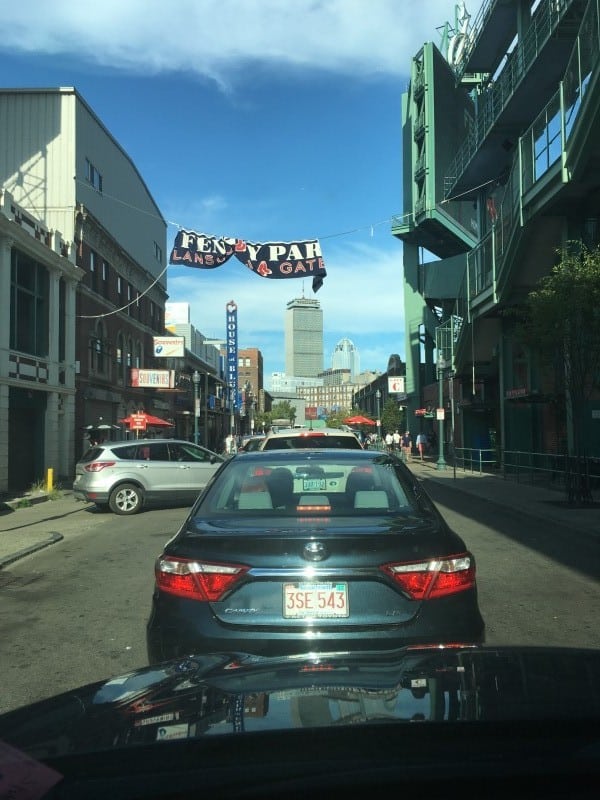 One of the highlights of our day was seeing not just Wally the Green Monster right when we entered the park, which happened so fast I didn't have a chance to get my camera out, but also several mascots from other New England teams (like the Hartford Wolf Pack).  It's always fun to meet the mascots, and the kids were thrilled to see Wally so close! I'd reminded the kids to stay right by me while my bag was checked at security and they listened  so well that one of the security guards gave each a small pack of baseball cards because they'd listened so well.  Score for good listening, kiddos!! Love the surprises you find at Fenway!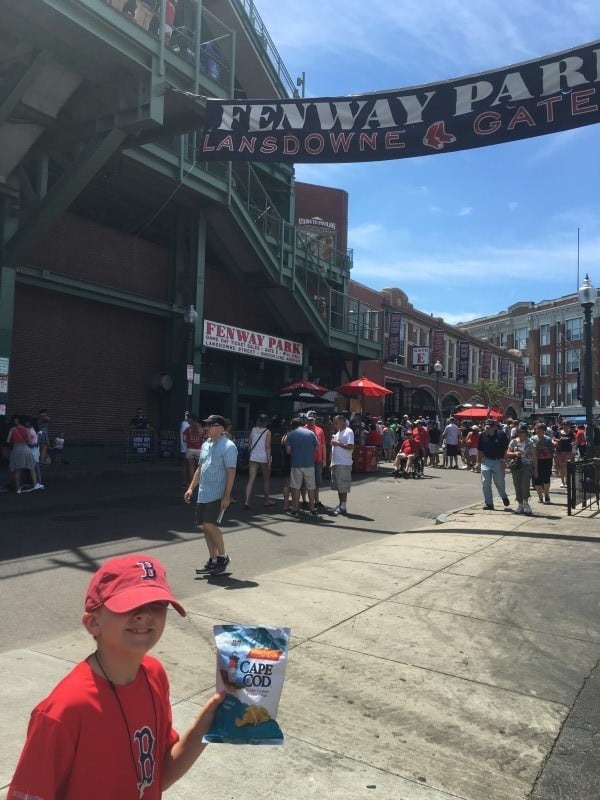 I was pretty happy we'd packed snacks, as we did a kids lunch at one of the food stands but they were out of chips and only had popcorn left (my son can't have dairy). Having a fun treat for him to enjoy made for a happy boy watching one of his favorite teams!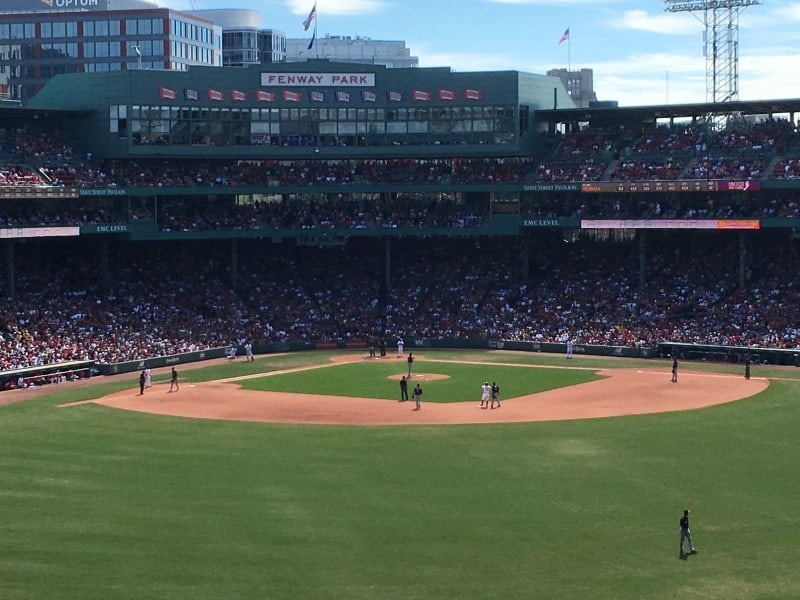 While we weren't able to go on the Green Monster this trip, we did join the Red Sox Kid Nation and that means all three kids have a ticket to another game…so hopefully we can do that on our next trip.
Both the kids were in absolute awe at how big the monster really is!! They also loved singing the "official Red Sox game song" (their words) Sweet Caroline. I don't think they realized that the whole stadium sings along… so that was really special to be with them for that experience.
Share your #RoadTripAdventures and we might send you a treat! @brettbmartin had a very New England day! pic.twitter.com/OHoC5RBxhu

— Cape Cod Chips (@CapeCodChips) July 26, 2016

We did get to visit- and do pics- in the red seat- if you aren't familiar with Fenway, Ted Williams hit a 502 foot home run back in 1946- still, even today, the longest home run ever hit at Fenway… that spot is marked by a red seat in a sea of green seats. (Section 42, Row 37, Seat 21).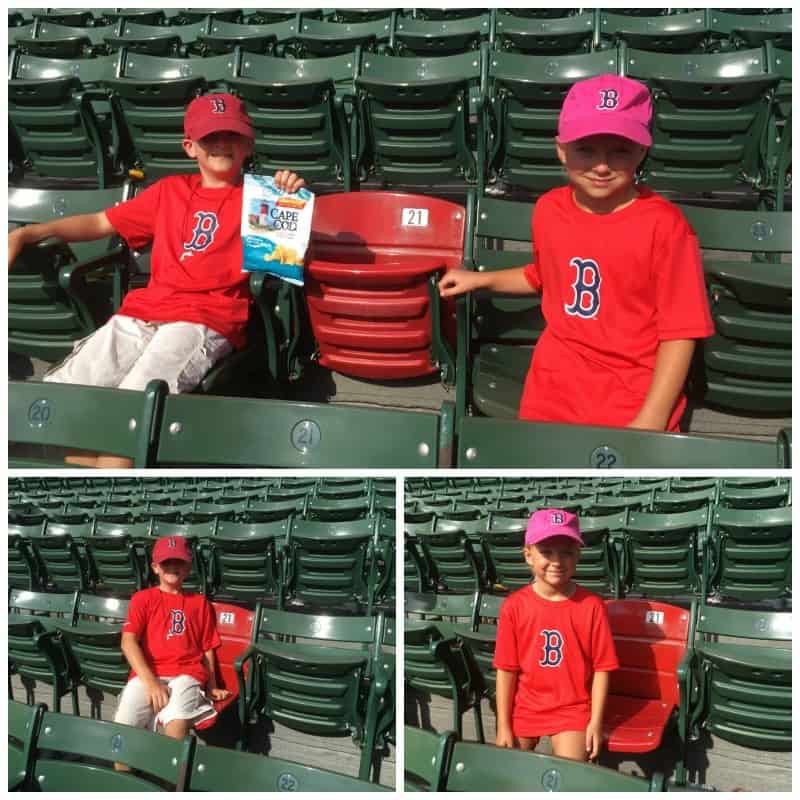 After the game? We needed a new Red Sox hat for my little guy, as his was finally outgrown and needed to be replaced. Plus, he had borrowed one of dad's favorite caps for this game and really wanted a "cool" hat not an old man hat (his words).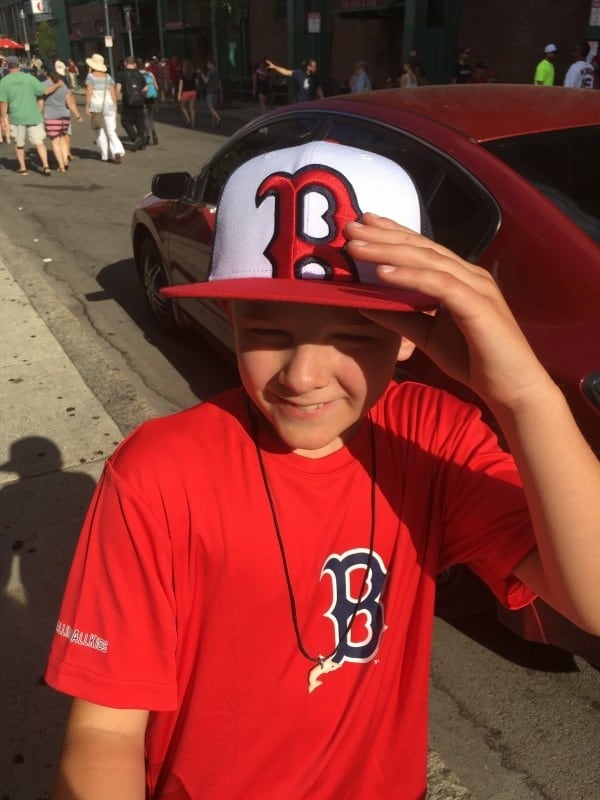 We all know that Americans love summer road trips, which means long hours in the car with pit stops at gas station convenience stores. This summer, we're putting Cape Cod® in the driver's seat by introducing chip lovers to the best co-pilot they could ask for – the #RoadTripChip. Cape Cod® will feature images of popular road trip destinations like The Alamo, Grand Canyon and Niagara Falls on eight bags of its famous kettle-cooked chips, which only will be available in convenience stores across the country. We're encouraging everyone to try our chips during their summer road trips and share photos on social media along the way using #RoadTripChip.
Sanity saving tip: if you're doing a road trip and anticipate traffic during any time on the road, download something like Pokemon Go. Seriously. Never has our family had such a stress free time in traffic as we did en route to Fenway- the kids took turns doing Poke Stops and catching Pokemon and we went up three levels that day alone!! 
Share your #RoadTripAdventures and we might send you a treat! @brettbmartin had a very New England day! pic.twitter.com/OHoC5RBxhu

— Cape Cod Chips (@CapeCodChips) July 26, 2016
 One reader will win a  prize pack of Cape Cod® chips! Enter by commenting below…for extra entries, share your #RoadTripChip pic on Instagram or Twitter! Leave additional comments for each image you post.  
Open to US only. Winner chosen randomly from comments left on this post.  Giveaway ends August 14, 2016 @11:59 pm EST. No purchase necessary to win.