This review of the brand new Fisher-Price Snug-a-bear cradle swing is brought to you by our friends at Lunchbox. I'm pregnant with baby number 4 and just about 6 short weeks from meeting our new little one. Since my oldest is already 7 1/2 years old, it's time to replace our original baby swing- and one must-have on my list for a swing was that it be able to plug into the wall.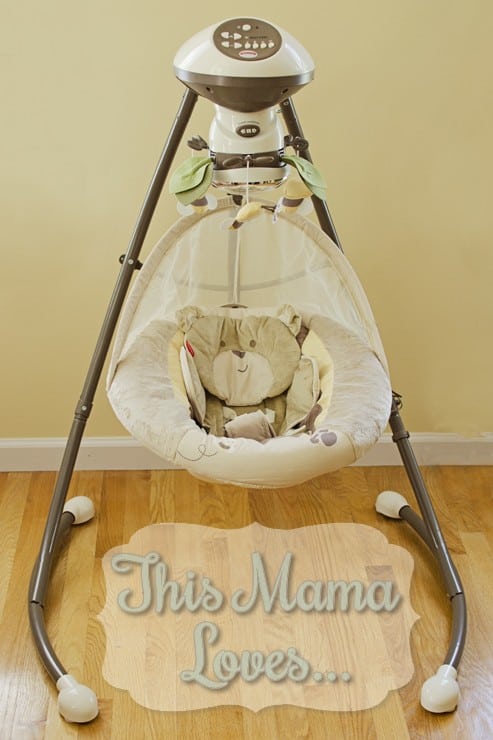 Features:
Two swinging motions to soothe baby: side-to-side cradle or traditional head-to-toe swing motion
Six swing speeds, 16 songs, soothing nature sounds
Two-position recline with 3 adjustable seat positions: right-facing, center, left-facing
Easy to convert to different positions—just press button and turn
Machine-washable seat cover with deluxe My Little Snugabear™ body insert and head support
Motorized mobile with mirrored globe; soft bumblebees fly overhead
Tethered toy—a perfect first friend for baby
Legs fold for storage and portability
Includes AC adapter for battery-free operation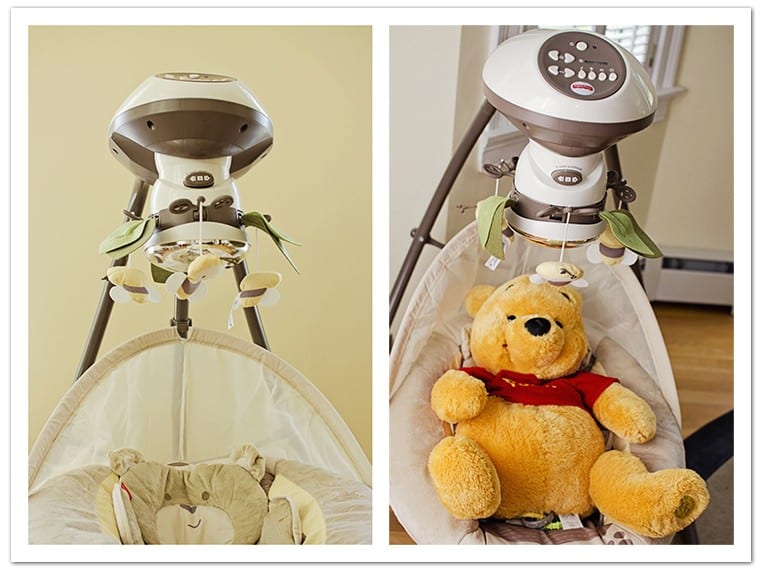 I was thrilled at the chance to try out the Snug-a-bear Cradle Swing! It has a ton of great features, including an AC adapter, so that I can simply plug the swing into the wall without worrying about batteries. Previous swings that I have owned required several large batteries to operate, and believe me, we went through a LOT of batteries. The AC adapter on this swing is such a convenience and money saver. The cord attachment is located at the base of the
swing, so it stays conveniently out of the way. The adorable Snug-a-bear design will also work with any décor or gender. It's a great option for those mom's to be who want to prepare their nursery but don't know the gender of their new baby! The swing is so soft and comfortable, with an entertaining bumblebee mobile and a reflective mirror. It also has the option of swinging side to side, or forward and backward, depending on what your baby prefers. One major improvement I have noticed since last purchasing a baby swing 8 years ago is the soothing music feature. The music is calming
and sweet, and the sound quality is fabulous. I know I will be listening to that music a lot, so I'm glad that it is soothing and relaxing! The swing was so simple to snap together. It only took my husband a matter of minutes to assemble the entire swing. I can't wait to try this out on my new little one in a few weeks!

Be sure to check out the other adorable pieces available in the Fisher Price Snug-a-bear line. All of the pieces are easy to assemble and of great quality. The Deluxe Bouncer is a great all around bouncer, with vibration and music features. The Space Saver High Chair is fabulous! I have always used a standard high chair, but this one fits onto my dining room chair. With a family of 6 this will be a crucial space saver! The Rock n' Play Sleeper is another fantastic item. It will be great as a secondary crib. The Snug-a-bear Cradle swing and other Snug-a-bear items are now available at Walmart.
0