I know that I am NOT the only person who has trouble keeping food storage containers neatly stored.  I can't be.  Every month I pull all of the components out (and how is it that each month I do pull them out, I toss the random pieces that have no match, no matter how hard I look…but on the next cleanout, I find the missing pieces that really don't have a match since they were recycled?!?!?!?)
I need to find a solution.  Or maybe I need a new kitchen.  Or both.  Because more often than not I attempt things like this idea from BHG to use CD tower storage to organize: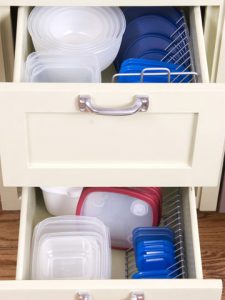 and my reality?
This.  HELP!!
What am I doing wrong?  I mean, aside from letting my 2, 4 and 6 year old help put the dishes away…but I got some containers that have the stackable lids so they wouldn't make a mess.  You can see how that worked out.  I have some glass containers, but I get nervous the kids will knock them over and they end up at the back of the cabinet.  We do need to get new cabinets (ours were kind of piece-meal whenever they were put in) and I realize that, but that's not going to happen right now (unless there's a cabinetry fairy who would like to send some my way?! haha) so I need a solution for this mess.
This post is brought to you by our friends at Shelf Reliance.  Opinions are my own.
0