This movie looks so cute!! I'm excited to see it!  I am a huge fan of comedies and this one is something I can definitely relate to…I've heard such great things about the Bridesmaids movie and that cast is reunited in Friends with Kids!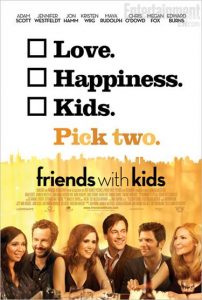 Friends With Kids is a daring and poignant ensemble comedy about a close-knit circle of friends at that moment in life when children arrive and everything changes. The last two singles in the group observe the effect that kids have had on their friends' relationships and wonder if there's a better way. They decide to have a kid together – and date other people.
Jennifer Westfeldt wrote, directed, and stars in the romantic comedy Friends with Kids. She plays Julie, a Manhattanite whose biological clock is about to run out, so she convinces her longtime platonic best friend, Jason (Adam Scott) to father a child with her. They seem to have a much easier time juggling the responsibilities of new parenthood without the complication of being in a relationship with each other, which is in contrast to the two couples they are closest to. As their friends' marriages implode, Julie and Jason's happy equilibrium topples over as well when he falls for a hot young artist (Megan Fox) and she begins dating a successful businessman (Edward Burns).
There are big laughs and unexpected emotional truths as this unconventional 'experiment' leads everyone in the group to question the nature of friendship, family and, finally, true love.

I will receive some promotional items to thank me for taking the time to post.  Opinions are my own.
0