Now that all of the holiday decorations are packed away for another year, it is time to look forward to the New Year. For many of us, we will make those traditional New Year's resolutions to do a variety of things. Some will vow to lose weight or stop smoking while others want to get their finances in order. Whatever you plan to accomplish, it can be difficult to stay true to your word. Sometimes we need a little help to stick to your resolutions. Here are a few tips: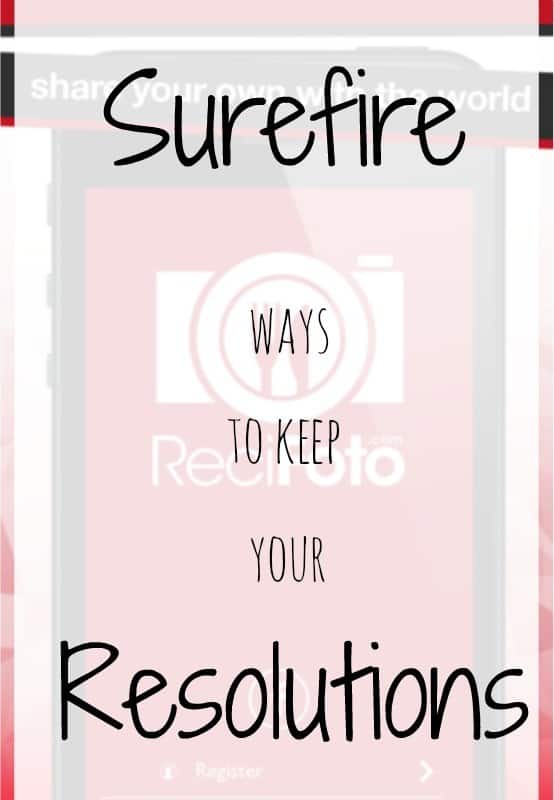 Surefire Ways to Stick to Your Resolutions
Make Specific Goals: Those who make a specific goal are much more likely to stick to it than those who do not. Instead of saying you plan to save money in 2015, set a concrete figure and how you plan to get to that goal.
Write It Down: If you put pen to paper, you have a 49% chance of making that resolution come to fruition. Keeping a journal helps you keep accountable.
Make It Fun: This tip is geared mostly for losing weight. If you can change up your exercise routine, get a partner or make an upbeat mix tape of your favorite workout music, you have a better chance of sticking with your weight loss goals.
Have The Right Tools: If you plan to save money, have a separate account to put that money in. If you want to lose weight, plan ahead for your meals to avoid fast food traps. Making your meals at home gives you a better chance of staying on your food plan. If you want to save money and lose weight, eat at home more.  Find ways to keep yourself on track with finding new recipes you will enjoy to help you succeed.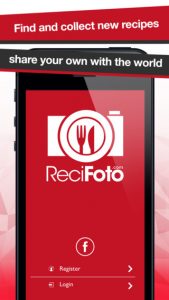 I have a ton of cookbooks up on the shelf and that is where they tend to stay. If you get in a cooking rut, you are in good company. Many people complain this is one thing that can trip them up when trying to lose weight. If you tend to eat the same old baked chicken and steamed veggies, you are going to get bored and fall off the wagon. Instead, you need a tool that can keep your favorite recipes at your fingertips. With the free ReciFoto app for your iPhone and iPad, you get a fun way to browse through recipes, with just a flick of your finger. ReciFoto also makes saving and sharing your favorite recipes easy as pie! Instead of entering ingredients into an app or website, you just take a picture with your iPhone or iPad of that written recipe.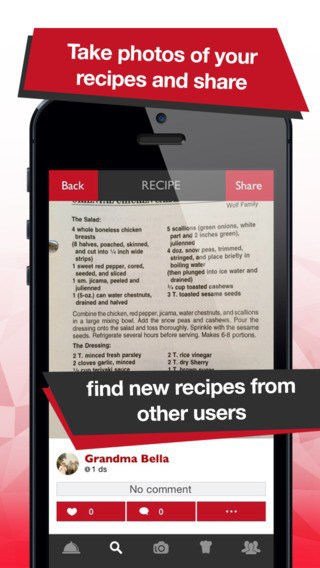 With the one time In App Purchase, you can add a public recipe to your own Collection with a tap on the button below the recipe. All you need to do is take a picture of the recipe you want to save using your iPhone's camera, or load it from your device's album. You can add a hashtag if you want to make your recipe searchable, add a link to your blog or website and you can also search and view from thousands of recipes. Sharing a recipe is as simple as tapping on it, hitting the share button and e mailing it, Tweet it, send it to Facebook, Pinterest or other social media, or save it to your device's album. With ReciFoto you can say goodbye to that stack of cookbooks, worrying about wrecking handwritten recipes and notes from your family recipes. Now you can store them in the Cloud and share them quickly and easily with your friends and family, ReciFoto is the app for you. Just snap, save, share and savor!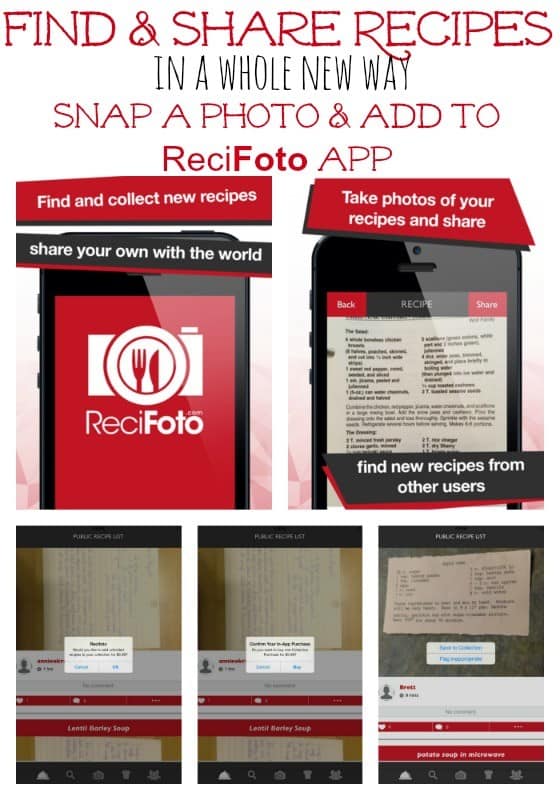 Let me know when you download ReciFoto- you'll find me on there as Brett- I'd love to start finding folks to follow to make sure I don't miss any fab recipes to try! Bloggers- is one of your resolutions for this year to increase exposure for your posts? If you share recipes, this may be another great way to get some more exposure for your recipes!! Check it out!
What are YOUR favorite ways to find new recipes? 
Thanks to ReciFoto for sponsoring today's post.  Opinions are my own.