Mother's Day is in a few weeks. This year, as with many years, it'll also be my birthday. A day of celebration, and a day of remembrance. Like so many others, it's a bittersweet day. Celebrating my own motherhood, with my own children, but missing my mom, and missing the relationship my kids would have had with their grandmother. My mom and I weren't close my whole life. We weren't best friends, we didn't talk 24 times a day on the phone. The last 5 years of her life were the best we shared together, and while she shaped my beliefs and values from infancy, those last five years changed me in many ways. The relationship shifted from her being Lee, my mom, to being Lee, my friend, my fellow mom, and for the first time, my mom shared things with me about doubts and insecurities she'd had herself. Trying to put into words what she meant- what she means- to me- it's not easy. It's definitely not sunshine and roses. It's probably more like partly cloudy and shrubs, but flowery shrubs. Describing what my mom means to me….having to put my heart to paper and find a way to share my mom with you all- it's not simple.
Hallmark and Cafemom challenged me to put into words what my mom means to me as part of the #putyourhearttopaper campaign for Mother's Day.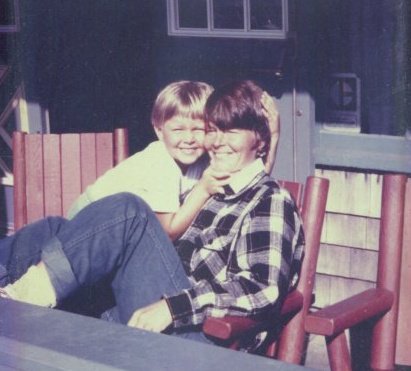 What does my MOM mean to me? She meant -and means- so very much to me. We struggled with our relationship on and off for so long- so long, in fact, that I really just never thought we could make amends. Someway, somehow, we did mend those broken fences. We found a way to discover and delight in one another's company even after the years of anger and hurt. In the game of life, our mother-daughter relationship was the underdog.
My mom would champion for the underdog in any and every single situation. From a kids' basketball game to patients in a psych ward living with HIV in a time when people didn't want to admit they were living with HIV, she championed the underdog. It didn't matter how big or how little that cause was, if there was an underdog, she'd fight for them and cheer them on. She didn't care what anyone thought, she really just lived her life on her terms… which usually meant helping others in some way.
My mom means getting over the top, emotionally invested and involved in books, movies and performances. I will never forget the night two of my friends slept over and we were watching Free Willy -a movie my mom adored- she couldn't stay away. By the end, she was on her feet shaking her fist and yelling "Free my Willy!!" with tears streaming down her face. Part of that 15 year old me was mortified that my mom was watching a movie with us, but mostly, I was pretty amazed at the depth of her emotions and how powerful her feelings were. How deep and powerful, but also how strong her convictions were.
Because "Free my Willy" isn't just about Willy, and it's not just about a series of movies (which I better watch with my own kids soon…) it's really how my mom lived her life. She spent many years of her life as a nurse and just as many as a lawyer. Ultimately, she used the knowledge and skills learned from both professions in the end of her days to champion the rights and fighting on behalf of those with disabilities. The underdogs of the world WERE her Willy.
Sometimes I forget about Willy. I forget why it is that I get SO caught up in things emotionally, and have no desire to hide it. Then I see my youngest sitting near me on the couch with tears streaming down her face, feeling so many powerful feelings from a movie, just like her mama -and just like her grama- and my heart about bursts.
I do always cheer for the underdog. It's not always conscious. Even if it's a championship game and my team is winning, if it's a blowout and the other team is the underdog – part of me always feels bad that they got so far and didn't get that final reward. But I get just as involved when the kids who aren't the star players finally score that goal or beat their time… and it makes me shine a little brighter inside knowing that my mom -and "her" Willy ways- are still alive and kicking in me. Seeing it come out in my own kids makes me realize, that no matter how much I fought my mom and her ways – the most important parts of who I am were shaped so much from the same core that shaped her.
So on this Mother's Day, I'll turn 41. I'll probably have birthday cake, and I'll probably open a few presents. I'll likely also get a little emotional, because I can't call my mom to wish her happy birthday, or to remind her about FREE MY WILLY!!… but I think we may just start a new tradition and watch some of mom's favorite movies on Mother's Day evening. Then I can share more of her with my own kids.
Have you Put Your Heart To Paper recently? Have you thought about what your mom means to you?