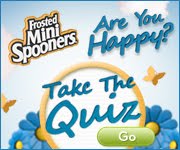 Happiness expert and best-selling author Dan Baker thinks there are 12 qualities in happiness.  The folks at MOM Brands  thinks that this fits nicely with the 12 layers of deliciousness in each of their  Frosted Mini Spooners.  They've even created a fun Facebook quiz that can tell us how happy we are!
Take the quiz- find out … Are you happy?  (Or HOW happy are you?) Apparently I'm very happy.  Which probably varies from day to day…but really- I'm a pretty happy lady.  I have a loving husband who still makes me laugh after 3 kids, ups and downs and so much else…3 beautiful, healthy children, and a job that allows me to be home full time with my children.  I have family and friends around me who love and care about me.  What more do I need?  
(I will note that the following things also make me happy: the smell of baby heads, puppies, kittens, shopping, new toothbrushes, and finding shoes in my size that are on clearance).
Finding foods that are nutritious and delicious to feed my family that are affordable is another thing that makes me happy.  Thanks to companies like MOM Brands with their Frosted Mini Spooners, there are affordable and nutritious options out  there.
Cooking  Light magazine gave it top  honors as best tasting shredded wheat cereal (frosted) in a recent taste test.
It is a nutritious breakfast option as well. Per serving, Frosted Mini Spooners has 6 grams of fiber, 44 grams  of whole grain, low in fat & sodium, 100% daily recommended value of Folic  Acid, 90% daily recommended value of Iron.
Frosted Mini Spooners are available nationwide.
An all family favorite that's less spendy, so  tasty and earth friendly!

12 layers….12 qualities…what a perfect fit to team up with Dan to help our facebook fans (and new consumers!) learn more about all-around happiness with the 12 Layers of Happiness campaign!This online campaign features a proprietary happiness quiz developed just for us by Dr. Baker, as well as guest blog posts that offer even more lessons and tips on how we can be happier in our daily lives. We will also conduct fun and "happy" contests around the 12 attributes of happiness, such as

altruism

,

health

,

purpose

and of course provide light-hearted education and information about why our Frosted Mini Spooners biscuit is the superior frosted shredded product!

What we hope to do with our "12 Layers of Happiness" campaign is to turn the spotlight on to our superior 12 layers of whole grain happiness found in each Frosted Mini Spooner and become a resource for all of our fans out there who just want to be happier (and don't we all?).
So tell me- what makes YOU happy?  Are you happy?  Take the 12 Layers of Happiness quiz and let me know what it says- I want to know!

0