Halloween is just 2 days away.  Kids everywhere will be doing what we don't let them do any other night of the year- head out after dark, in costume, to go to stranger's houses to accept candy.  Halloween is just plain F-U-N but it's also important to keep safety in mind.  Here are some (sort of) FUN Halloween Safety Tips!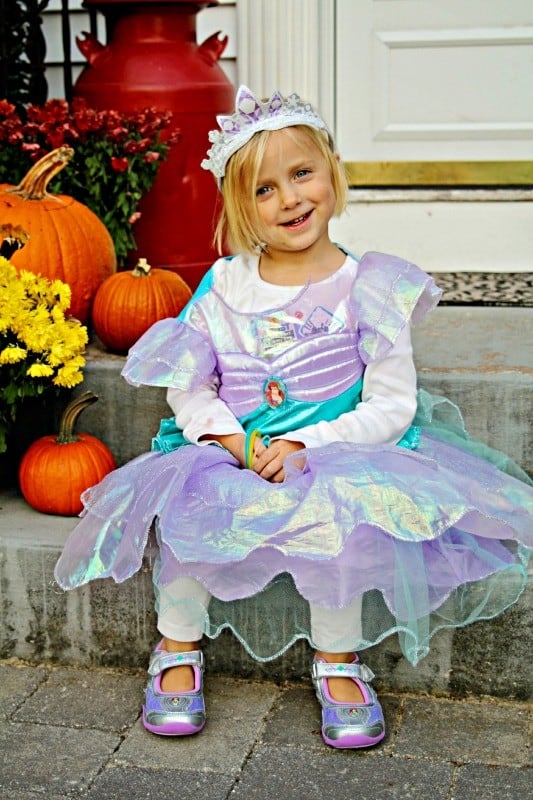 I participated in a campaign on behalf of Mom Central Consulting for Stride Rite. I received products to facilitate my review and thank me for my participation.
Safety doesn't have to be boring or "stiff." If you make it fun, it'll be fun.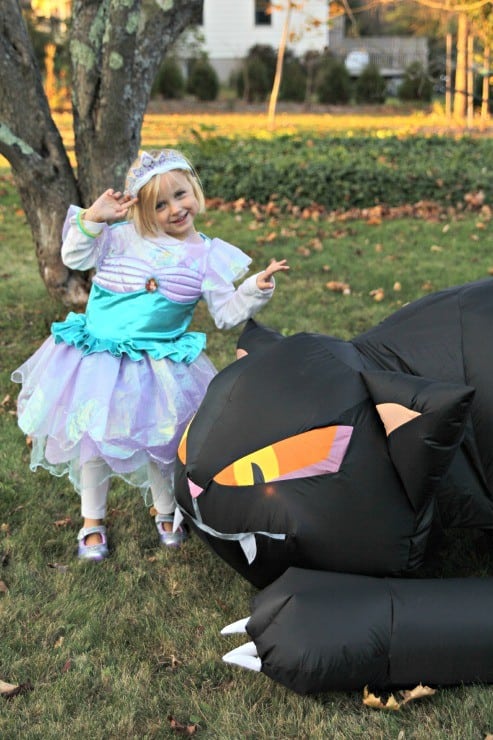 1.  Dress for the weather.  Listen, I grew up wearing full blown 1970's and 1980's overstuffed snowsuits under my plastic non-breathable costumes like most of the other kids of my generation who lived in a colder climate.  I survived.  Thankfully, we've come a long way with outerwear and you can now stay warm without having added approimately 8 inches of puff to your person all the way around.  Also, you can now MOVE freely in outerwear.  But if your kids really really loathe the coat idea, be creative in a compromise.  We've done long underwear under a shirt, and a really warm fleece under the costume.  If it's hot, don't roast your kids!!  If your kids can move freely, they'll be happier.  It's also 1000% acceptable for them to wear their favorite pajama pants under a costume.  If it's a layer and it keeps them warm, who cares?
2. Dress for Comfort– especially with littler kids this one is big.  Perhaps your kids are like mine and perhaps they aren't, but if my kids are wearing something that makes them uncomfortable (physically), it makes them crabby.  Crabby kids don't always listen because they are distracted and annoyed from the discomfort.  My kids have been known to start disrobing to remove the offensive article of clothing no matter where they are.  If the costume is itchy, get some cotton under it, or find an alternative.
3. Don't forget the shoes!!  Sturdy, comfortable shoes.  For EVERYONE, even the adults in the group!  No one likes to walk far if their feet hurt!!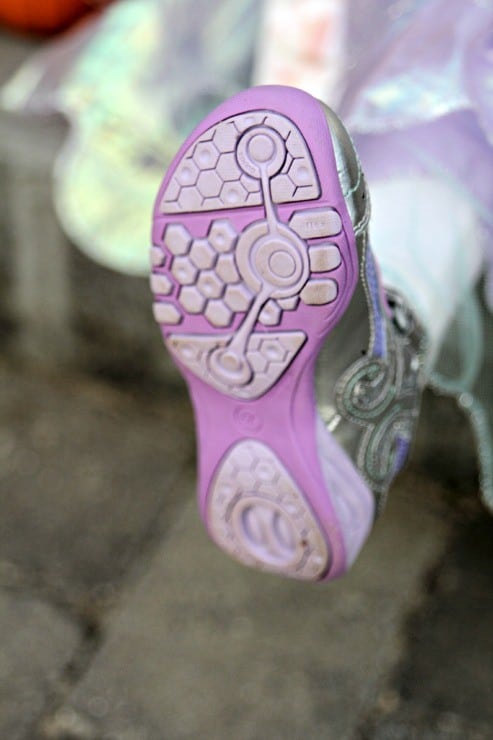 My littlest one is Ariel this year.  As much as she would L-O-V-E to be wearing those fabulous and sparkly heels that come with little kid dress up clothes, there's no way I'm going to let her be walking in the dark with those shoes.  I want her feet in sturdy shoes so she won't slip or twist her little ankles on something she can't quite see in the dark.  Stride Rite kept little costumed princesses and superheroes and more in mind when they decided to make a whole line of shoes that light up that go along with favorite characters for costumes.  Fittingly, they've called them Trick or Feet.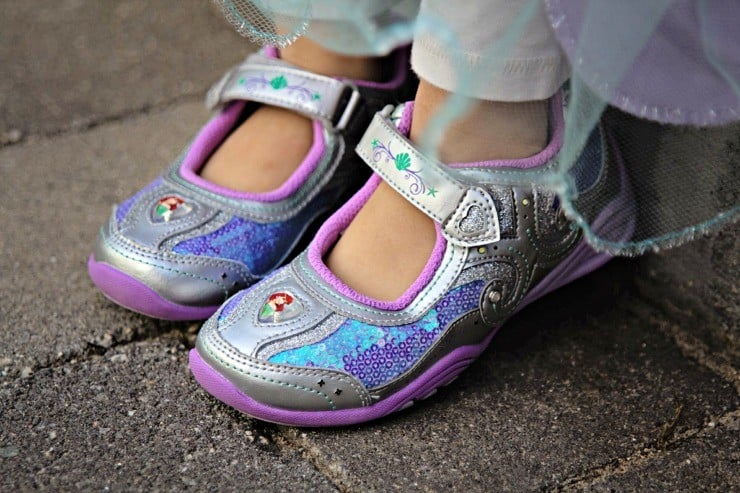 Check out these Disney Wish Lights Ariel shoes.  Now, these are Stride Rite, so you know they are built sturdy to work with your child's feet.  They are also Ariel, so they have a heart shaped gem with Ariel on the toe that lights up with every step your little one takes. There are also lights where the hook and loop closure rests on the side of the shoe.  Light up shoes are a big draw for kids- they are really just fun to wear and I've yet to meet a kid who's NOT loving light up shoes.  The bonus here?  With shoes that light up with every step, your kiddo is more visible to others.  People, cars, bikes, and any folks laying in wait to scare trick or treaters coming into their yard.  Chances are, they'll see tiny lights walking toward them and realize it's a littler person heading up the way and won't jump out to scare your little pumpkins.  Plus, your child can have that costume theme from head to toe (literally) and enjoy the shoes long after Halloween night is over.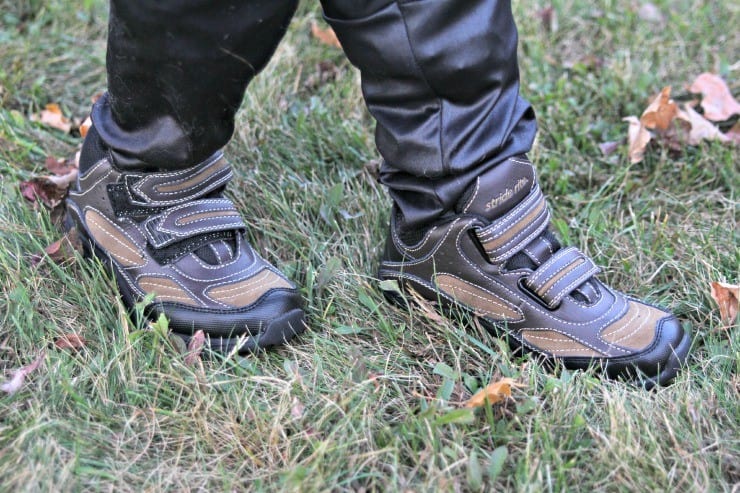 Even if your little one isn't wearing light up shoes, please, please, be sure they are wearing shoes that are sturdy, comfortable and fit well.  No matter how careful you are and how great your flashlight is, walking in the dark at the end of the day can be the cause of tripping or a misstep or twisting of ankles, etc and that's not going to end well for anyone.  Make sure their little feet are safe and secure!  My son just got the Rugged Ritchie boots from Stride Rite- I'm sure he'd love some Black Spiderman Sneakers but those don't seem to be in high demand….only the red…) but these boots are a HUGE hit for him.  He feels just like his daddy in these boots, and loves how they don't look like they are for little kids at all. I like the rubber sole and the sturdy construction of these boots, and he can wear them to school and church and look great while doing it.
4.  Visibility– This one's a biggie, and it doesn't mean that you have to have a spotlight on your child with every step they take.  You want your kids visible for safety, but that doesn't mean you have to hand them a big heavy flashlight and insist they lug it around turned on all night or have it shined on them.  Light up shoes are a SUPER fun way to keep your kids visible to others.
We often will take a glow stick or two and clip them onto the kids' treat baskets.  It keeps them visible to others and doesn't add weight to their pails, and they think its just so much fun to have glow sticks.  Getting some of the many glow in the dark stickers and reflective tapes to put  on the back of costumes also works well.  The key is getting some visibility on your child.  Just in case.  Have some fun with this!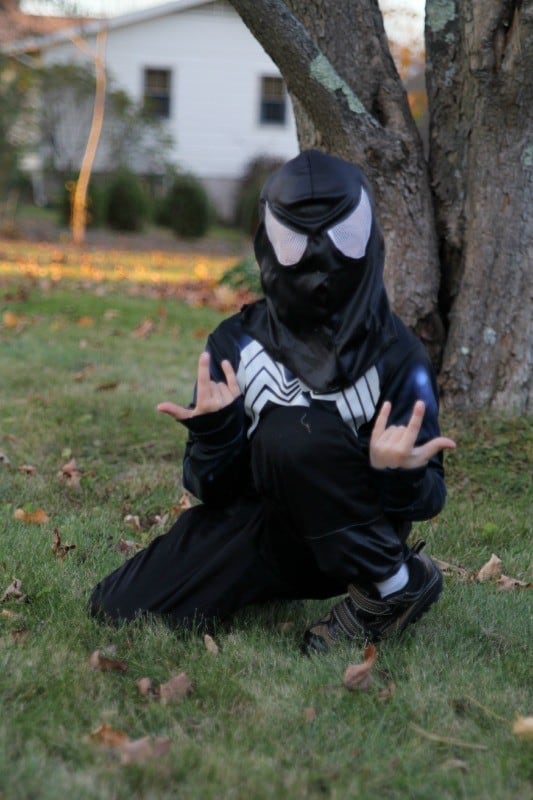 Our Black Spiderman son will have some reflective stickers on the back of his costume on his shoulders, waist and bottom of his legs just for extra visibility.  We do the same for our little Ariel and our older Diva Witch.  We're big on safety around here but we also try to make the safety fun so the kids don't resist.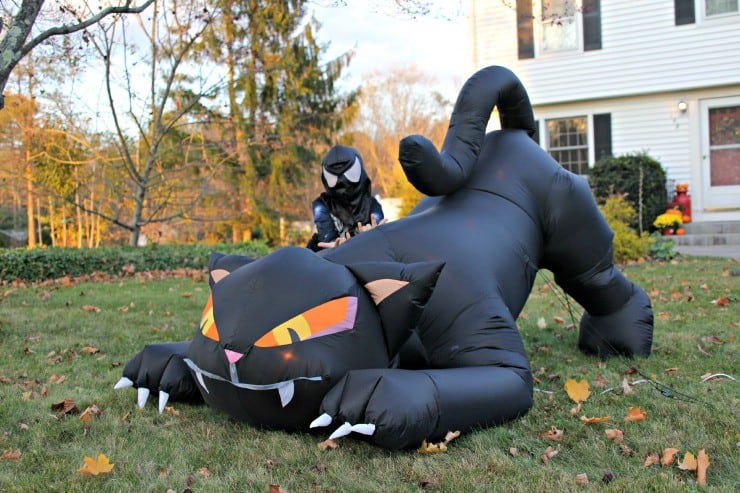 What are your favorite safety tips on Halloween? AND, most importantly, what are your little ones dressing up as for Hallween??