Sometimes, you just want to have a little fun with your PEEPS.  Last year, we made PEEPS Kebabs and PEEPS pops.  This year?  A Peepster Basket Cake.  With PEEPS, it's all about fun.  New flavors of PEEPS, paired with fun Wilton icing colors, sprinkles and decorating bags and tips, gives a whole lot of room for creativity and leaves the door open for creating fun new recipes with PEEPS.  This post is sponsored by Lunchbox. All opinions are my own.
I had lots of fun creating my PEEPS Cake- titled (appropriately, in my opinion) PEEPS-ter Basket Cake.  I did a flat bundt cake, iced it all over, and then used a Wilton Icing Tip #22 to create the basketweave across the top.  I just went across with an inch or so between weaves all the way across the cake (I bet this is where you are like oh hey, Brett, that would have been AWESOME for you to get photos of and I didn't, I'm sorry) and then turned it sideways and did between those lines going the alternate direction…twice going each way.  I don't do perfect- I'm not a professional.  But the family loved the cake, and I was pleased with the results so I call it a win. My PEEPS agreed!! (Get it? See what I did there?)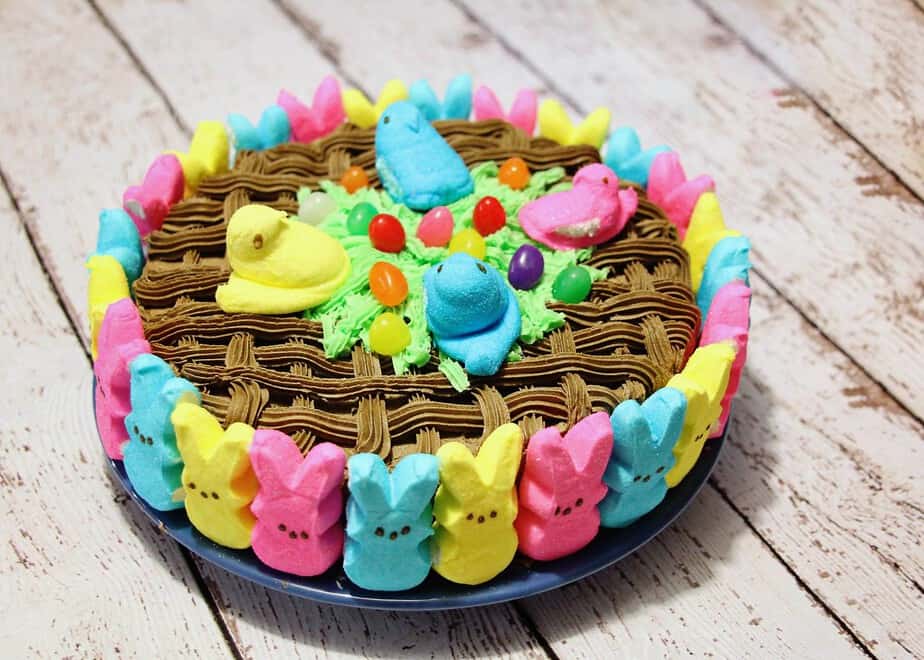 Once you have your basketweave in place on the top, you can go ahead and place your bunnies all around the sides of the cake. I did the color pattern as my 4 year old instructed me to, which is blue, yellow, pink. Then I used Wilton Icing Tip #16 and made the basket grass- this is intentionally messy as I wanted it to look like the messy grass we've all known for most of our lives in baskets!  It's easy, and you just do the grass until you feel like you've done enough.  Then, pop some chicks on top of the grass (the blue chicks on top are the fun new Blue Raspberry color- fun surprise? They are blue inside, too!) and put a few jelly beans for some more authenticity.  Voila.  PEEPS-ter Basket cake.
A note of warning: PEEPS are sweet.  Like super sweet.  As is the marshmallow chocolate buttercream (Buttercream Recipe)! Small slices of this cake with a single PEEP are more than enough sweet for the sweetest of sweet teeth!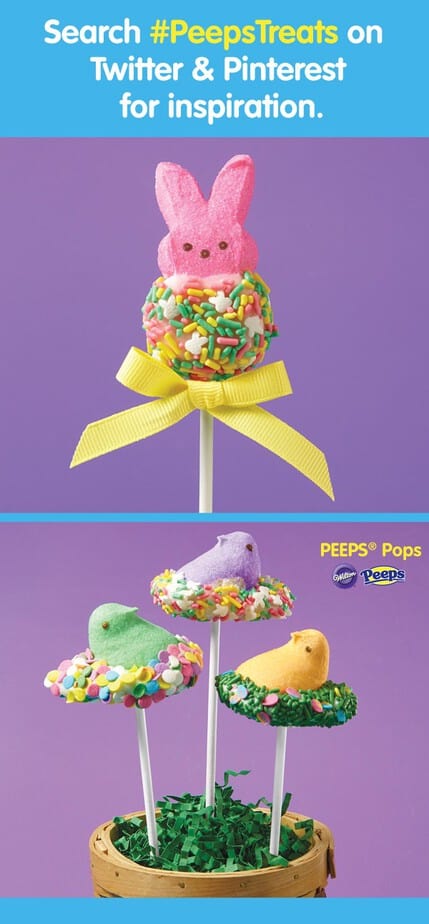 Head to your local Walmart to find the best selection of PEEPS®! They have tons of PEEPS available at Walmart, plus oh so many fun Wilton decorating items that you can create the days away with!
What #PeepsTreats will you create?