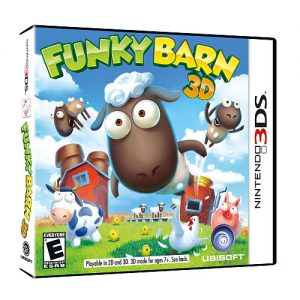 Funky Barn 3D is not your average video game.  The animals are wacky, the contraptions funky. You'll shear sheep, and you'll milk cows, but not like you see in the movies.  MY favorite part of the game is shearing the sheep  in the Shearing Machine!  The kids think the entire game is funny- which I'd guessed they would simply by the title, but when I heard my kids laughing within 5 minutes of playing the game, I knew it was a hit.  It's silly and it's fun and…well, funky!  Combine all these features with 3D options and you have a crazy fun game that's fun for all ages!  I may love the Shearing Machine but the pig just makes me giggle.  Just look at him.  The eyes on the characters in this game are awesome.  So expressive.
Fun for all ages- that's for sure.  This is definitely a great game to keep around for some silly fun-and the secret?  You still learn about how to work on a farm, albeit in a silly way, but you are learning about caring for the animals and livestock while having silly fun.  I like that!  The kids really REALLY like this game.  They giggle and giggle even if they are just watching each other play, or watching me.  Good clean fun is what I like and Funky Barn 3D has that.
Run your own 3D funky and frenzied farm!
Ready to make some wool? Pop your sheep into The Shearing Machine and he will hilariously cannonball out, surprised but shorn. Ready to harvest your crops? Hook up the Flying FruitBox-Haybale-Copter that flies around crazily picking up boxes of fruit and grain. With tons of wacky contraptions and goofy animals, Funky Barn 3D, the first farm simulation game for Nintendo 3DS, is not your average farm game.
You can find Funky Barn 3D at Amazon, ToysRUs and other online retailers for about $29.99.
Thank you to Ubisoft for sponsoring this blog post. Please click here to learn more about Ubisoft. I was selected for this sponsorship by the Clever Girls Collective. All opinions are my own. #UbiChamps