This post about how to get sharpie off a stuffed animal is brought to you by Biz Stain & Odor Eliminator. All opinions are 100% mine.
So my four year old, she really likes to color. It's rare to see her without a crayon, pencil or marker in her hand.  We've always been really diligent about keeping all of the permanent sort of art supplies locked up out of reach, but somehow, she got her little hands on a purple sharpie.
And promptly colored on several of her posessions.  One was a finger mold made at a Brownie field trip to a local orthodontist office. Some sharpie went on the kitchen table, some went on her play kitchen,and some was put onto her beloved Fluffy, a stuffed puppy her Uncie Bill gave her for Christmas 2 years ago.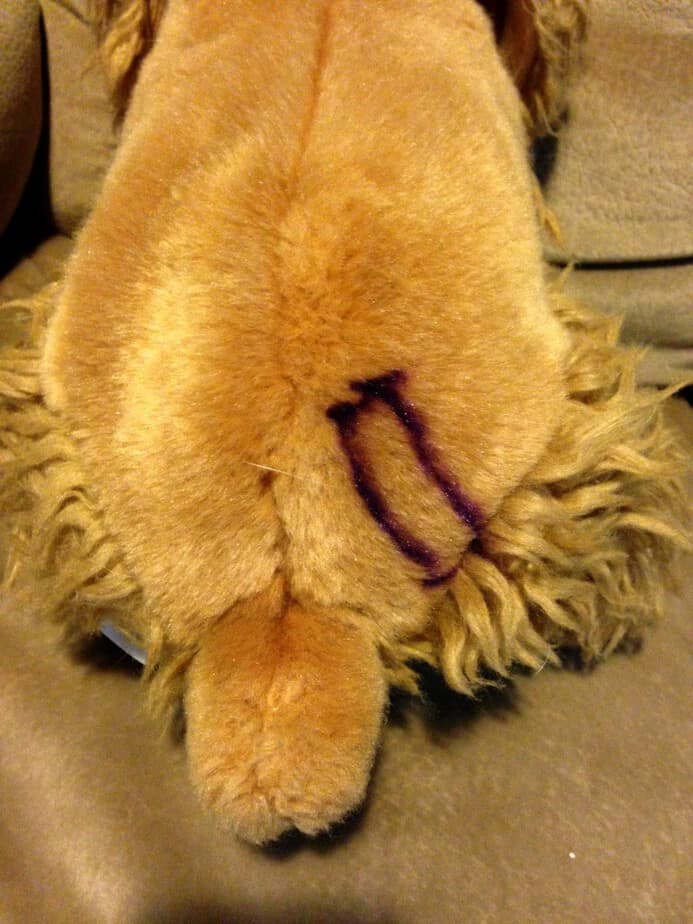 Kids amaze me.  When she saw that there was sharpie on Fluffy, she was beside herself. Remember, she put the sharpie on the dog.  Sigh. Patience.
Now, the other stuff came off with some mommy magic cleaning skills. My two favorite pre-wash stain methods did nothing to this sharpie.
But the puppy? I needed some help. I wanted to weep. Poor Fluffy.  Then I remembered that I'd gotten a bottle of Biz Stain Fighter in the mail and figured I needed to test it out on regular laundry, and I had to wash our napkins…so I figured Fluffy could give the Biz a go as well.  Yes, Biz.  The stuff my grama used to keep in her laundry room.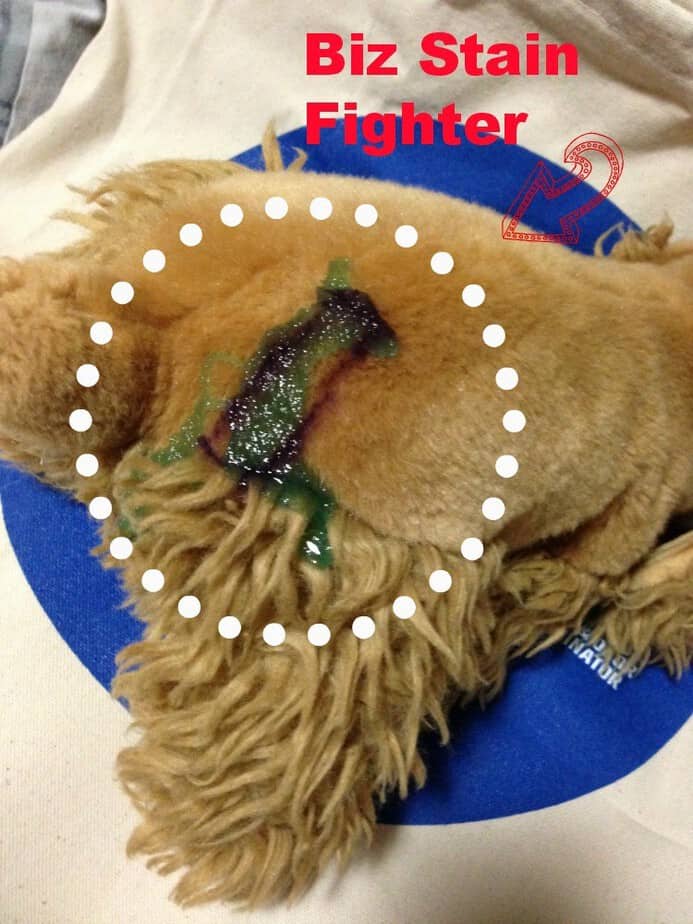 So, I put some of the Biz Stain Fighter right on Fluffy's tush. And I waited. Biz contains more stain fighting ingredients so I knew I'd have some success, just not HOW much success.
Into the wash Fluffy went.
39 minutes later, Fluffy came out.  He was about 85% free of his sharpie marks.
A little more Biz, a little more wait…
and guess what?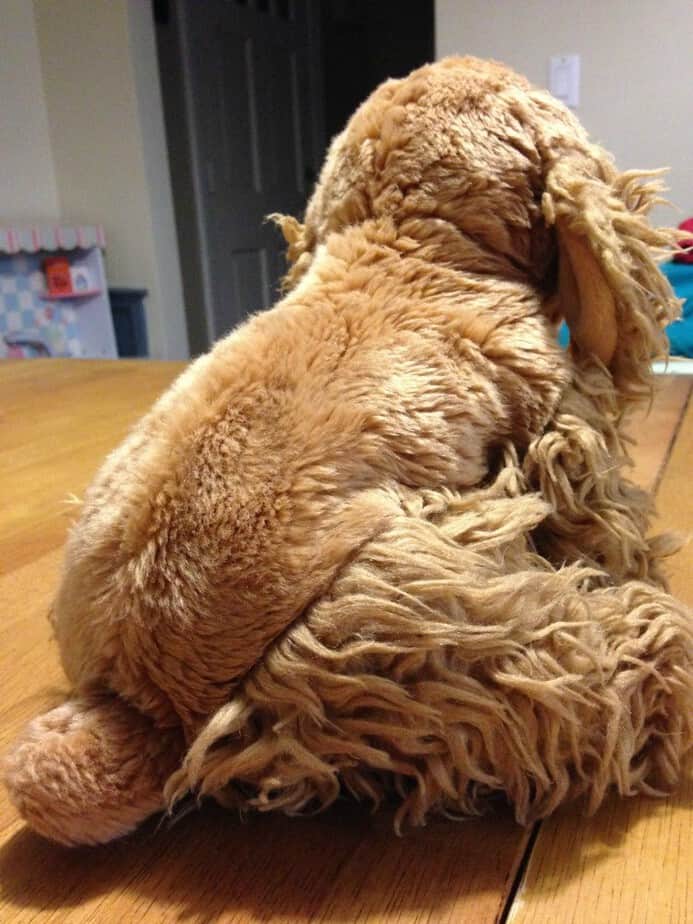 Fluffy's good as new!! He looks fab, doesn't he? At least until my sharpie wielder strikes again.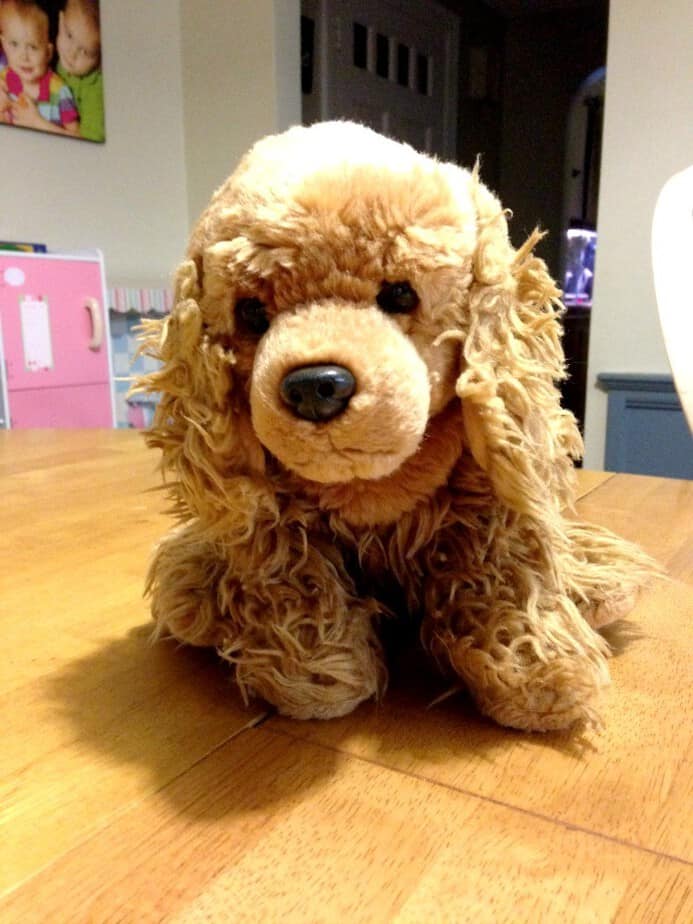 Now, soccer and baseball start in a few weeks.  Hopefully Biz can keep up with the stinky sweaty uniforms that will be coming home x3 kids!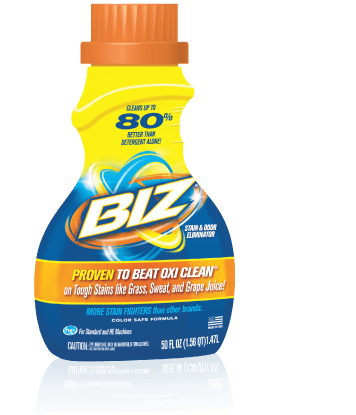 Want to know where to buy Biz?  Or how to save $1 on Biz? Be sure to follow Biz on Facebook to stay up to date.