Being proactive with your cleaning will help keep your home a healthier one, and likely save you money in the long run because your appliances don't have to work as hard to be efficient. It also means your home will smell fresher and not get stinky. It's finally spring and a good time to start spring cleaning- but let's not forget these 5 things to clean monthly.  I've also included tips to clean these items without harsh chemicals for a healthier clean!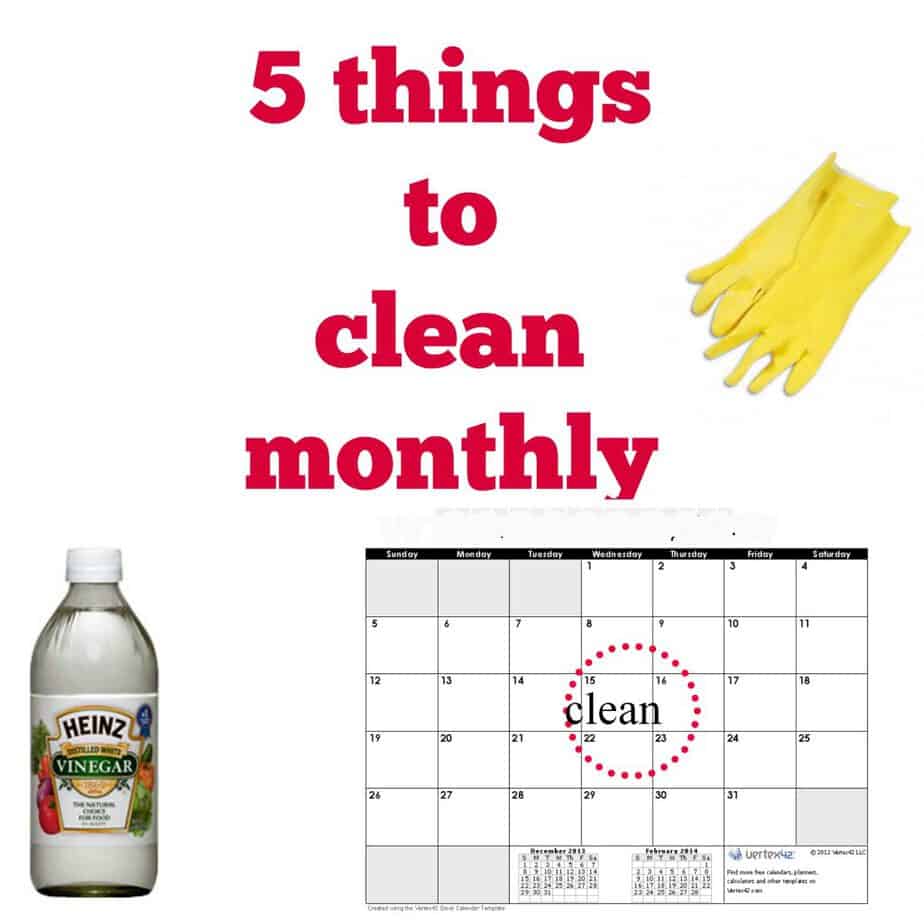 1. Washing Machine– There are products available for purchase to clean your washing machine.  Buy them.  Or, better yet, run a cycle with vinegar and call it a day.  You want to run it on a hot cycle with an extra rinse.  Be sure to clean the detergent, softener and bleach compartments when you clean the washer.  For front loaders, be sure to wipe down the rubber gasket.  This is a big part of why people's washers start giving them stinky clothes.  Stay on top of things save yourself time and money.
We learned the hard way that you have to clean the front loading washing machines on a regular basis.  Somehow, when we first purchased ours, we missed that detail.  Oops.  Lesson learned, after all laundry and our basement smelled gross and we couldn't figure out why!!  Vinegar.
2. Dishwasher– Again, you can buy cleaner for this, or you can simply run vinegar through a cycle.  Also be sure to clean the drain trap each month.  Build up in there can cause backup and trouble starts with that.  You want your dishwasher running efficiently so be sure to empty the trap and clean your dishwasher!!  This keeps your dishwasher from being stinky, too!
3. Dryer Vent — The foil-ish thing that the air and moisture travel with the lint through?  That totally needs to be cleaned.  Regularly.  It's a fire hazard.  I'm assuming you clean the lint trap before or after each load goes through the dryer.
4. Ceiling Fans- I actually try to do these when I change the sheets on Saturdays, but often just don't….and it ends up being monthly.  Any longer than that and we get a build up that is just gross, and I fear we'll end up turning them on before cleaning them and have all that dust and build up flying all over our bedrooms.  2/3 of our kids have allergies- this is NOT something I want flying around.
When I do my ceiling fans, I either use a pillow case so the dust and stuff fall into my case and not all over the room, or I use a damp microfiber cloth.  No chemicals needed, but still effective.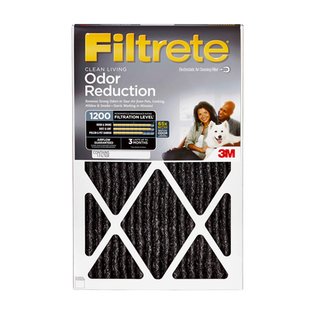 5. Filter(s) Filters for your furnace, filters for your air conditioning unit- whatever you have, change or clean them once a month.  Filters help to clean the air in your home and really, who wants to breathe in all the stuff filters work to keep OUT of our homes? (GROSS).
The Filtrete Odor Reduction Filter is 65 times more effective than other carbon filters at removing odors from the entire home, such as those from cooking, tobacco smoke, pets, mildew and cleaning chemicals.

Register to receive seasonal e-newsletters featuring special offers, filter change reminders, better home living tips and more at www.Filtrete.com.

This post about 5 things to clean monthly is brought to you as part of my Filtrete Healthy Home Ambassadorship.  I was compensated for my time but opinions are my own.