Last week, my kids all had the best week of camp EVER.  Their words, not mine.  They spent the week at Camp Invention, immersed in STEM activities and having a blast. My kids are all about building things and taking them apart, and are always wanting to know how things work, run, go, stop, etc. It was, in many ways, the perfect camp for them.  I was pretty surprised when the director called to tell us that my 2 girls would be 2 of the 3 total girls AT the camp…but they didn't seem to mind at all. While STEM (Science, Technology, Engineering and Mathematics), may have been more popular with the boys in years past, girls are quickly evening up the score! My girls have both shown a strong interest in STEM from a very young age, but it seems like many times, it's hard to get girls excited about it. This summer, I have been a Camp Invention Ambassador, part of which included all 3 of my kids attending a week at Camp Invention. Opinions are my own.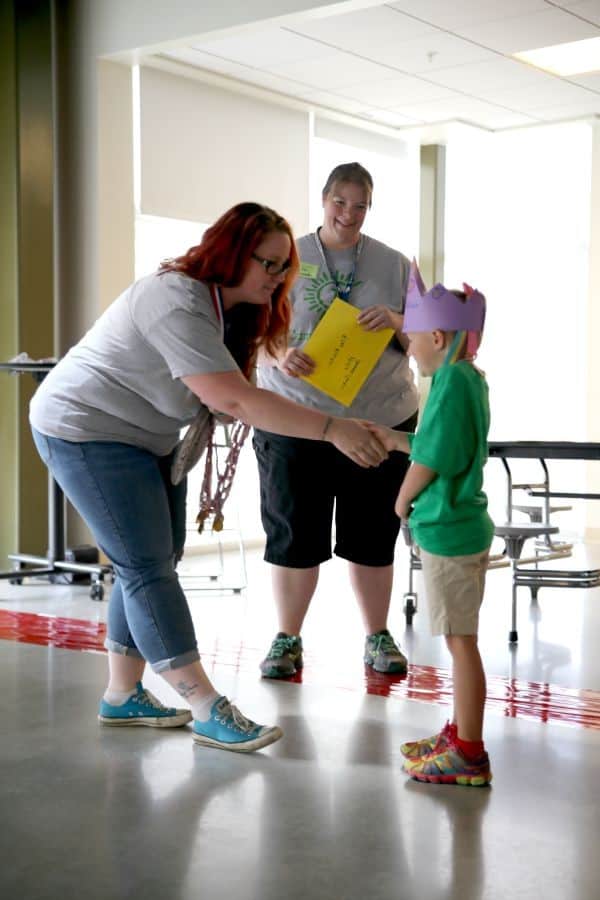 I have a friend who has a daughter in a STEM high school and she is doing fantastic. She is taking a science fiction writing class and is a member of the robotics team. She has had a blast helping her teammates building and operating Calypso, their school robot. She is taking several college prep classes, which are putting her leaps and bounds above her other high school peers. If you have a girl who is interested in the STEM subjects, there are several ways she can get into a STEM camp or school.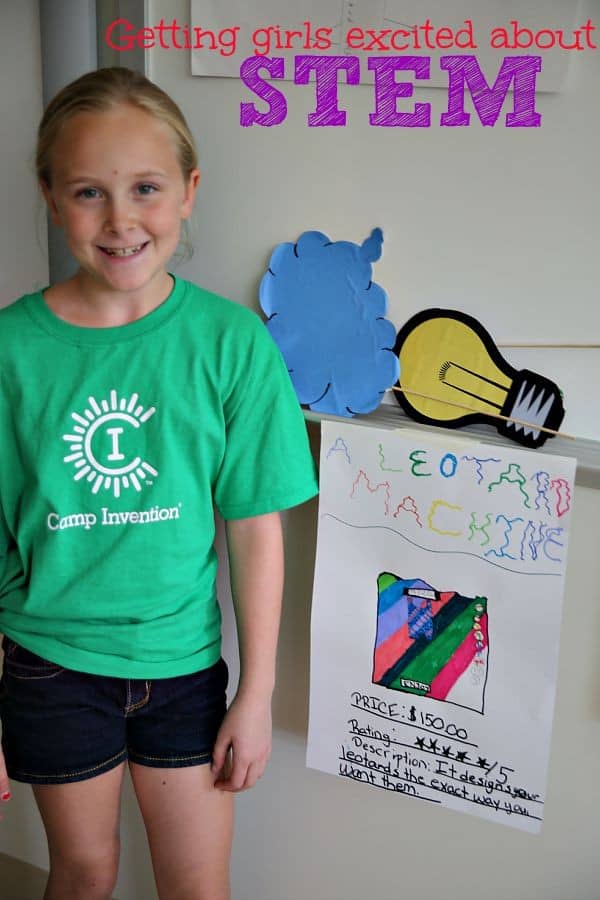 Getting girls excited about STEM
Encourage STEM at Home:
Whenever you can include a STEM subject into your daughter's day, do it! Get your girl some Lincoln Logs, Lego sets, Tinker Toys and other building toys. I have been known to pull out math flash cards while in the car on trips or maybe at the doctor's office. I encourage the kids to play games on the family computer, getting them familiar with the keyboard, the software and the internet. All three of my kids have been into building with LEGO from a very young age, and that's something we absolutely encourage them to develop and expand upon. They often look up new ideas to build and create online!
STEM School Activities:
If your girl's school has a team or group that is STEM related, encourage her to join. No only are the clubs fun, they will be learning a STEM field and tend to do better in that class in school. Most schools have a math and computer club, and many have Lego clubs and other STEM influenced activities.
STEM Camps:
If you see a Camp Invention STEM camp available in your area, apply! As I said, my kids had a blast and girls are totally welcome! Other areas to look at are camps that are STEM friendly. In some communities,you can find computer and technology camps, Mathletes camp  and Camp Invention- which fills up quickly! It was really nice to see all of the kids experiencing the same thing at the camp, divided only by age group. My gymnastics-obsessed daughter found a way to pair STEM with her beloved gymnastics and flip it into an invention concept.  (See how I did that?)
Kids' experiences at Camp Invention probably wouldn't be the same twice, regardless of curriculum, simply because the kids will find new ways to try to make and do things.  But the curriculum for this non-profit, elementary aged program is also new each year, so kids are finding a whole fresh experience every single week they attend camp. I was excited to bring the kids because of their excitement for attending- they loved being there, to find out what they were going to take apart, put together, or invent that day. The freedom to create things that interested them was a huge draw!  My oldest eats, sleeps and breathes gymnastics, and naturally, her invention concept was for a machine that can make a leotard to the persons specifications. She's quite ready to move to prototypes on this machine, confident it's going to be the next big thing in the world. A month ago? She'd never have thought of it. Now she's excited about the possibilities. It's pretty fun to watch! As a mom, I love seeing the kids have fun and being so excited to experience things, but I also love that they are attending a camp that's teaching them critical thinking skills that are going to stay with them for the rest of their lives. Important skills that will help them to succeed in life!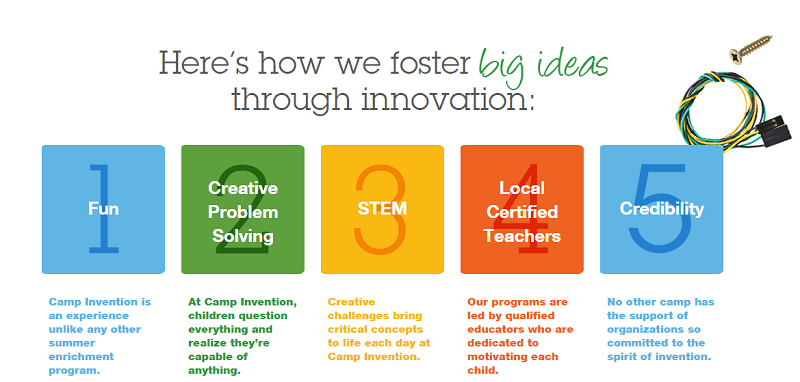 I would also recommend doing a search for STEM schools in your area. They are a huge resource for anyone interested in sending their children to STEM schools. They can also offer information on available STEM related activities going on in your area. Some STEM schools are happy to speak with you and your child about the ins and outs of the application process, etc. These schools are often the location for summer Camp Invention programs.

Stay in touch with Camp Invention on social media:
How do you get the girls in your life excited about STEM?