You know the saying "You get more flies with sugar than vinegar?"
Of course you do. Well, guess what?
It works with children too!
When it comes to getting my children to do something, I have a few options.
I can scream until I'm blue in the face (done that)…
Threaten punishment and loss of privileges (happens more often than I'd like to admit)…
Dangle incentives and hope they'll bite (works sometimes)….
OR…..
The most effective method of getting my children to do something, I've learned, is to make the task into a healthy competition! Being a family of sports lovers, my children are chomping at the bit at ANY task when there is a winner involved.
This goes for anything from eating all the food off their plate at dinner, to cleaning and personal hygiene tasks. Specifically, their bedtime routine. With 3 kids, bedtime can be crazy around our house. A structured routine and a bit of incentive go a LONG way in keeping them from lolly gagging around. Getting kids to have healthy habits can be a daunting task.
Of course, there are rules in place to keeping them from trying to breeze through the routine for a first place finish. For instance, if they don't spend an adequate amount of time brushing and flossing, they must start over… causing them to be last (gasp, the horror).
Another thing I do to ensure great results is to keep the bathrooms stocked with LISTERINE® products.
The Avengers™ and Barbie™ themed LISTERINE® SMART RINSE® rinses help prevent cavities even in hard to reach places. The kids love it because they think it's fun, and it makes me feel good because it has the American Dental Association seal of acceptance. This offers 50% stronger teeth than just brushing alone!*
*Based on laboratory testing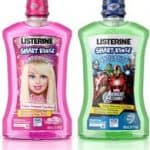 I personally love LISTERINE® TOTAL CARE Rinse, which provides 6 benefits in 1. It helps prevent cavities, restores enamel, strengthens teeth, kills bacteria and germs, cleans the whole mouth and freshens breath. This offers 50% stronger teeth than just brushing alone!*
*Based on laboratory testing
At the end of the day, we take our hygiene (particularly oral health) very serious. Hurdle one is actually getting the kids to DO it. Once that's covered, make sure your bathroom is stocked with LISTERINE® products, so you can feel confident their teeth are getting the care they deserve!
How do you get your children to do things when you ask them? Any clever tricks?
Healthy habits start with good oral care. That's why my family and I use LISTERINE® as a part of our routine! Share your healthy habits below, and you could win $1,000! Official Rules
"This post is sponsored by LISTERINE® Brand. Regardless, I only
recommend products or services I use and believe will be good for
my readers.  I am disclosing this in accordance with the Federal
Trade Commissions guidelines concerning the use of endorsements
and testimonials in advertising."