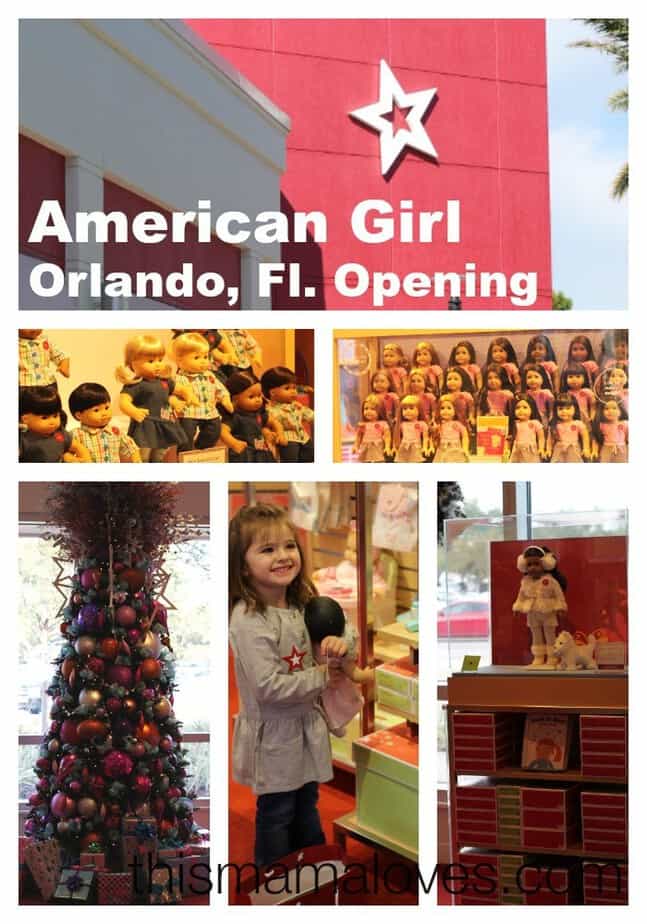 I was lucky enough to get a chance to visit the unofficial opening of the  American Girl Doll's 18th retail store  in Orlando, Fl. this week (The grand opening is Saturday November 15th, 2014).  American Girl was begun as a mail order only company in 1986 by Pleasant Rowland and opened its first retail store in Chicago, Illinois  in 1990.  What began as a mail order business with historical period dolls has expanded to encompass several lines of dolls, accessories, books, a magazine, DVDs, and even matching outfits for girls and their dolls. They are known all over  the world and are easily identifiable. We were excited before we even headed out the door since we are already familiar with the brand- we bought a  bitty baby last year that has become a true member of the family. Pulling up outside Florida Mall in Orlando, Fl. I was amazed at how beautiful the store front was, From the tall eye catching trademark red of American Girl brand to the beautifully decorated windows you knew you weren't about to just "go shopping" but have an experience.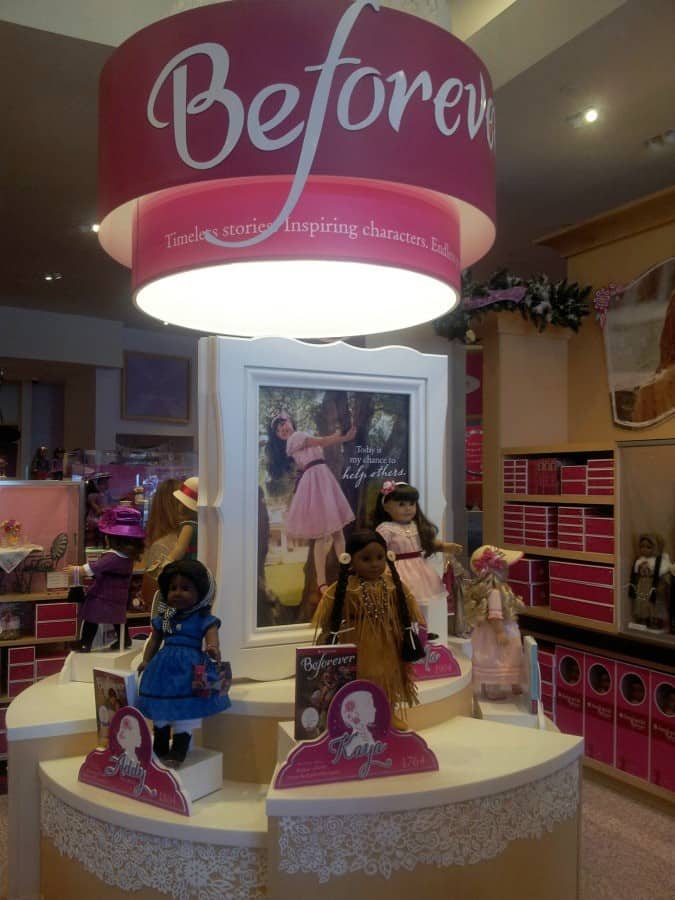 The entrance is bright, pretty, and welcoming and the employees greet you with a smile as soon as you walk through the door.  There was beautiful eye candy in every direction in the form of all their collections-The Beforever Dolls, Bitty Baby, My American Girl Doll, Girl of The Year, as well as a large section of American Girl books.  Each collection was showcased on gleaming shelves, in glass cases and contained everything you might ever need to go along with your doll- clothing, accessories,hair , shoes, furniture, accessories like ; glasses, wheelchairs, horses, camping gear, etc..  There is also a hair salon for your dolls, yes a hair salon. Complete with  beauty shop chairs, smiling stylists, spa packages, ear piercing, and hair styling- your child can choose from a selection of hairstyles for her girl and leave her with one of the hair dressers while she browses the aisles or visits the bistro. Did I mention the bistro?  While we didn't get the chance to visit the bistro this time I was able to peek in and was impressed by the quaint decor,  and precious dishes, not to mention the fact that they even supply you with highchairs that hook up to the table for your doll to sit at so she can enjoy lunch as well.
Every inch of the store is a true boutique experience, eye catching and gorgeous displays, doll clothing wrapped in tissue and in a pretty box ready to take home,  There was a tall, sparkling, beautiful tree straight out of little girl dreams in the middle of the store, and there are swags and matching decorations throughout the store to give it an even more special and festive feel.
I am not sure who came away more delighted and excited about revisiting the store- my daughter or myself.  If I was not already a huge fan of the American Girl brand then this visit to their amazing Orlando location alone would have turned me into one. Even if we had not purchased anything, spending an hour in the store was so fun and made for a wonderful mommy and me experience.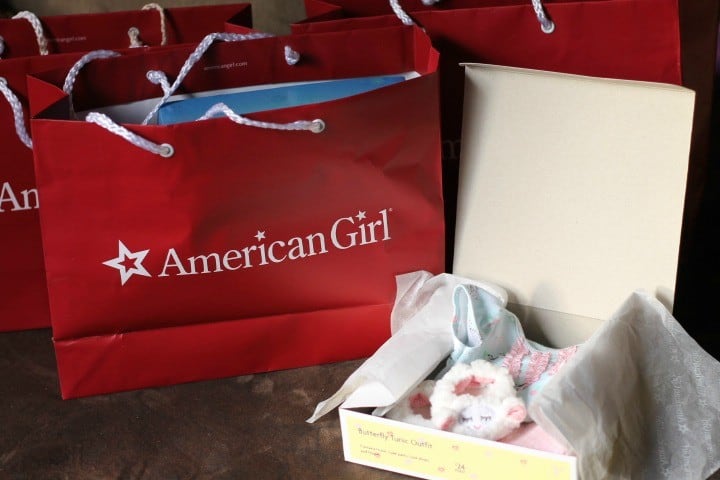 In addition to our amazing visit we were also given the opportunity to choose a matching Bitty Baby and little girl outfits.  My daughter chose the beautiful Teal Tidings dress for herself and her doll. The dolls includes matching shoes and headband, aren't they lovely? The store offers a selection of matching outfits- for Bitty Baby, Bitty Twins, Beforever, Girl of The Year- Isabelle, My American doll and your little girl. From everyday outfits to tutus, bathing suits, formal dresses, and the cutest pajamas! These would make a wonderful gift for a little girl getting her first doll or one who has been collecting for years.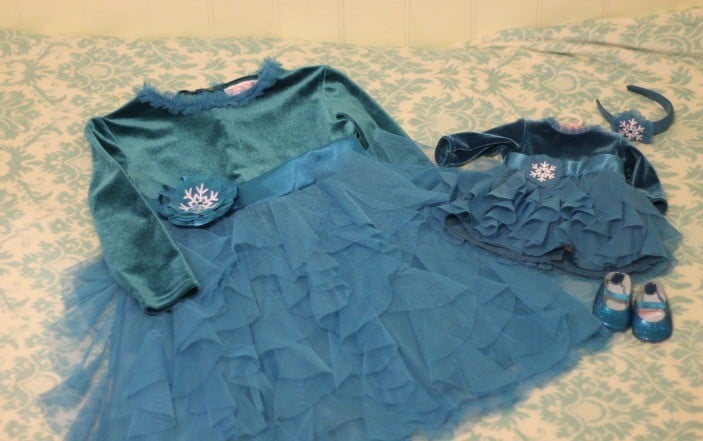 If that is not enough to make your head spin at all the things American Girl has to offer the stores also have events with crafts, tea, birthday parties, seasonal events, a cooking class, book signings, and more.  Check the various locations near you to see what they have available.
If you  live or are in the area visiting I highly recommend you stop by the Florida Mall and visit the newest addition to the American Girl Boutiques at 8001 S. Orange Blossom Trail, Orlando, Fl. 32809.
Do you have a favorite American Girl Doll? Tell us which one you or your little girl love the most.
Here is a shot of my little cutie at the Orlando store with her Bitty Baby- Selma ( Don't ask, Daddy named her)