We practically live outside in the summer here at my house.  We have a screened in porch we play games and eat meals on, a large yard, gardens, and a pool, so outside is where we are 90% of the time.  That can, as you know, dry out skin- and mine is no exception.  I have my trouble spots as always, but with being in the sun, and I will fully admit, being barefoot outside much of the time, I need some extra attention for my skin during the summer months. I turned to Nivea for some help getting my summer glow.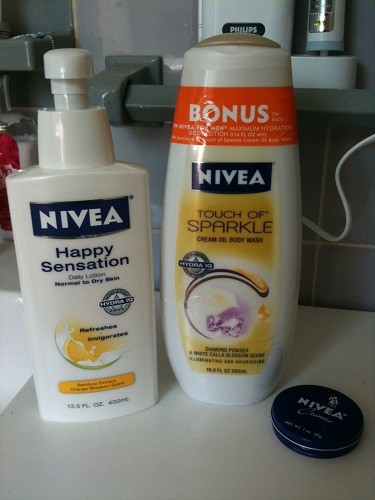 This summer, I have some extra dry hands because I've been helping my husband to redo our screen porch- sanding, sanding, sanding more…scraping paint from the floor by hand…painting- it's all made for a lot of handwashing and much drier skin than normal.  I wasn't sure what Nivea would have to offer me in terms of relief but I knew I'd find something.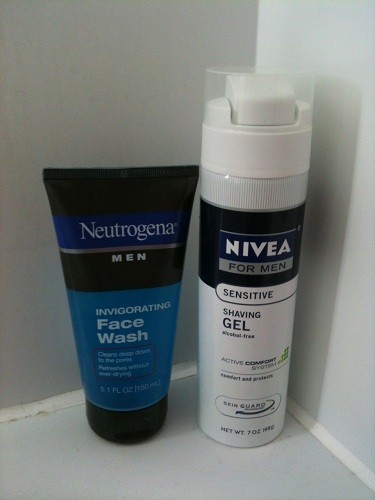 I was sad to see that my Walmart did not have (m)any of the Nivea Bath Care products- I'd seen the Honeydew & Pearls Hydrating Shower Gel online and I thought it looked like it would make my skin feel fabulous and smell great.  I have it on my list to grab next time I see it in the store, though!  I did find SOME of the Bath Care products when I went back for a second round of shopping (the first round, one bag of mine stayed at the store and I didn't realize until we got home) – the Touch of Sparkle is marvelous- its very silky and very luxurious…leaves just a hint of shimmer on your skin that gives you the glowy look without a lot of cost or effort!  The Touch of Happiness has an orange blossom scent that is just refreshing and energizing first thing in the morning- and leaves skin feeling soft and smooth.

What I did find at my Walmart were tons of different moisturizing products, and some men's skincare, which wasn't my ideal, but I decided I'd grab them anyway.  Even if my husband ends up using them all, he'll get some great products for his skin, too.  I've actually used the Shaving Cream on my legs and oh, does it work wonderfully!! Makes my skin so soft and smooth and I find the scent very mild, and almost refreshing.  This from the girl who loves a strong scented product.  My husband said he really likes it too- he feels like it rinses off very easily and leaves him feeling clean.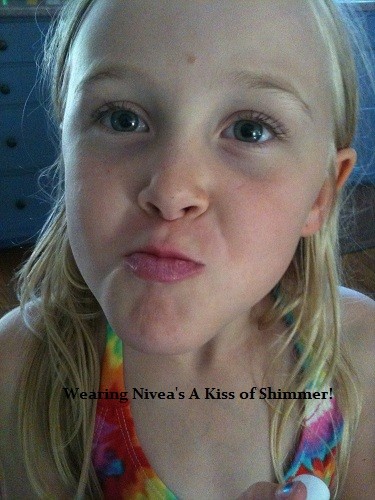 A Kiss of Shimmer lip care is light and shimmery- suitable even for a 7 year old who really wants to wear makeup (already?!) but muted enough that her mom won't mind her wearing it.
Check out my shopping experience looking for some Nivea products to help me get my summer glow on!
I haven't used Nivea in a very long time and I'm so glad I had a little push to try it again…I'm LOVING it!  Each of the products I've tried are effective, work as promised, and friendly to your wallet. From small tins of moisturizer you can tuck into your purse, travel size lotions, and shimmery lip moisturizers, to heavy duty creams to help with the toughest of dry skin spots (my feet and ankles!).  I would love to see some facial cleansers in the future as well.  And maybe a lilac scent…
What are YOUR favorite ways to get your summer glow?  Do you use Nivea?  What are your favorite products?
I am a member of the Collective Bias™ Social Fabric® Community. This content has been compensated as part of a social shopper insights study for Collective Bias™. #CBias #SocialFabric  
0