What do you get for the littlest ones in our lives? Tiny infants don't open gifts, they won't know, but it's hard to not get them something for the holidays, isn't it? I have a few gift ideas for baby!
Books– Think of yourfavorite books as a child. Or the books you and your children have read hundreds and hundreds of times. Why not start adding to the baby's book collection? Some of our favorites: anything Sandra Boynton, Eric Carle…the Llama Llama Red Pajama books, Goodnight Moon, anything by Jez Alborough, and anything by Roger Priddy. Books are usually read over and over, especially with young children, so try to get board books! You could even just start a tradition of a holiday themed book – add to that collection every year!
Clothing– Ask the parents what the baby needs. Maybe they need some clothes for the next season, or a larger size. It's not like baby clothes aren't adorable in every size, you know?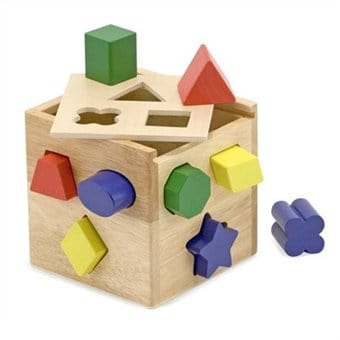 Baby Toys– If this is a family's first baby, chances are, they don't have much for the "next" age level for toys. Ask around, do some research. Sophie the Giraffe is a family favorite that I often give as a shower gift, but most certainly would give for a holiday gift as well. A nice shape sorting toy is always appreciated, and used for many many months- my kids are 3, 5 and 7 and they STILL use our shape sorting bus! Most sites online or employees in smaller stores can help give you some wonderful ideas based on baby's age- don't be afraid to ask!
Bath Stuff– What about a gift basket- good for baby and parents? Some great bath products (check with the parents first if they have a brand they prefer), a few cute bath toys, maybe a hooded towel, a puppet washcloth, and some lotion, with some lotion and a candle for the parents would be a great gift.
Get Better Basket– Like it or not, most babies can and will get sick. Products to help them feel better can add up fast. Why not do a themed gift and do a fun character humidifier, some natural relief products (see my thoughts on Maty's natural relief products), a blanket to snuggle, and maybe some herbal tea and honey for mom and dad.
Dishes/Drinkware: A nice set of child-safe dishes, child sized silverware, a nice sippy cup or two can also be a great gift. Even baby china- my mom bought all of her grandkids a set of baby china when they were born- most of them got Peter Rabbit themed- we still use them on Thanksgiving and other special occasions even today.
What are YOUR favorite gift ideas for babies?