I just time using ShopYourWay.com's new Win Your Way portal. I think you guys may want to check this out. I've been seeing and hearing a lot about this new portal all over the internet and finally sat down and checked it out for me. You can really check out Shop Your Way AND be entered to win some very, very cool stuff, all at once. That's like justified shopping and killing two birds with one stone, right?
This is a pretty cool way to get others to see what you recommend and like for products. For example, I entered the "Parenting Tools" which was really easy and took a few minutes. To enter, you do need to be a Shop Your Way member, and you have to "want" 10 baby items that you consider to be "must-haves" for parents. Now, I look at this as a pretty smart way for Shop Your Way to get us poking around the site and talking about it, but I also view it as a great way for me to show others what I think is important for parents to have with a new baby. (We've all seen baby registry lists, and the items recommended on there are overkill for sure!). It's nice to say "Hey, other parents! I think you need a carseat, and probably a stroller. And diapers. Blankets to keep the baby warm!" Stuff like that….with no effort. Maybe no one will ever look at my "wants" and maybe they will. But, they are there, from a mom of three, for anyone to see.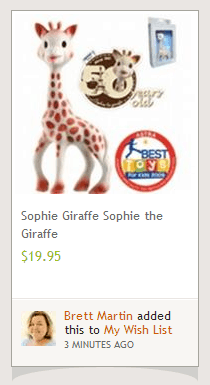 This all took about 15 minutes, and probably only took so long because I kept getting distracted seeing what else popped up in my searches. Sophie the Giraffe is one of my FAVORITE gifts to give at a shower or when a new baby is born, and she was just plain Sophie when I had my littlest. Now, there are all these options and variations, and gift sets…so I think entering for me took a bit longer than it needed to. (My cousin is pregnant, in my defense. So I need a Sophie something for her baby!)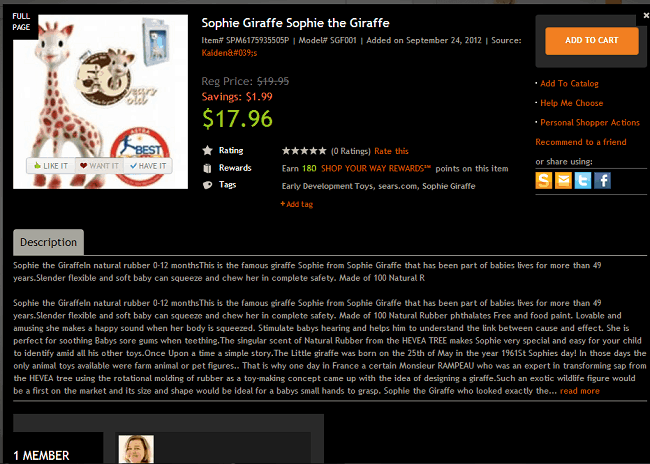 As an aside, Sophie the Giraffe is actually on sale. I've never paid this low a price for her!! (If you need a baby gift…grab this. You won't be sorry!)
I was feeling a little…I don't know what, but the other sweepstakes I entered was the "So Gifting" one. I kind of made a wish list of things I want, for ME. Hey, I'm done with my shopping for others, I can have a little fun, right?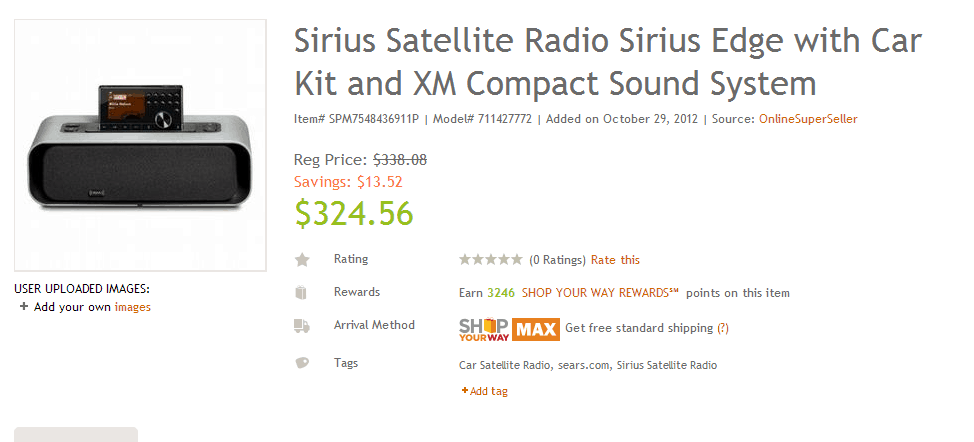 Well, I'm loving my charm bracelet of late. I'd LOVE a Christmas themed one. But I also have a secret desire to have a Sirius radio because I love listening to comedy, and I hear they have comedy even for kids. Guess what you can find on Shop Your Way? And Guess what happens to be on SALE? Santa, are you reading this? I've been a good girl, all year long (Maybe I'll WIN Win Your Way? Could that happen?)
Anyway, I'm all entered to Win My Way. Are you? What will you enter for?
No purchase necessary. See http://bit.ly/RdfB8K for details.
This is a sponsored post with http://brandfluential.com, I am a Win Your Way blogger, though all opinions are my own.
0