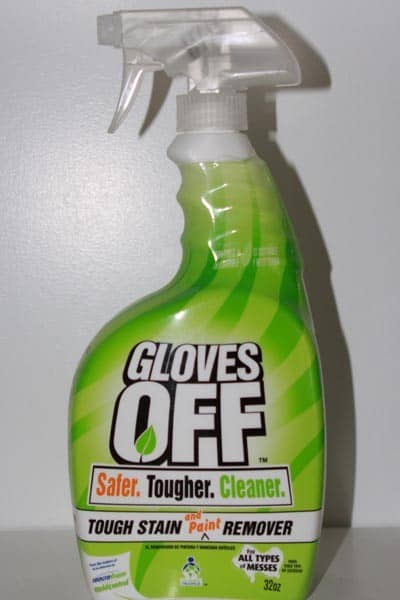 I love trying new cleaning products and eco-friendly, non-toxic, sustainable is right up my alley.  Gloves Off® Tough Stain Remover is a revolutionary cleaning solution that removes the greasiest and toughest stains and spills with no harmful chemicals.
Rather than relying on corrosive chemicals, Gloves Off uses Dynamic Surface Tension Technology™ to penetrate deep into sticky messes to help lift and remove even the most difficult stains.
Gloves Off is safe for use on almost any hard and fabric
surface including wood, baseboards, laminated surfaces,
flooring, hard plastics, rubber, metal, glass, masonry, brick,
tile, grout, fiberglass, clothing, upholstery and carpet.
Removes stains such as:
Dry latex paint, pet stains, oven grime, soap scum, pen, crayon, marker, food & wine spills, chewing gum, adhesive, glue, grease, tar & oil stains, make-up, and many more.
So, I put Gloves Off to task on some adhesives.  I recently bought some photo frames and as you all know they always put the price tag on the glass.  I sprayed Gloves Off on the tag and let it sit for about 10 seconds.  After that the price tag peeled right off.  We also have had a sticker from the dentist on the back of our toilet for weeks.  Other cleaners just made a mess while Gloves Off made it easy to remove the sticker with a paper towel.  I have also been using it in the shower to keep soap scum at bay.  Gloves Off has a mild, pleasant smell and I don' mind using it around my son or our pets.
Gloves Off is made from  Water, coconut based surfactant, propylene glycolpropyl ether, chelating agent, baking soda, washing soda, potassium silicate and potassium hydrate.
The benefits of using Gloves Off are Safe for users and the environment
> Minimal odor and non-irritating on skin
> No harmful chemicals
Tough on stains and spills
> Features Accelerated Dynamic Surface Tension
to rapidly penetrate and lift all stains
> Removes the toughest, greasiest stains and spills
Cleaner Ingredients
> Naturally derived
> Readily biodegradable
Gloves Off can be found at Home Depot and they sell other solutions for other uses.  You can check out their full line of cleaners on their site, http://www.glovesoffclean.com/
A bottle of Gloves Off was provided to me to facilitate this review.  Opinions are my own.