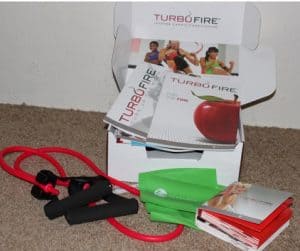 So, I have to say I am kind of proud of myself.  I have stuck with the program for 4 weeks and lost 5lbs so far.  I am feeling stronger and more confident.  Not really confident enough to show pictures of my progress but I said I would so they will be in this post.  The program continues to challenge me and the schedule changes up enough to keep it fun and interesting.  Chalene, the instructor, is very motivational and often says "Guess what??, You are not tired!"  Well, sometimes I am but she pushes me to keep going.  She also reminds me that I have to put aside some time everyday to do something for myself.  It is not always easy between work, housework, karate, soccer, and family time but it is so important.  I have stuck to the 6 day a week schedule and I enjoy my rest day but I am always anxious to get back to it.  I decided that this is the time in life to get the extra weight off and after this my goal will be to keep it off.
The music is each workout is really fun and I find myself humming some of the tunes when I am not working out.  Turbo45 remains my favorite workout but, there are none that I dread! So at this point I am really just rambling and putting off showing the progress pictures.  The first picture was on day one, the second from the end of week two and the last from the end of week four.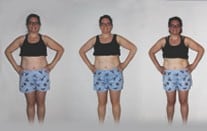 It is hard to tell but my stomach is less "bloated", my legs are more toned and from the side my face looks thinner.  So, seeing some progress is very encouraging for the rest of the program.
The next post will be about weeks 5 and 6 and how I managed while on a week long vacation to Virginia Beach.  What are your eating and exercise expectations while on vacation?  Mine is to just not gain any weight.