You're a mean one, Mister Grinch…you really are a heel!!  Well, he really WAS. But then he "got it" and we all know how the rest of the story goes. Given that the Grinch is one of my most favorite stories of all time, I have a whole lot of Grinch fun for you this week!  Be sure to check out the DIY Grinch Crafts and Recipes post and find out how to make a fondant Grinch cake also!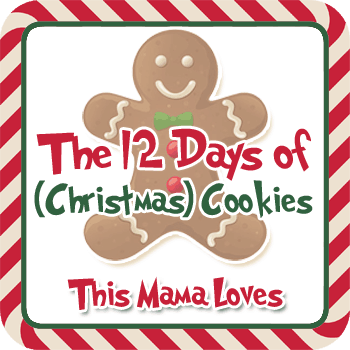 Bing Smart Search is like this whole new way of finding information, images, recipes and inspiration from any Windows 8.1 device.  With Smart Search, you don't have to open an app or a window, just swipe from the right to open the search bar or start typing in Windows and you can find your doc, photo, app, link, information,images…the list goes on and on.  When a web page comes up, you can preview the content before clicking on it.  With Bing, you get a "Smart" summary of results. For a variety of popular searches, you'll see a rich, visual summary of the most relevant information from across the web and apps. We've all gone to sites that matched search terms only to find the content is not relevant to what you were looking for, right?   Bing Smart Search is how I found inspiration for many of the cookie recipes shared in the 12 Days of Christmas Cookies Feature!
Grinch Cookie Pops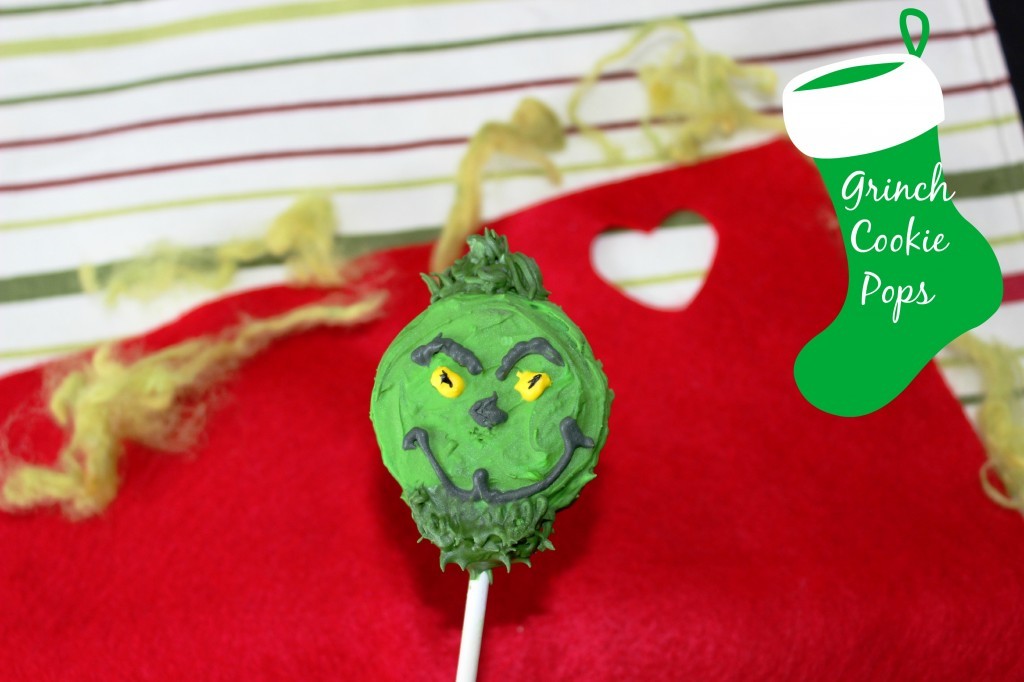 Ingredients & Supplies:
Oreo Cookies (Double Stuf work best)
Lollipop sticks
White Chocolate Candy Melts and green food coloring (or green melts)
Prepared royal icing (green and yellow)
Piping bag, insert, #2 and #4 round tip
Toothpicks
Directions: Separate the top cookie from the filling of each cookie. Carefully insert stick into filling.  You want to make sure it is set but if you press too hard,  the cookie will break. Gently replace top cookie and stand in cup until all cookies are complete. Freeze cookies for 10-15 minutes to help set the stick (this will also help the candy melt  harden faster) Melt Candy Melt according to package instructions.  Add a small amount of green food coloring and a bit of shortening if needed to keep smooth.  Carefully spoon melted candy   over each cookie, covering all sides and edges.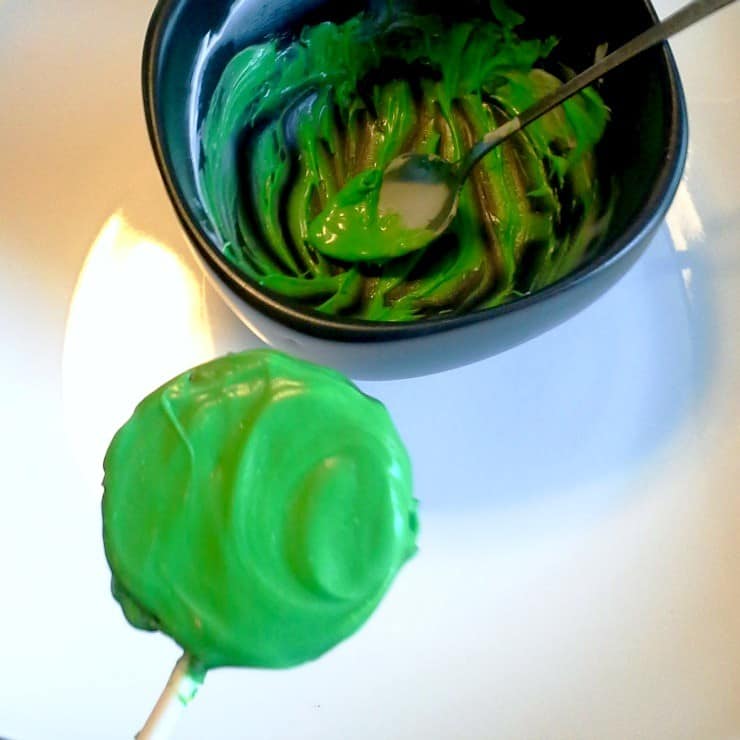 Return cookies to cup and once all are complete, return to freezer or  refrigerator When your candy melt has completely hardened let them stand at room temperature for 10-  15 minutes to allow condensation to evaporate. With your green royal icing & #4 tip, pipe a small amount of icing to the top of the head and the neck to create "hair".  I used a toothpick to give it a spikey look.  Using the #2 tip, pipe  the face onto the cookie with the green and yellow icing. Return to refrigerator to completely harden. Pop in How the Grinch Stole Christmas or read the story while you enjoy your Grinch Oreo Pops!