With so many concerns about crib safety these days, it is hard to know what is the safest sleeping option for your baby.  Halo makes the decision easy with their new SafeSleep Crib Set.  Although crib bumpers are no longer recommended and are actually banned in some states, many parents still aren't aware of the dangers related to crib bumpers.  Standard bumpers pose a suffocation hazard for babies, which is such a scary thought.  Halo is addressing this safety concern with their new Crib sets.
"Designed with whimsical prints, the HALO® Safe Sleep Crib Set™ will help create a beautiful and safe nursery for your little one. The American Academy of Pediatrics and leading safety organizations warn against the use of soft, loose bedding and bumpers in cribs. Instead of potentially dangerous comforters and bumpers, this unique five-piece Safe Sleep Crib Set contains only those things your baby needs to sleep safe and sound from the start: a coordinating HALO SleepSack wearable blanket, SleepSack Swaddle, two soft 100% cotton jersey fitted crib sheets and matching decorative skirt."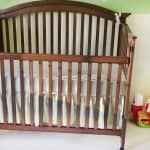 The Safest Crib Set Available!  No Bumpers or Loose Blankets
No loose blankets or bumpers, for safer sleep.
Includes 2-in-1 adjustable SleepSack Swaddle that allows for swaddling arms in or arms out to ensure an easy transition to the SleepSack wearable blanket when it's time to stop swaddling. 100% cotton. Size newborn fits 6-12 lbs.
Includes HALO SleepSack wearable blanket that replaces loose blankets that can cover a baby's face and interfere with breathing. Plus, it's a cozy blanket your baby can't kick off, for a better night's sleep.  100% Cotton.  Size Small fits 10-18lbs.
Two, 100% Cotton Jersey fitted crib sheets; one solid, one in coordinating print.
One coordinating decorative crib skirt.
A portion of every sale goes to First Candle/SIDS Alliance and The Canadian Foundation for the Study of Infant Deaths.
I chose to try out the adorable Friendly Caterpillar pattern.  The light green color of this set would look so sweet in any little boy or girl nursery.  Halo offers their SafeSleep Crib Set in several cute designs and colors.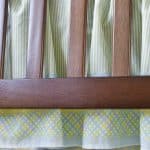 My Crib Set came nicely packaged in a zippered pouch.  Great for gift giving.  I just love it when baby products come in those plastic zippered pouches.  They are great for storage later on, and keep all of the items together.
The crib bedding (crib skirt and 2 sheets) look great on the crib.  The designs are sweet and the sheets are nice and soft 100% cotton jersey.   They wash well and dry quickly.  I love that this set comes with 2 different coordinating crib sheets.  This allows you to change the look of your crib in an instant and gives you a spare while you are doing the wash.
The Halo SleepSack Swaddle has the most adorable caterpillar design on the front.  The quality is fantastic, as you will already know if you own a SleepSack Swaddle.  The instructions for swaddling are printed right on the inside of the garment.  The velcro closure is secure and easy to use.  The swaddler is soft and cozy.  This item fits babies up to 12 pounds and can be used as a swaddler or a wearable blanket.  My baby is slightly bigger than 12 pounds, but still loves to use his swaddler as a wearable blanket at nighttime.
The Halo SleepSack is a wearable blanket that fits babies up to 18 pounds.  This is my new FAVORITE baby sleep item.  I just put my little guy in a long sleeved onesie, put him in his SleepSack and I know that he is safe and warm at night.  No worries about the dangers of blankets, and he doesn't wake up at night because he is cold.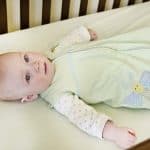 The Halo SafeSleep Crib set is a great solution to safe bedding.  These sets are so cute in your nursery and provide a safe sleep environment for your sweet little one.  I love mine and recommend them highly to any new parent.
This product retails for $110, but can be found here at Amazon.com for $89 with FREE Super Saver Shipping!
"A sample of this product was provided to facilitate my review.  All opinions expressed are my own."