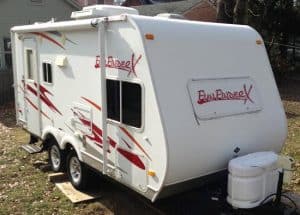 My family and I love to take trips and we always try to keep it affordable.  So, after spending some time at local campgrounds with some friends we decided to buy a camper.    I had no idea the amount of activities and amenities they offer at the campgrounds.   Previously my camping experiences consisted of damp tents, long walks to the bathrooms and bad sleep.  I don't hate tent camping but RV camping is more desirable.  I spent a few months reading about RVs and learning the difference between, popups, hybrids and travel trailers.  I searched Craigslist, went to an RV show, and finally found one I really liked on Bargain News.  We took a look at it and we made an offer.  A few weeks later we became the proud owners of a cute Cruiser Fun Finder.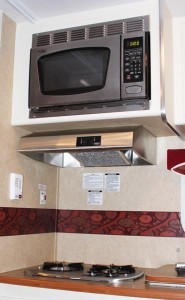 The Fun Finder is currently parked in our yard.  We are getting to know all of the systems in it and enjoying just hanging out in it.  The first day we had it we watched a Garfield movie and had snacks in our home on wheels.  The three of us, my husband, son and I, are ready for some new adventures.  We love to see new places, be outdoors, hike, ride bikes and be together.  We are all excited to hitch the RV up and head to some new campgrounds.  We will start off staying pretty close to home as we get used to towing it.  There are some really great campgrounds in CT that offer daily activities for the kids, heated pools, large playgrounds and restaurants.  We also want to try out some of the state parks.  We won't always be traveling alone.  Our dog, Beta will be an RVer soon too.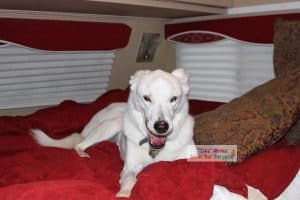 Check out this great game for camping or backyard fun.    https://www.thismamaloves.com/2012/07/snipe-hunt-family-game/
Have you ever been camping in a tent, RV, Yurt or small cottage?  What is your favorite thing about camping?