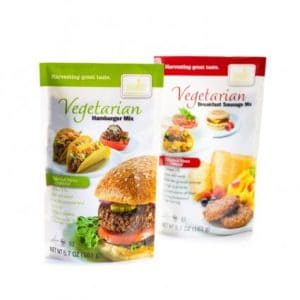 I am always willing to try different meat substitutes.  At about the age of 17 I ventured into the world of vegetarianism and now I eat a mostly plant-based diet.  At home I only prepare meatless meals but we still love tacos and big breakfasts with "sausage" and scrambled tofu.  I received two packages of Harmony Valley Vegetarian Mixes to try out with my family.  The mixes are dry and shelf-stable.  So they can be kept handy in the cabinet for an easy dinner prep.  Just add water, let sit for 15 minutes in the refrigerator and then use in any recipe that calls for ground meat.  Both the hamburger mix and breakfast sausage mix are lightly seasoned.  You can mix in additional spices to met your needs.  The website www.harmonyvalleyfoods.com is loaded with fun recipes such as enchiladas, spiced samosas, and shepherd's pie.
I used the breakfast sausage mix on nachos.  The texture was perfect, not to crunchy or too chewy like some other meat substitutes I have tried.  My son and husband both enjoyed the nachos as well.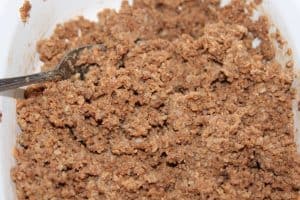 NEW Harmony Valley Vegetarian Mixes Inspire Healthier Eating
With the growing trend of Meatless Monday and healthy eating, there is no better time to consider options like Harmony Valley. With 14 grams of protein and four grams of fiber, Harmony Valley's soy-based vegetarian mix is the NEW item to have in the pantry to replace ground meat on Mondays. It's versatile, quick and convenient, and only needs one thing to prepare for cooking – water.
Harmony Valley is available in two great flavors: Hamburger and Sausage Mix. Harmony Valley strives to educate consumers that replacing meat just once a week can improve health and reduce carbon footprints.
On the average, Americans consume eight ounces of meat per day – 45% more than the USDA recommends. Going meatless once a week can reduce the risk of chronic preventable conditions like cancer, cardiovascular disease, diabetes and obesity. It can also help reduce carbon footprints, saving resources like water and fossil fuel. With a designated Meatless Monday, people have a scheduled and recurring reminder to start the week off on a nutritious note.
The Hamburger Style Vegetarian Mix is available in 1.85 and 22.5 pound package sizes, allowing you to mix up just the right amount for your daily needs.
INGREDIENTS:
Soy Flour, Vegetable Oil (Soy or Palm), Isolated Soy Protein, Methylcellulose, Natural Flavor, Wheat Gluten, Salt, Extract of Malted Barley, Onion, Garlic, Spices, Yeast Extract, Beet Powder. Contains: Soy, Wheat.
The Vegetarian Mix Sausage Style is available in 1.78 and 22.5 pound package sizes.
INGREDIENTS: Soy Flour, Vegetable Oil (Soy or Palm), Isolated Soy Protein, Wheat Gluten, Natural Flavor, Methylcellulose, Salt, Extract of Malted Barley, Spices, Yeast Extract, Beet Powder. Contains: Soy, Wheat.
I received a samples of this product to facilitate my review. Opinions expressed within are my own.
0