LeapFrog has done it again. Or maybe I should say, done it still? LeapFrog is one of our favorite toy brands, and has been since Busy Bargains was a new baby. We've had countless toys and games from LeapFrog, and I forsee many more in our future.
Recently we got some really cool stuff from LeapFrog to check out and share with some friends. After a few scheduling glitches, we were able to get together with friends and share the Tag Reader with several books and a World Map, and also the brand new LeapPad Explorer, which I have a feeling is going to be a very, very hot item this holiday season. (Mr. Bargains finds the LeapPad more appealing than my tablet!!)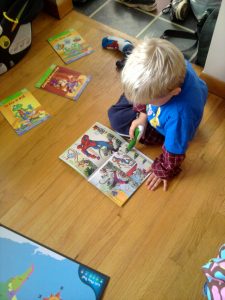 The Tag Reader is something I've had my eye on but not purchased over the years. The kids thought it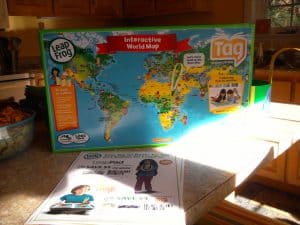 was really neat to be able to sit with a book and not ask mom for help – they were having a blast reading with just their friends!!  (I am a mom who adores reading with the kids- but the kids love their independence and this was so fun for them).    kids did really like the books, especially with their favorite characters in them, and having the books read aloud to them or being able to play games within each book.  My son and his friend Q were so excited to see Spiderman in a book made for their age group! 
Learn to read with the #1 selling reading system!* The amazing touch technology of the interactive Tag™ Reader sounds out words, reads stories and brings books to life teaching phonics, vocabulary, comprehension skills and more.
You can find a huge variety of books for purchase to go with the Tag reader system- Disney friends, Nickelodeon friends, LeapFrog friends- all of them are featured in books that work with the Tag system! There's over 40 books that work with it, and something that I find awesome, as well- maps!! There are options in French and Spanish, as well. 
We got the World Map for the party, and the kids thought this was a hoot- although they probably didn't get as excited as I did.  My Busy girl wasn't at the party because she was at school but she LOVES this world map- she is learning about different countries and cultures at school and this really reinforced things she's been learning at school.  Once we have school again in town (power outages) I am sending the Tag in with the map because I think the first graders in her class will think this is super cool too!!  There will be some maps and books under the tree on 12/25 at our house for sure. 
The really big hit of the party (even with my husband) is the LeapPad Explorer.  Oh, how the kids love this.  Kids who like electronics are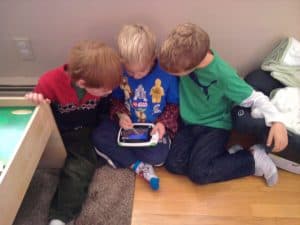 drawn to this like a magnet (and I should have brought this out later in the party, the kids were so into the LeapPad that it overshadowed the Tag!)  There's even an app store for LeapPad Explorer to add on to the learning fun.
LeapPad™ Explorer is the new personalized learning tablet just for kids! A built-in camera/video recorder, a library of 100+ cartridge games and activities and innovative creativity and reading apps offer limitless learning and endless ways to play!
The kids LOVED this.  I was really surprised at how nicely they were sharing- I wasn't sure how that would go.  I think we used the batteries that came in this in a day, it got so much use.  We had kids walking around taking video – some took pictures, while some loved the Cars 2 e-book that came preloaded. (Sadly, the things that come with the LeapPad disappear the first time you connect your device to your computer.  This is such a bummer and I hope that LeapFrog finds a way to fix it!)   There are tons of games, all educational in true LeapFrog form, with beloved characters as with the Tag books.  All of the kids thought the "apps" were the coolest thing ever, since almost all of them have parents with smartphones and we all know how kids LOVE to play with our gadgets!!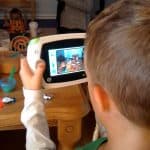 One thing I really love about the LeapPad that the kids didn't seem to explore as much (limited time of course) at the party is the art studio.  Lots of cool options and really fun sound effects.  But what struck me most about the studio is that you really can draw and have the image look like you drew it with a pencil, and I wish I'd gotten a photo of the picture my husband drew of my girls- but he was able to get a profile of each of them without it looking too cartoonish.
I can't wait to see what games and books LeapFrog comes out with next.  There are lots of great bundle and package deals for these products and more at www.leapfrog.com! 
Thanks to Mommy Parties for the goodies shared to host the party!  As always, opinions are my own.
0