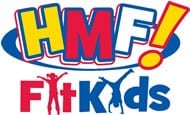 The longer I am working at being healthier (even with my too-frequent setbacks), the more my children are getting interested in and excited about being healthier.  They not only cheer me on when I'm "running" past them doing a race, but they want to go WITH me!! At 2, 4 and 6 they are still a bit too young to be participating in larger 5k events, even for just the crowds alone, but events like the HMF FitKids series are perfect for kids – the fun and exercise go hand in hand at events designed especially for them!  You can see my older kids a little tired and "spent" from a kid race last November, but they still have their green ribbons proudly displayed in their bedrooms!
The Hartford Marathon Foundation's Youth Running Races will take place at least once a month from March to December. The races will be held in various towns in Connecticut, including Bloomfield, Cromwell, Hartford, Higganum, New Britain, West Hartford, and Wethersfield.

All HMF youth races are $10 and offer several distances (50 yds, ¼ mile, ½ mile, and one-mile) and are determined by the age of participating child. Kids may also register for an HMF 5K race at the same price of $10. Anyone under the age of 18 must have a waiver signed by a parent/guardian to participate. All participants receive a cotton t-shirt and finisher's medal.

April 14th – Burn Calories for Fuel Kids Fun Run, Bloomfield

May 12th – CT Race in the Park Kids Fun Run, New Britain

June 3rd – Amica Iron Horse Kids Fun Run, Simsbury

June 9th – BlumShapiro 5k for Camp Courant Kids Fun Run, Cromwell

July 7th – Red Dress Run for Women Kids Fun Run, Hartford

August 28th – Old Wethersfield Kids Fun Run, Wethersfield

October 13th – ING Hartford Marathon Kids K, Hartford

October 28th – Pumpkin Run Kids Fun Run, Higganum

December 2nd – Blue Back Mitten Run Kids Fun Run, West Hartford

The HMF is also offering a 

 Family Fit Training Program:

6:30-7:30 P.M. Monday nights at Glastonbury High School Track

6/25, 7/2, 7/9, 7/16, 7/23, 7/30
$10 per child, $15 for 18+ or $25 per familyFinally, a running and fitness program the whole family can do together! This unique program incorporates exercises, walk/run track workouts and good old basic exercises. Our coaches will teach good running form while building endurance and strength during each hour session. Adults can join in with the youth group or participate in walk or run workouts on the track. The youth will be grouped according to age in a fun and friendly environment. Our goal is to make this so fun that you will not realize how much exercise you're getting! All abilities welcome!