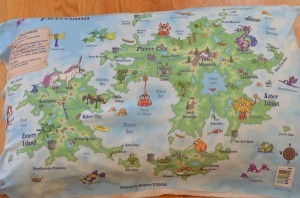 I love Kindlandia. They offer fun personalized products that are made with great quality product and fine attention to detail. The turnaround time is quick once you place your order and The items I've received to date are top notch. We have a canvas in my son's room from Radiator Springs that he just loves, and thinks having HIS Name and his sister's names all over the canvas just make his special "Map" extra cool. Kidlandia offers licensed products and non-licensed products, but all are personalized and so much fun to enjoy.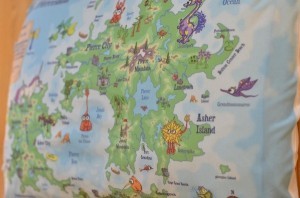 We recently made two very special friends some very special Adventureland pillowcases designed just for them-not only can you choose to put your child's name, but decide if they are the "king" or "queen", and other important titles, their birthday (or other special day) is on the case as well as up to 25 special names, favorite foods, places, etc.
Join the inhabitants of Adventureland for an exciting and unique experience! Adventureland promises your little thrill seekers hours of fun! Kidlandia's amazing personalization experience allows you to add family names, fun characters, plants, buildings and much more!. If you'd like to control the wizarding world or create an army of lovable Kreechurs, Adventureland is the right place for you!

Free personalization including Primary name, birthday, title, additional names (up to 25), additional characters, plants, animals, and poses.
These pillowcases are $24.95 each.  Not inexpensive, but for kids who have "everything" or for those of us who like to find different and unique gifts, this is a really cool present for any kid to get.
I received a gift code to Kidlandia in exchange for my post.  Opinions are my own.