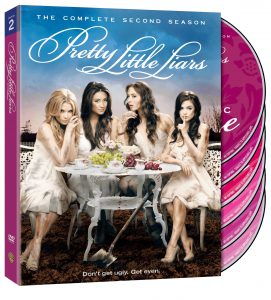 Hey, Pretty Little Liars fans!! Did you participate in "Find the Pretty Little Lies" yet?  There's some really great prizes including a Heather Belle bag up for grabs- plus, you can be all "oh, I totally am the ultimate Pretty Little Liars fan" to your friends.  What are you waiting for?  You can even play during tonights Season 3 premiere of Pretty Little Liars! I can't wait to watch all the new drama unfold.  My guilty pleasure…
Pretty Little Liars: The Complete Second Season on DVD  is available today, 6/5. Did you get yours yet?
Have you read the Pretty Little Liars  books by Sara Shepard? There are EIGHT of them.  That means one thing to me: a great summer series to read!!  Have you read the books? Did you know who 'A' was all along? Which was your favorite book? Plus, then I can have fun watching to see what the TV show does differently and what stays the same…and I'll know all the answers!!
"I have been hired by Warner Bros WBWord division to raise awareness for Pretty Little Liars."