This is a sponsored post about healthy snack options from Target Simply Balanced.  Opinions are my own.  We've had a really busy summer in our family- swim team, tennis lessons, swimming lessons for the past 6+ weeks….and now we're finishing up swim lessons but have a few weeks of camp to get through…and in the blink of an eye we'll be back to school.  We want to make sure that we are offering healthy snack options to our children, especially when they are so busy and on the go, to keep their bodies fueled and energy levels up.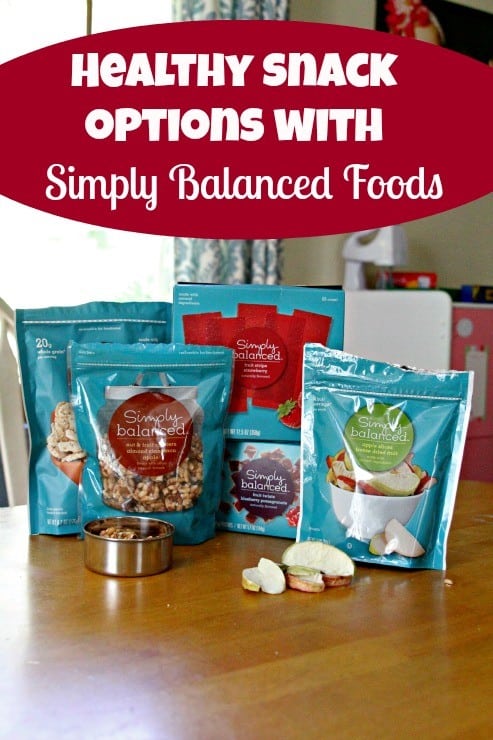 Target's new Simply Balanced takes the guesswork out of eating well-all Simply Balanced foods meet nutritional requirements that include: low sodium and fat, zero Trans Fat, no Hydrogenated Oils or high fructose corn syrup, and no synthetic colors, artificial preservatives, flavors or sweeteners.  If I'm able to choose, I'm always going to choose healthier, better for you options for my family.  My favorite thing about this new line of foods is that it's all priced affordably and I can grab it when I'm at Target (which is, you know, thrice weekly or so). I like being able to get the most for my money!!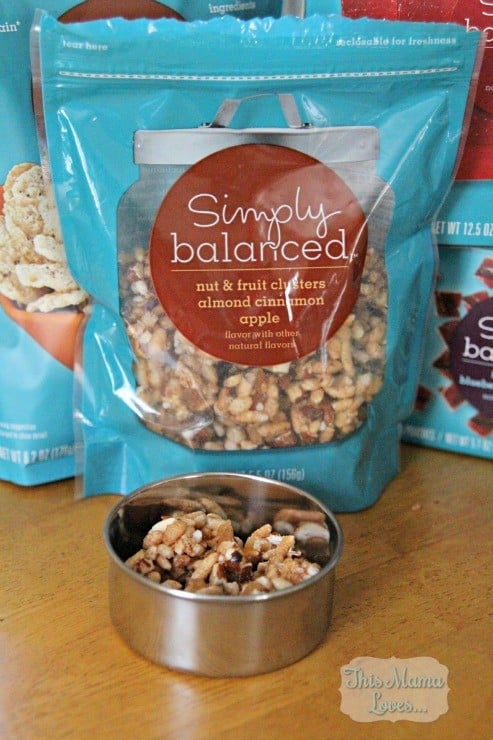 There's  a pretty wide range of healthy snack options from Simply Balanced- my husband actually packed the Nut & Fruit Clusters to bring for his lunch today, and my kids have eaten their way through two bags of the freeze dried Apple Slices in just 2 days.  If my kids are going to bring fruit strips, I want them to be full of real foods and not high fructose corn syrup- the kids think they are a special treat and I don't mind them having one once in a while if it's actually made of fruit.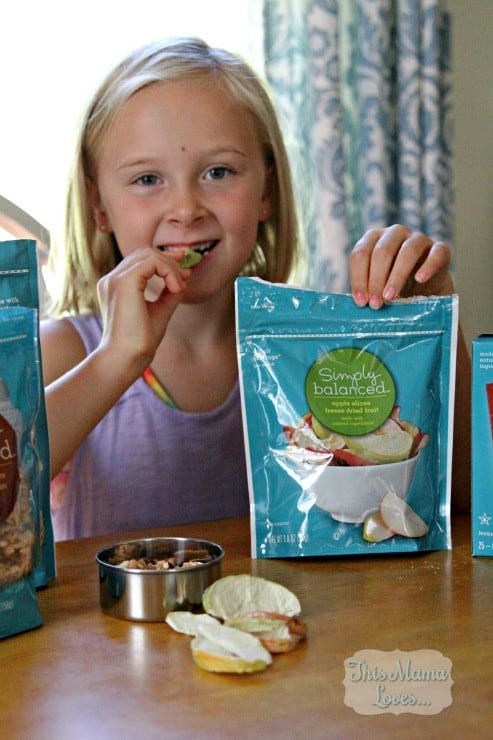 I'll be including a lot of the Simply Balanced line in the kids and the husband's lunches this year for sure- paired with fresh fruits, veggies, and some protein, they'll have a full and balanced lunch/snack on the go.   My oldest and my husband both love chili on cool fall and winter days- they'd love some tortilla chips as a side with that chili for sure!
Some of the Simply Balanced products include: 
Fruit Strips
Fruit Twists
Fruit Crispies
Corn Tortilla Chips
Tea
Granola Bars
Crisps
Popcorn
Most products come in an assortment of flavor varieties and have easy to read, easy to pronounce ingredients on the packaging.  That's a win for all of us!  Which Simply Balanced product are you wanting to try first? 

Take the guesswork out of eating well.
Introducing Simply Balanced,a new brand from Target that's thoughtfully crafted for taste and goodness.
Disclosure: Compensation was provided by Target via Glam Media.  The opinions expressed herein are those of the author and are not indicative of the opinions or positions of Target.
0