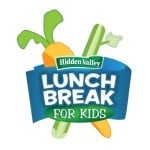 Hidden Valley's  Lunch Break for Kids national fundraiser (October 15-19) highlights ways for parents and kids to come together with chefs and schools to learn more about how simple, good food can make healthier bodies and stronger family connections.   One way we can help our kids have healthy bodies is by sending healthy snacks to school with them.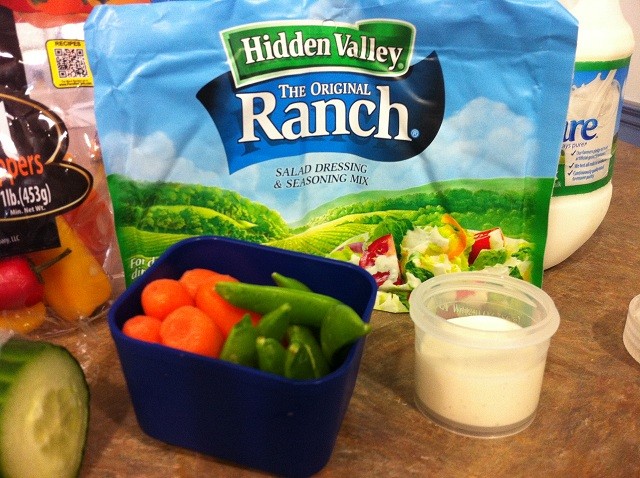 I'm pretty extremely lucky in that my kids are not very picky eaters- at least, not when it comes to vegetables.  They eat more variety than I do.  Having struggled with weight my whole life, I'm very conscious about what I give my children for snacks, especially what I send in for snacks at school- I want to give them things they will both like to eat, and that will also give their bodies the fuel they need to get through class until lunchtime.
We get up and are eating breakfast by 6:30 am in this house- my oldest has lunch at 12:30 pm.  That's 6 hours until lunch.  A long time, when you consider that during those hours, she's playing outside at recess, doing the bulk of academic work at school (her specials seem to be in the afternoon for the most part)…I want her to have a full belly so she can focus and concentrate on her studies.  We do a healthy, balanced breakfast, and I send a few snacks in.  One favorite snack for all of my children is veggies and dip.  I'm not one to cut things into cute shapes (I try, but I am just not that talented- so we are back to basics around here!)…but what I've noticed makes the most impact with the kids is including a container of something to DIP their veggies into (This is across the board, not just at school or camp).
If  buying a few "cute" or "fun" sized containers means my kids will eat more vegetables, I'll buy as many as they want.  We discovered these peppers that come in bags with red, yellow and orange colored mini peppers in them at the grocery store this summer- those are ALWAYS a favorite with the kids, with a sweeter taste than regular peppers- and paired with some sugar snap peas, carrots, cucumbers, etc. make for a pretty "rainbow" of colors for snack, plus some dip….makes an ideal snack for my little ones.  They are getting healthy foods to fuel their bodies, and I know they are eating well- and something they enjoy eating.
Hidden Valley® Original Ranch® dressings & dips are a great way to get your kids  excited about veggies.  You don't even need a lot- like I said- at least with my kids, the fun sized container is half the fun of the dip.
One of my favorite "tricks"  to get veggies into my kids' lunches is presentation.  A plain old sandwich is a plain old sandwich until you use some cucumber slices to make eyes and a nose on top of it, some broccolli for hair, and carrots arranged like a bow tie.  None of this requires fancy cutting skills (remember, I'm without those skills).  I do all of these "faces" within a sandwich-sized reusable container.  The kids get a "surprise" when they open the container, and chances are, they'll want to eat the fun face and not just push it aside.
What ways do you have to get your kids to eat more veggies at lunch?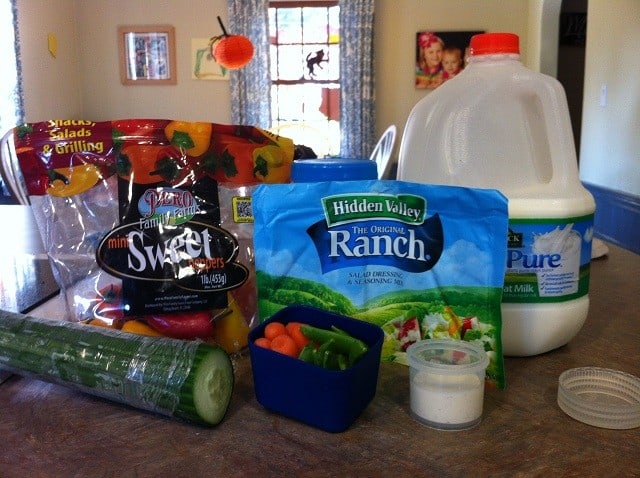 Here's the recipe for making your own Hidden Valley Ranch Dressing (TIP: Kids are known to be more open to eating foods that they help prepare. This recipe is SUPER simple for them to follow, and any age can help)
1c milk
1c mayonnaise (we use light or low fat for less calories)
1 packet Hidden Valley Ranch Salad Dressing & Seasoning Mix
Stir Well, Cover and Refrigerate 30 min before serving.  Stays fresh 3-4 weeks.
Check out the  official Lunch Break for Kids site- be sure to see about any local fundraising events in your area!
The Hidden Valley® Original Ranch®, dressings & dips has provided me with free product to help with my review, but anything I receive from Hidden Valley does not affect my thoughts on its company or their product.
0