A few weeks ago  Whole Foods Market sent me a $100 gift card and asked me to take their Value Challenge to feed my family for  a week.  I was, to say the least, skeptical. I didn't think I'd come anywhere close to feeding my family of 5 for  a week- but several days later, after a pretty amazing shopping experience….I almost did it.  Almost. I went a few dollars over (and I mean a few- the total for the groceries for 1 week was I think $108.xx but definitely under $110).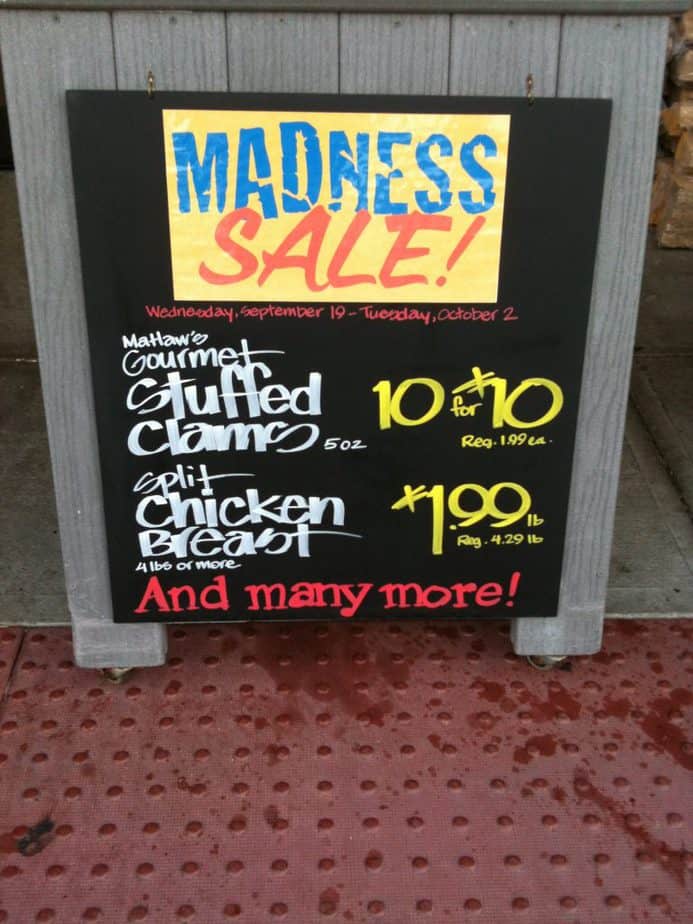 That's right- I shopped Whole Foods Market and took the Whole Foods Value Challenge and (almost) rocked it!  HOW is it possible?
You have to be a smart shopper.  First thing?  Check the sales.  Seriously.  Shop the sales.  Whole Foods Market even has these cool fliers found in a few different places in the store that give you menu ideas for your family in certain price amounts.  They tell you what to buy.  Now, if you are like me and hate planning meals— this is for you.  Trust me.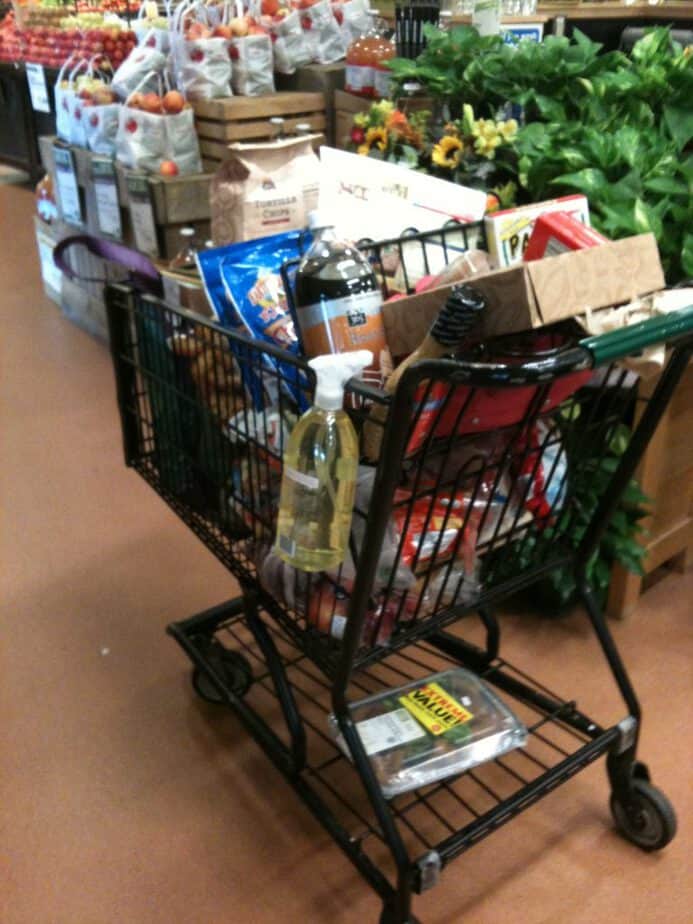 The next thing you want to do is check around for some coupons.  Manufacturer coupons, and store coupons.  Whole Foods Market has a coupon booklet they put out every few months.  They have extras by the customer service booth, and a few places around the store.  At customer service, there's (at least at every Whole Foods Market I've been in) always a little basket with like coupons paper clipped together.  All for the taking. (And the giving, so leave your extras).
Check Facebook.  Erica, my guardian shopper, even told me that a staff member at her store finds amazing deals and coupons, which is how we came to enjoy so much Risotto from Whole Foods Market- for $0.49 each.  COUPONS and sales, my friends.  Even at Whole Foods Market.  Ask the staff.  Chances are, they work at Whole Foods Market because it jives with their lifestyle too- and most people try to be smart with money these days.  I'm sure they'd be more than happy to give you tips and suggestions!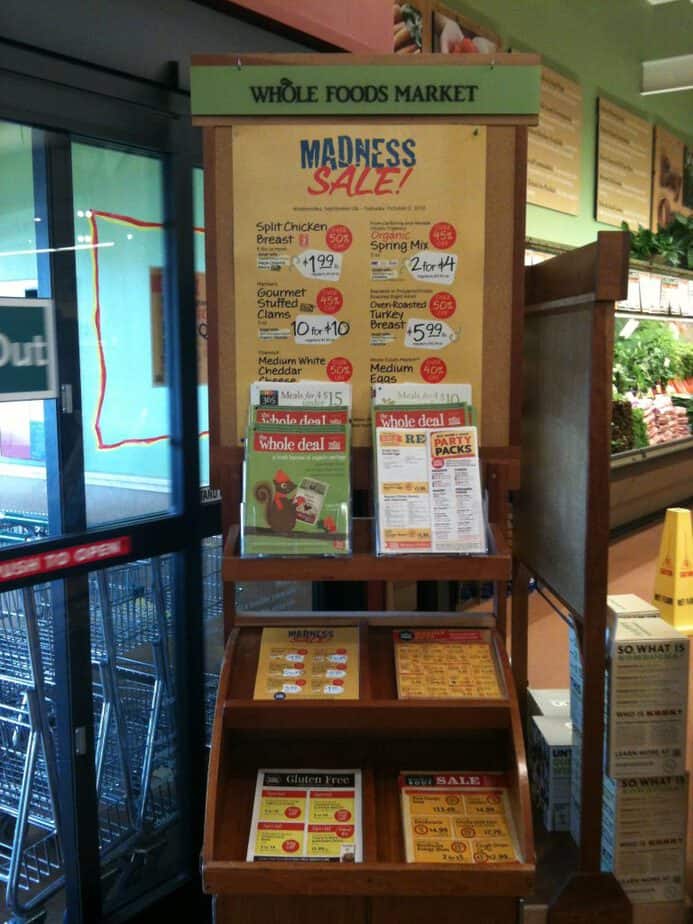 What kind of meals did we eat for this $108?
Dinner: Eggs, salsa, cheese omelets, fresh fruit on side, loaf of fresh bread ($1.49 with coupon!)  18 eggs cost me less than at my regular grocery store (sale)
Snacks: chips, salsa (weekly deal)
Dinner: Split chicken breasts marinated in 365 Italian Dressing, roasted potato, salad.  (Cooked extra, saved for another night)
Dinner: Stuffed clams- $1/each.  served with risotto ( $0.49 each) and some salad (spring mix was the same price for a huge plastic bin as my regular store has in non-organic bags!)
Sides for Breakfast and Lunch, and Snacks: pineapple, grapes (hands down, the best.grapes.ever), apples – produce is always what gets me but oh so good
 Dessert: 365 Chocolate Graham Cookies- Whole Foods' answer to Teddy Grahams.  You have been warned.  An open bag=empty bag.  Goodness.
Dinner: Spaghetti Squash with sauce and a salad? Meat free dinner!
Dinner: Kielbasa, sauerkraut (and veggies I had from the garden)
Dinner: General Tso's chicken (pre-made meal was a splurge $11.99 BUT this is far less than we'd spend for take-out and far healthier) I added more broccoli, filled 5 of us up.
Lunch: Earth's Best Chicken Nuggets (on sale, plus coupon found at store for $1/bag), fruit, yogurt
Lunch: Chicken at prepared food counter- only a few pieces, but chopped up into salads lasted me for 2 full lunches (3 pieces chicken on a stick, about $3.00)
Breakfast: 365 brand "O" cereal, and brown rice cereal (krispies), fruit, yogurt (Brown Cow, on sale)
Dinner: Homemade pizza- leftover chicken from previous dinner, Irish Cheddar cheese (on sale for less than our normal brand goes for at grocery store) and a little barbeque sauce (already had)  with salad
Lunch: Peanut Butter (365 crunchy- SO good) and Jelly (blackberry)
Dinner: Leftover chicken breast shredded up and served on some of the fresh bread loaf with couscous and salad.
We still have some packets of Risotto left.
I'm still in shock that I was able to buy all of that and have food leftover.
I did BUY more at Whole Foods Market when I was there on my trip, but they weren't menu items for my week– some health and beauty items I like to buy there.  So those aren't  included in my total.  My eyes have been opened, and I'm still very surprised at how the folks AT Whole Foods Market  kind of hand you the ways to save on a platter, so to speak- the sales, combined with recipes (and not just for a main dish!) and coupons- it's almost like they are so obvious about helping us to save more and eat better foods.  The savings were NOT all on the store brand, either, which really surprised me.
I'm kind of thinking that perhaps one of YOU wants to take the Whole Foods Market Challenge, and see if you can feed your family for a week with $100? One reader is going to win a $100 Gift Card to Whole Foods Market to do just that!
1. To enter, leave a comment and tell me where the closest Whole Foods Market is to you.
Want extra entries? 
2. Like my Facebook page (leave a comment on this post that you are a fan)
3. Like Whole Foods Market on Facebook (leave a comment on this post that you are a fan)
4. Share this giveaway-  Twitter, Facebook, Google Plus, email  (+1 entry each, just leave a comment with the link of your share please) (This can be done daily but you need to leave a new URL in a new comment each day).
This giveaway will end at 11:59 pm EST on November 4, 2012.  Winner to be chosen randomly.  US only.  One entrant per household.  A gift card  was provided to me for this challenge, but opinions are my own. 
0