This past Friday, my family and I were invited to attend the opening night of Holiday Lights at Lake Compounce in Bristol, Connecticut.  We were very excited to attend this event, since we are all enamored with all things Christmas and the kids absolutely love theme parks!  We bundled up (most of the attractions are outdoors) and headed down to Bristol with Babysitter Katie along for an extra adult since my husband was not feeling well.
The lights  begin before you are even in the parking lot, and as you walk into the park, you are met with thousands and thousands of twinkling lights, Christmas music playing, and a fun, festive air.   (Also chilly, so again, bundle up!)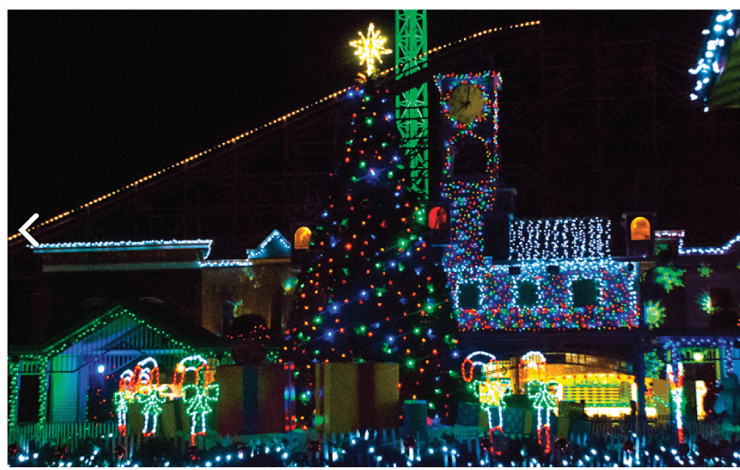 There are costumed characters wandering around the park for fun photo ops and to interact with park guests.  I loved the Nutcrackers on stilts- they were really cool to see and just so fun watching them go around on stilts!
There's several rides open- some changed for holiday themes- the little train that takes you to the other end of the park in summer is now the North Pole Express, and brings you on a journey of (many) thousands of lights, ending in a loop that will delight anyone who loves holiday decor as we do.  This ride took a while and since we were sitting and not moving around- it might be a good ride to go on last before you leave, my little ones had a hard time with being so cold after it ended.  They LOVED the lights so much, they didn't really seem bothered!!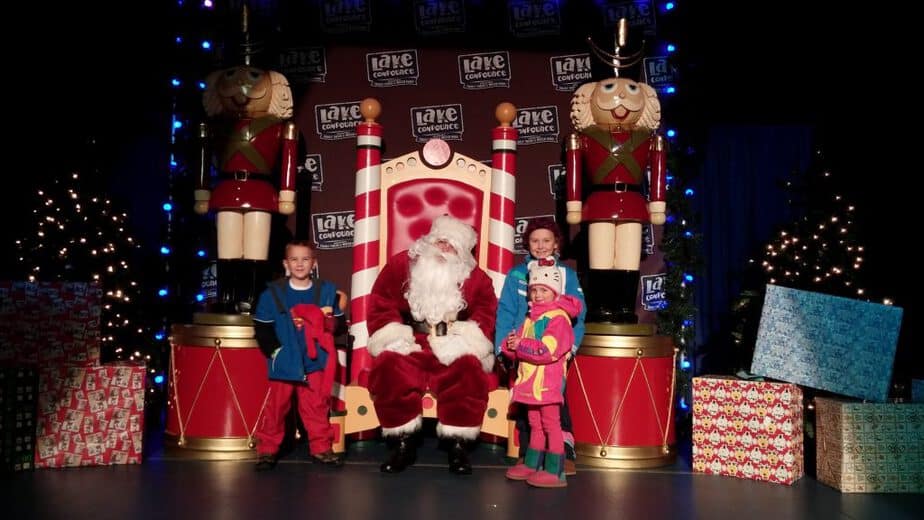 When you are at Holiday Lights, be sure to visit the Winter Wonderland building- you'll have a chance to warm up a bit, but you can also visit Santa himself, along with some of his elves (and have a great photo opp- additional fee applies!), decorate holiday cookies or gingerbread houses (nominal fee applies for the cookies and houses) and even Kyle Crocodile dressed in his holiday finery!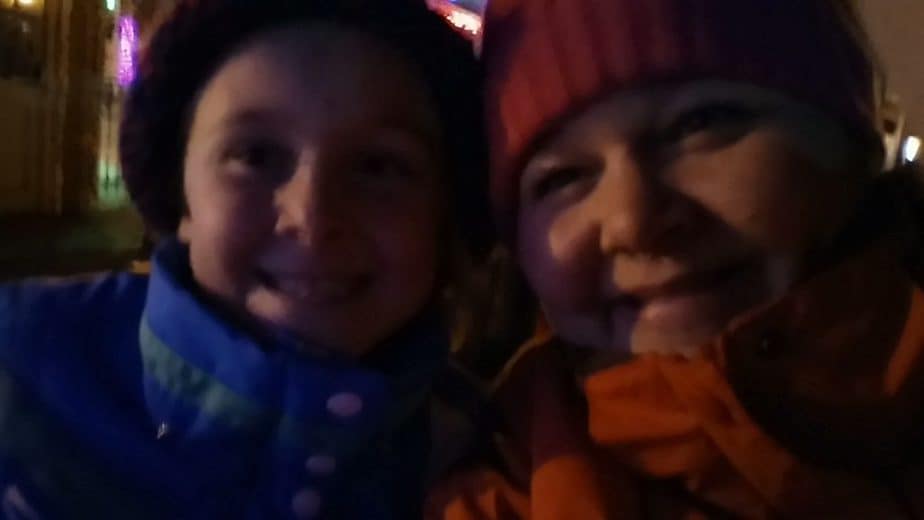 There are 12 Days of Christmas light displays around the park- you have to look to find them.  We did miss a few but we didn't have enough time to go through and visit everything (my kids use the bathroom a lot). That's also how we missed the awesome balloon animal makers.  Don't miss that when you go!  The animals we saw were festive and holiday themed and AWESOME!
There's also a printable coupon for $3 off admission on Friday or Sunday, and $2 off Saturday admission. (Through 12/15) Or you can print it right here 🙂 Holiday Lights is open weekends from 11/29 to 12/22 on Fridays from 5-9 pm and Saturdays and Sundays from 4-9 pm.  There is hot cocoa available as well as some vendors selling warm food and other beverages.  Adult tickets are just $14.99, kids 10 and under are $10.99 and kids under 3 are free.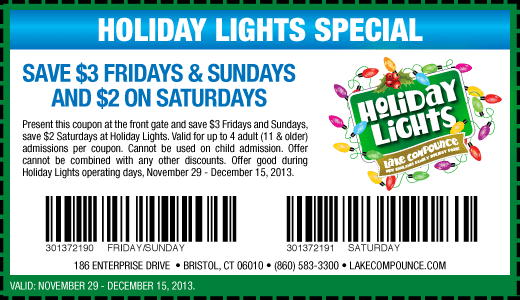 This is a WONDERFUL family event right here in the Nutmeg state!  Great place to see holiday lights in Connecticut and worth the drive! We can't wait to go again!
0