When you think of your most important relationships, both romantic and non-romantic, what comes to mind? Are there certain things you wish to say? This Valentine's Day, Hallmark is challenging fans to "put your heart to paper" when it comes to those relationships we hold nearest and dearest.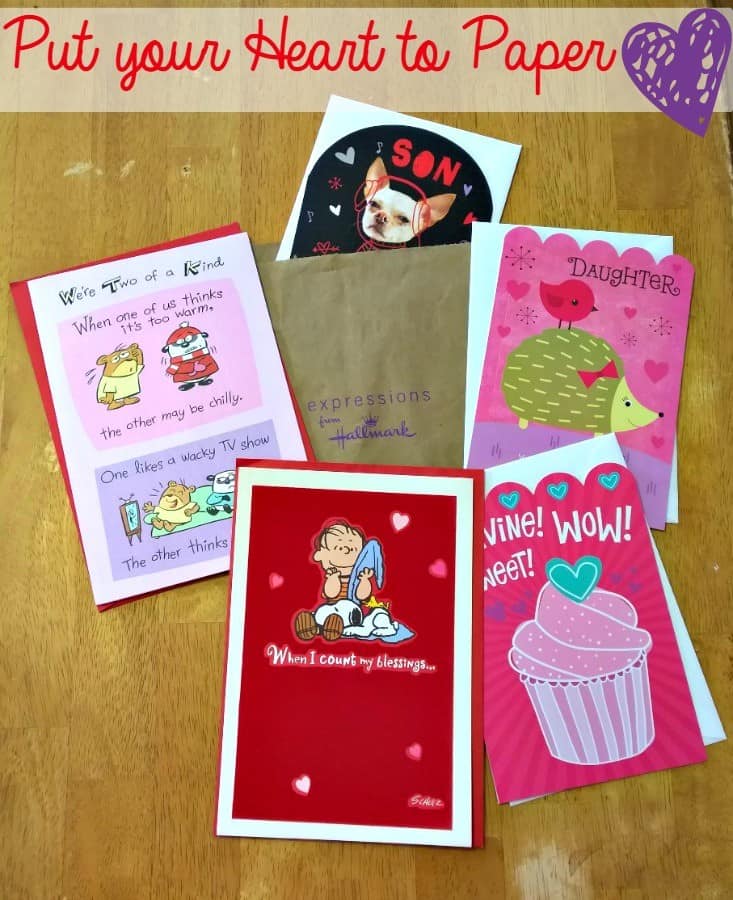 The obvious choice here would be for me to write about my feelings for my husband.  I'm not always the one to choose the obvious path.  I promise you I could easily fill a post with the feelings in my heart that I have for and with my husband… but that's not today's post. Tuesday was my dad's birthday.  He turned 80. He's front and center in my heart and he gets my heart on paper (screen) today.  Today's post is to my dad. I'm writing today to help
Hallmark
bring Valentine's Day to life through words and photos that capture personal experiences to Hallmark highlight some of greeting cards that folks can apply to a variety of relationships. There aren't "Thanks for being the best (technically Step-) Father in the universe, I may not have had all that I asked for but you sure gave me everything I needed and more" Cards around, but I'm pretty sure you'll find something that will fit in with some part of your love for that person.
You see, my dad and I, well, we have a long history.  It doesn't go all the way back to my beginning, but it goes back to the beginning of my memories, and that's enough for me. I'm pretty sure it's enough for the both of us.  But how do I explain the love I have for a man who was the very first to love me without hesitation? How do you put a lifetime of lessons and love into words…without using the word love?
Some days, I'd give anything and everything in my world for him to have been with me from the beginning, but that would change our story, and really, that wouldn't be our story at all. It's funny, you know?  There've been times- not ones I'm proud of, but there have been times that I've thrown it in his face that he's not my father.  I can't even imagine the hurt that caused him, but, like a true dad, he kept loving me and parenting me right through my awful phases and behaviors. For a long time, I was wishing and hoping for the superhero father I'd imagined in my head…the one who gave me life, who surely just needed a little more time before he came like a knight in shining armor to sweep his only daughter off her feet.
I've started this post ten times, and I really don't know how to put my feelings for my dad into words. So I'm going to share kind of how my life has been, with my dad by my side, and I think it'll help you see just what it is that makes me love this man so fiercely and so very much.
Daddy holds my hand when we go upstairs. He holds my hand when we walk across the street.

Daddy tucks me in at night. Daddy helps me read stories.

Daddy asks me if I brushed my teeth, washed my hair, went to the bathroom before bed.

Daddy helps me with my homework.  Daddy picked me up from school when I was sick.

Daddy helped me ride my 2 wheeler! He fixed my bike and helped me steer straight and let go lots of times today!

Dad keeps making me help with chores. Just because I live here…for real?  Other kids get an allowance for helping around the house!

I can't get this knot right. Why won't dad just tie it – he knows how, why does he make me keep doing it? I've tried 15 times!! Hey wait, I did it! DAD!! I got it! Look!

Dad always wants ME to try to fix that toy.  I don't understand why he won't just do it FOR me.

Dad won't let me use Clif Notes for my paper.  Do it right the first time….read the book, and do what your teacher said to do.

If I want to keep washing clothes that aren't dirty, I have to pay for my own laundry detergent? UGH!

It was really scary when we were driving to say goodbye to Debbie and Dad had to pull the car over because he was crying so hard. Dad's never been upset like that. Losing your child must be terrifying no matter how old you are. I don't know how to handle this if dad's so upset.

I have to pay for my own insurance if I want to drive mom and dad's cars.  I can't get a job until I have insurance.  Not FAIR, mom and dad!

I have to drive a standard before I can drive the "kid car" mom and dad got for Brian and me. Dad keeps making me practice and having me stop on hills, even though I keep stalling.  I hate it.  It's frustrating and I can't do it every time.  He even makes me turn left against traffic and it's really embarrassing to stall in front of people like that.

Dad wants us to keep track of where we drive and what the mileage in the car is. No one else has to do that!!

Mom and Dad got in the car and drove to N's house so she could come stay with us for a few weeks.  Her dad was drinking and yelling a lot and they thought maybe it would be good for N to have some time away.  I wonder why they both came with me to get her.

Mom and dad want me home by 11 when I'm with my boyfriend OR my friends.

I can't believe I can't drive to the big party tonight- it's just a little snow!

I screwed up and the parents are paying for it. Thought that was pretty lucky until Dad informed me I'll pay them back every single cent plus 5% interest.

Dad is making me make lists AGAIN of pros and cons of schools I want to apply to.

Bought my first scratch ticket- won $100!  Dad was so excited for me when I was running around the house screaming in excitement.  Then he said I can cash it in and give him the $100 or he'll cash it in and keep it.  I still owe him from my screw up.  I can't EVEN.

Dad helped fix my shoulder strap on my prom dress. I didn't know dad could sew stuff.

I got flowers at my graduation from high school!!

Dad told me to have fun but to make sure I use my head for something beside's a hat rack when I left for after-graduation parties. Whatever, dad.

Dad cried when mom and I left to bring me up to college. Said he was proud of me.

Mom and dad didn't laugh at all when I called them from the dorm my first night at college, feeling very alone, very young, and friendless. How did they know that opening the door and peeking my head in the hall might help me meet some friends?

I thought I met the one.  What a joke that was.  Dad came and picked me up for winter break, didn't even ask why I suddenly needed a ride instead of coming with the guy. I didn't know how to tell him I'd made such a huge error in judgement.

I got a job I got a job DAD I GOT A JOB! Mom!! I did it!! A real job with health insurance!!  <— first thing I did after I got hired.

Mom, Dad? I met this guy.  Can I bring him up to meet you? I think you might like him, he's lots like Dad.

Daddy, I'm getting married, will you walk me down the aisle?

Mom, Dad, I had a miscarriage.

Dad, we're pregnant again! Mom! You're going to be grandparents again!

I'm so grateful you came to help us move to the new house, mom and dad.  We couldn't have gotten set up so quickly with me being so pregnant and J needing to be at work Monday.

The baby's scheduled to come July 19, mom and dad.  You're coming down?  For a week?  Really?

Dad, how do you deal with not sleeping, like ever? We fight all the time, and it's not important stuff. We're just so tired.

I'm pregnant again- baby's due on Grampa's 99th birthday.  It's a boy!

Guess what, mom and dad? The baby decided to come early.  He's named for you, dad.

Thanks for coming to help again, Dad. I'm so thankful you and mom are here for a week helping with the new baby and big sister. I'm sorry I was flipping out last night, but I know I can get the baby through this jaundice and the doctor on call really upset me when she told J that I was being selfish in wanting to keep the baby home and nursing him.  You think I'm right?  That means the world to me, Dad.

I can't believe you are retired, Dad.  What will you do all day?

I kind of thought you would be travelling and enjoying your retirement dad.  Never thought mom would get sick like this.

Dad, I forget things all the time too.  We all do.  Plus, mom didn't even know the rotisserie chickens didn't get set out until after 11am- I had to ask AT the store.  Anyone could miss finding them.

Dad, we're having another baby.  It's another girl.  I think it's funny mom is all worked up that we're naming the baby after her.  Why wouldn't we?  She's mom! And Janet's been in the family for years and years as a name…we're just changing it up a bit.

I know hospice is coming a few days a week now, dad.  What can I do to help?  What do you need from us for support?  Can we come up more? Bring groceries? I can cook for you!

I'm not supposed to travel far from the hospital, dad.  They don't want me more than an hour away.

The doctor said I can come, dad. We'll just give the hospital near you a call so they have a head's up. I can't not come, dad.

Mom can't be gone, dad.  We are supposed to come up tomorrow to celebrate M's birthday. She can't. Dad. Dad?  Honey, did you tell my dad I'm ok? He'll be worried. I kind of freaked out when he called about mom. Mom's gone. She can't be. We're supposed to go up there tomorrow.

Gordon, the baby's here.  She's fine.  Brett's in recovery, there were some complications, but she'll be ok.

Dad, isn't she beautiful? I can't believe Mom isn't here to meet her. Are you doing ok? How can I help, Dad?

Dad, I'm coming up with the kids, I want to make some dinners for you to keep in the freezer. You can't just live on lunch  meat and candy, dad. I like chocolate too, but that's not what goes in the bread drawer!!

Dad, I'm leaving these in the freezer. They have directions taped on top, so you know how to prepare them.  I also got you lots of fruits and vegetables when I ran to the store with the kids, ok?

I'm so glad you are moving back home to Connecticut, Dad. You won't even be 20 minutes away from our house!  I think you chose a great Assisted Living Facility, dad.  You won't have to move again. The kids and I can visit all the time!

Let's look at these pictures again, Dad.  Look, this one is you at the lake, on your sailboat. Remember we used to sail all around the island, and go really fast once we knew mom couldn't see us?  Yep, dad.  That's mom, but a long time ago.  That's me! As a baby.  Wasn't I cute?  That's Aunt Dianne.  Your sister.

My dad needs some help.  He's mixed up getting dressed and doesn't look at all comfortable.  He doesn't want me to see him like this.  Can you send someone else to help?

Dad, this is your place. Your place!! Your bed, your chair, your table.  This room is for you, Dad.

I hold my dad's hand as we walk down the hall.  I don't want him to slip.  I take him to the elevator- the stairs seem really high when I have him with me.

I used to slip my hand into Dad's when I was little, when I was nervous or afraid.  He slips his into mine or holds my arm a lot now, I wonder if that's why.

I was reading to dad from a book again today. He fell asleep again.  I tucked him in.
My dad has been a constant in my life since the day he walked into it. He's taught me right from wrong, picked me up, set me on my feet, pointed me in the right direction, steered me part way and then let me go.  He's been there to listen when the pieces fall apart, and to help me figure out where to start again.  He's driven 3 1/2 hours one way just to meet my kids and right back the same way again all in one day. He taught me about honesty, integrity, how to love making lists and crossing things off of them, how to be responsible, how to parent, how to continue to surprise even myself every once in a while, and how to find ways to take a break and enjoy life once in a while. He taught by example more than words and I couldn't ever have hoped for nor chosen a better man to be my dad.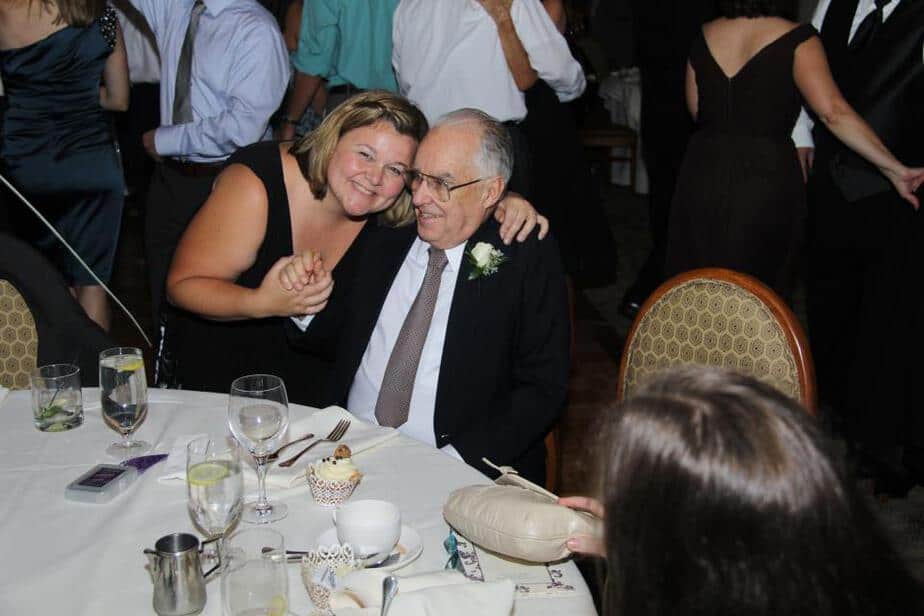 Keep the memories close.  Capture moments with photos.  When you see that perfect card for someone, grab it.  Send it.  Tell them why it makes you think of them. Even on a random Tuesday in the middle of July…for no apparent reason.  Save the Hallmark cards and handwritten notes you exchange.  One day, those cards will help to tell your story- yours, together with theirs.  And those will become part of the memories you treasure as time passes and your relationship shifts and changes.

 Finding a card for my dad is hard these days. One that puts my feelings into words is easy to find.  But one that my father, living in the early Advanced stages of Alzheimer's, can appreciate at all, that's not so simple.  I found one that's pretty sweet- it's sweet, it's simple, and in just a few words speaks volumes.  Plus, it has Snoopy and Linus on the card, and I loved Snoopy so much growing up! He really doesn't read at all anymore, but with Alz, you never know when one little thing will trigger a real memory.
Do you know, when we were boxing dad's stuff from his last move before going to the Assisted Living facility, there were a few boxes he insisted we keep.  Going through some of them was so amazing.  Random funny things, but also?  Every single card or picture any of us kids had ever made for him or given him.  From one line squiggles to cards poking fun at him to sappy cards- they were all there.  They are at one of my siblings' houses and not easily accessible for me or I would go through and pull out just the Hallmark cards- there are dozens in there.  There were also cards to my mom and from my mom, sweet, romantic, silly, and frisky ones that, well, I can't say I wish I didn't see those… but all memories. Almost all Hallmark.
Now, I do love some romance. Who doesn't? Hallmark has a series of 7 videos for this campaign, different couples in all stages of relationships. I adore the videos, but decided I'd share Gareth and Kari's story. Saying how you feel without using the word love. Which is your favorite story? (Take a few minutes to watch them all. So much sweetness!)