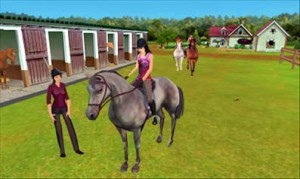 We have hit the horse stage with my almost 7 year old.  You know the one.  It goes something like this.
Mom?  Mommy? Can I have a horse?

I'll take care of it.

I promise.

I'll feed it. Walk it.  Ride it.  Make its hair pretty. Do you think we can get sparkly ribbons to put in its hair mom?  I can get some to match. It would be so fun mommy.

No, mom, our yard is not too small.

I have a lot of money in my bank. I can pay for it by myself.

Can I have one?

How about now?

What about a pony?

But moooooooooooooooom.  (deep breath)EmmaKatieSiennaEmilyZoeMarionNoraJillJennaLillyLillianandeveryoneelseinschool get to ride horses.

(lather, rinse, repeat.)
We've found a (temporary) solution to this age-old dilemma.  UbiSoft's Horses for the Nintendo 3DS system.  This game is GREAT for her- she can play with horses, love on them, ride them, train with them, care for them, and make new horse loving friends, right here in the comfort of our own home.  Sure, it's not quite the same, but it's a happy compromise for now and also a wholesome game that hasn't got violence (which is important to me as a mom), attainable goals and levels of play, and also important, ways to grow and continue to experience the game in new ways.  We haven't even started using the StreetPass sharing features, although I'm sure we will in time.  She's just having so much fun caring for and training her beloved horses that she's not even asked about the rest of the game!
The graphics in this game are great, with and without the 3D effects turned on.  It's definitely a cool feature, although I do like the option to have it turned off, as does my girl.  The characters are fun to "meet" (even in French, because somehow she got our game set up in French, and that took me a while to figure out how to put it into English- but even in French she could play quite easily… I just had to translate things every 25 seconds.  Madame Pickard, thank you for French class in high school!) and the horses are beautiful.  The training activities are challenging but do-able for both my almost 7 year old and for me, and even my husband was impressed with the graphics.   This is a great game for any horse lover, animal lover, or someone who enjoys adventure games without any kind of violence.  The game is really fun without the 3D, but that feature definitely kicks things up a notch!
The first authentic 3D horse game! Care for more than 15 realistic horses, ride them and train them for world-class performance.
The first authentic horse game for the Nintendo 3DS™ system, Horses 3D invites players to care for more than 15 realistic horses, ride them and train them for world-class performance. Horses 3D fully leverages the Nintendo 3DS features with the most realistic visuals for a horse game yet, including 3D horses, textures and beautiful environments, as well as StreetPass™ sharing and more.

Features

• Experience the thrill of being a horse stable manager and rider, all in stunning 3D.

• Build unique relationships with 16 realistic horses:
-Nurture your horses by grooming them, feeding them and cleaning off their hooves.
-Give your horses plenty of love while they train to perform their best.
-Teach your horses to be well-behaved and gentle with riders.
• Personalize your unique riding experience with accessories for your horse and avatar.
• Train your horses through four equestrian disciplines; then compete in races and go on fun rides.
-Train your horses with a variety of riding sessions.
-Compete in disciplines as varied as stunt riding, to jumping and even dressage.
-Ride your horses and embark on fantastic rides, treasure hunts, animal tracking or race with friends.
• Unlock exclusive content through interconnectivity with the Imagine Town™ virtual world.
• Share with friends via the wireless StreetPass feature: Swap collectible cards to gain access to new competitions, or unlock a new horse and take it for a ride.
Horses 3D is available at ToysRUs,  Amazon, Target, Walmart and Sears online.  It retails about $27.00 US.
Thank you to Ubisoft for sponsoring this blog post. Please click here to learn more about Ubisoft. I was selected for this sponsorship by the Clever Girls Collective. All opinions are my own. #UbiChamps