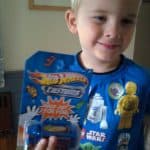 Did you know that you can make a personalized Hot Wheels?  Not just with the design but even with a photograph?  How fun is this?  Custom Hot Wheels fun for your little Hot Wheels fan or a collector in your life- a great holiday gift idea at under $8!!
We got to make a Hot Wheels Custom for my son a  few weeks ago- creating the truck literally took just a few minutes, resulting in one VERY excited kid a week or so later when the package arrived, and will end with hours and hours of play.
Creating your Hot Wheels Custom is really simple (and quick)
Step 1: Choose your style (there are 4 choices)
Step 2: Upload your photo for the vehicle you chose
Step 3: Position photo
Step 4: Select your text (only 17 characters- I was going to be funny and make one with my URL on it but it won't let me LOL)
Step 5: Choose your packaging!
Step 6: Add to cart.
That's it!! So easy and so fun and so worth it when your little guy (or girl…or big guy or girl for that matter) opens this customized Hot Wheels!!  I can 100% guarantee they do NOT already have it- these are all going to be unique (unless you order more than one of the same of course).
I received a sample of this product in exchange for this post through my affiliation with MomSelect.  Opinions are my own.
0